The Many Love Affairs of The Andy Griffith Show (Mayberry Romance)

In the Summer prior to the airing of the first episode on October 1, 1960, Look Magazine published photos as a promotion for the show.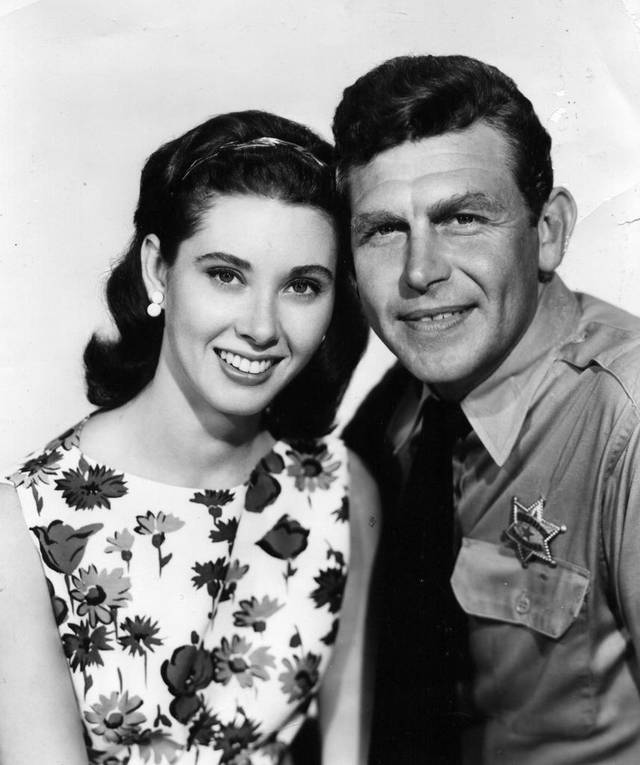 In Season One, Elinor "Ellie" Walker came to Mayberry in 4th episode, Ellie Comes to Town; she was a graduate of Barnard University, and a pharmacist. Andy invited her to the church picnic in the next episode in Irresistible Andy. She later ran for City Council in Episode 10, and finally became Andy's "steady" in Cyrano Andy by the 22nd episode. Andy was taken over by the "Green-Eyed Monster" with jealousy in Episode 24, The New Doctor. She exited after her last episode (27) with Ellie Saves a Female. She left after the first season because she didn't feel she and Andy had very good "chemistry" on screen as he didn't show enough affection. All I've got to say to her is Arrivederci, Baby! Elinor Donahue played Betty "Princess" Anderson, the oldest daughter, in Father Knows Best; she was actually the true daughter of Robert Young and Jane Wyatt, the lead actor and actress in the series. She was in 12 episodes.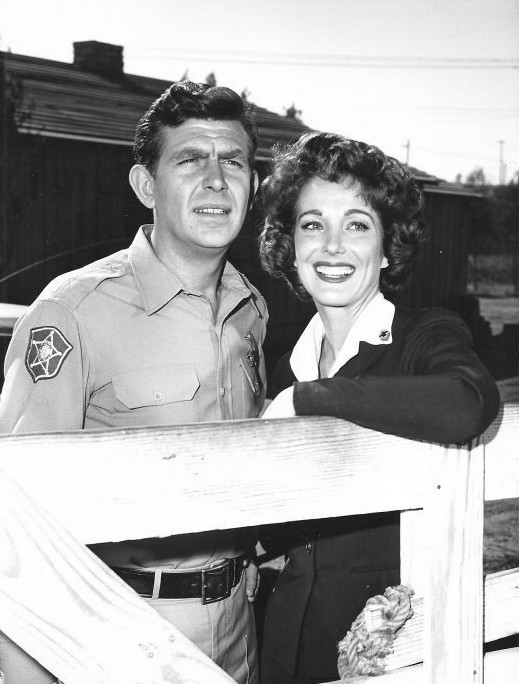 Andy and County Nurse Minnie "Mary" Simpson (Julie Adams) became in "item" in Season 2 Episode 24, The County Nurse, but in Episode 27, Nurse Simpson was replaced in Three's a Crowd by Sue Ane Langdon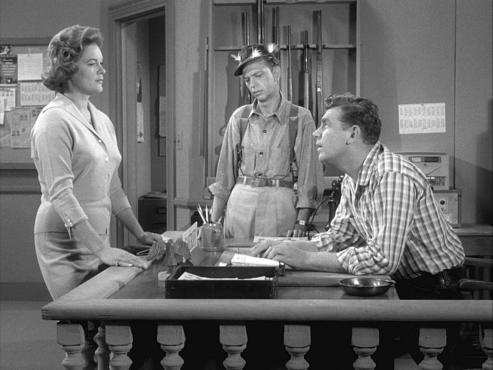 Andy and the Woman Speeder in the Second Season, Episode 3; Elizabeth Crowley (Jean Hagen) outfoxed him on the speeding ticket, and there was a bit of flirting between the two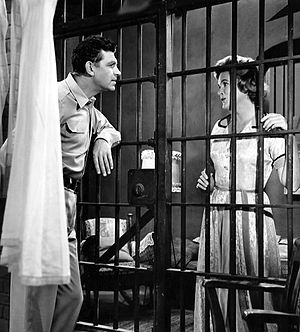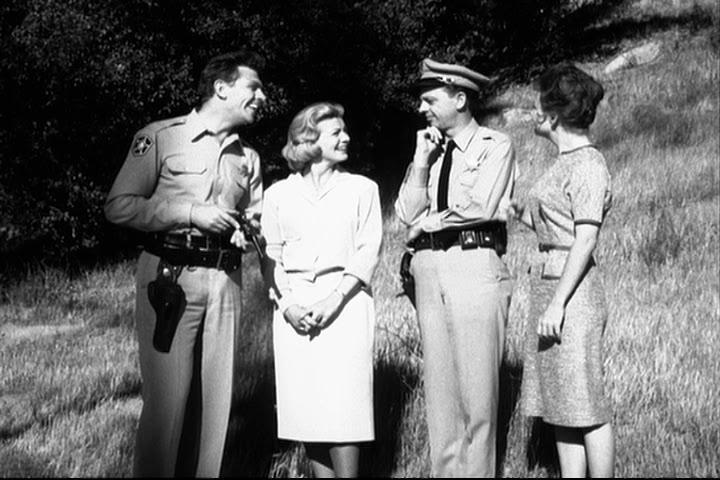 Andy met Karen Moore (Gail Davis) in the Second Season, Episode 8 in The Perfect Female; she passed "muster" and outshot Andy in skeet.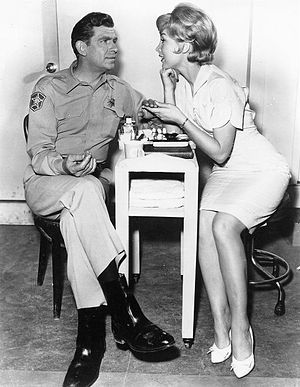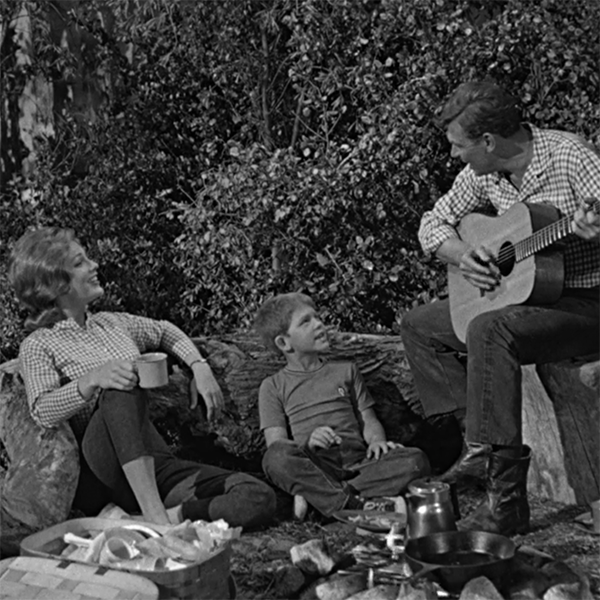 In Season Three, Andy's Rich Girlfriend, Peggy McMillan (Joanna Moore) showed up in Episode 2; Andy, Barney, Thelma Lou and Peggy double-dated, and went out to Myers Lake, and had a great time. Then, after he discovered the County Nurse is from a wealthy family, he is unsure that they are well-matched after she took his out to dinner, and tried to introduce him to escargot.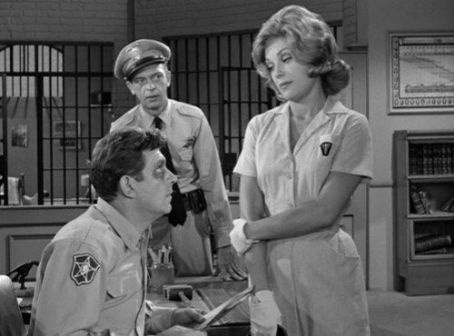 In Season Three, Episode 6, Barney Mends a Broken Heart, Barney tries to fix up Andy with Lydia Crosswaithe (Josie Lloyd), Thelma Lou's friend, after Andy was "stood up" by Peggy. Unfortunately, Lydia doesn't like to "chit-chat," hates the guitar and the outdoors, and gets car sickness; she also gets herpes from being out in the sun. Then, the Fun Girls debuted, and Daphne warms up to Andy; however, her old boyfriend, Al, gave Andy a "shiner."
Peg left the show after Season Three, Episode 10 in Andy's Rival when Opie was jealous of Peg for his father's attention, but then accepts her. No reason was given for her departure. In real life, Joanna Moore married Ryan O'Neal, and one of their children, Tatum O'Neal later became the youngest person to win an Oscar at the age of 10 in Paper Moon. Unfortunately, Joanna Moore had drug and alcohol issues that led to 5 DUIs in the 1980s, and she died of lung cancer in 1997.

In Episode 19 of Season Three, Sharon DeSpain, showed up at the Class Reunion; they had a class of values that resurfaced at the reunion of Mayberry Union High School (the Orange and Blue) Class of 1945.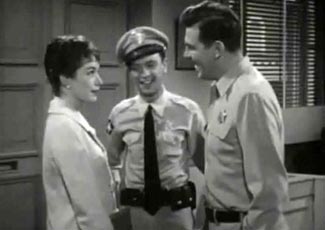 Helen Crump (played by Aneta Courset was in 66 episodes) made her debut appearance in Episode 23, Andy Discovers America; she was not too pleased with Andy's influence on Opie and other boys, but he got her pupils interested in history immediately
Barney tried desperately to find A Wife for Andy in Episode 29; Lavinia Brennan stood out as a leading candidate, and she was Andy and Barney's classmate from the Class of 1945 who helped organize the recent reunion. Thelma Lou and Barney invite Helen and Andy over for dinner, and cook a leg of lamb; Barney wants Andy to reject Helen as a prospective future wife because she refuses to learn to cook a leg of lamb, and won't give up her career as a teacher when she gets married.

In Season Four, Andy and Barney met Tyla Lee (Susan Oliver) in Prisoner of Love in Episode 18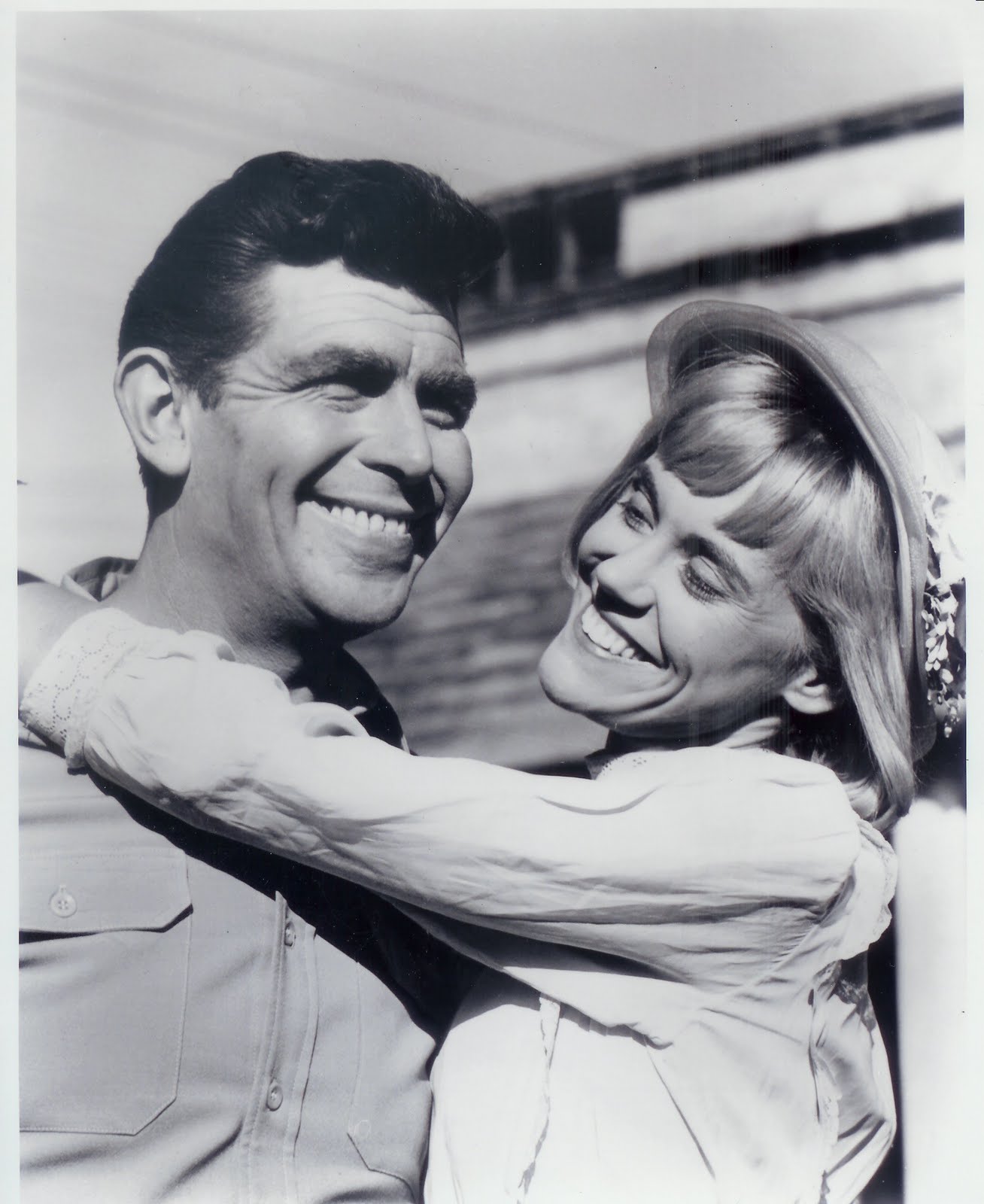 In Episode 28 of Season Four, Divorce, Mountain Style, Charlene Darling (Maggie Peterson) and Andy almost were married; Barney Fife saved Andy when
In Episode 29, Barney started a rumor that Helen and Andy became engaged in The Rumor
In Season Five, Episode 20, Andy shows off his love-making skills in Goober and the Art of Love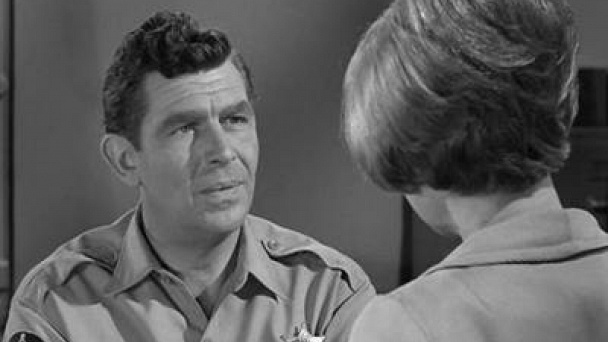 In Season Five, Episode 23, TV or Not TV, Andy is distracted by Pat Blake who interviews him as her two partners implement their plan to rob the Mayberry Security Bank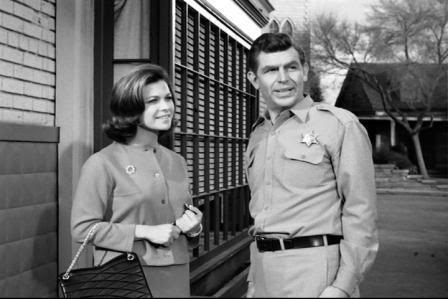 In Season Five, Episode 24, A Guest in the House, Andy's "cousin," Gloria comes to visit after a broken engagement. Andy and Helen take her to to movies with Goober, and Helen is jealous
The Arrest of the Fun Girls in Season Five, Episode 28; this was their last appearance as they weren't popular enough to have their own show like Gomer
In Season Six, Episode 2, Andy's Rival, Frank Smith, uncorked jealously in Andy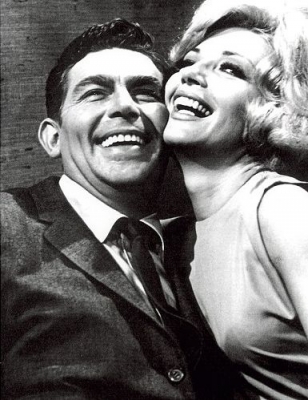 In Season Six, Episode 9, Darlene Mason reappeared in The Hollywood Party; Ruta Lee played the reporter in Andy on Trail as Jean Boswell in Season Two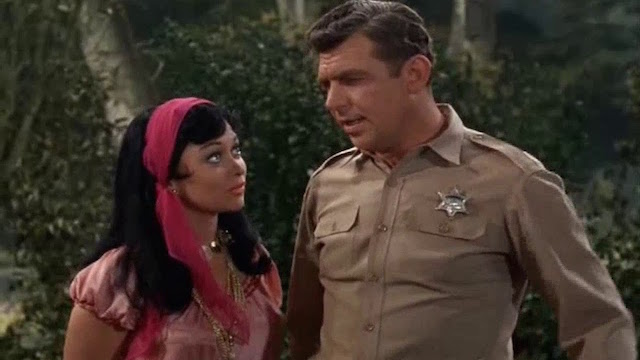 In Season Six, Episode 23, The Gypsies, Andy meets Sabella, and tries to life a curse for 7 years with no rain for being "run off" and not being allowed to sell their goods

Andy's Old Girlfriend in Season Seven, Episode 20 highlighted Ellen Harper returning; Helen was quite jealous especially when Alice and Andy returned from a mid-night walk in the woods

In Season Seven, Episode 24, Helen, the Authoress, Andy took Mavis Neff, a waitress at the drug store, to the Duck Pond in an effort to make Helen jealous; root beer floats made Mavis "bubbly wubbly" all over. This was the first episode that Helen was referred to as Andy's fiance.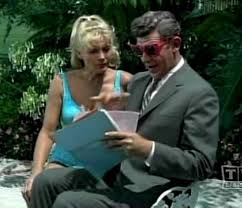 In Season Eight, Episode 4, Andy's Trip to Raleigh, he meets attorney Lee Drake (Whitney Blake) after his car is in an accident with a bulldozer; she and Andy worked together at her pool. Later, she comes to Mayberry to finish the case, and meets a jealous Helen after Andy described the attorney he met in Raleigh as "40-ish, heavy-set and grim."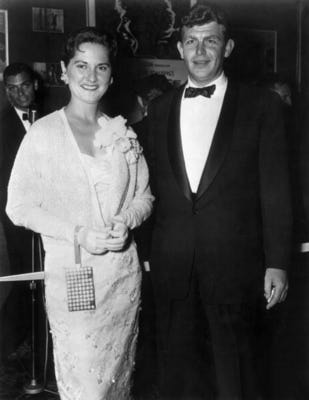 In real life, Andy Griffith was an only child, and married Barbara Bray Edwards, 1949-1972; she died in 1980 at the age of 52, and they adopted two children together. She married Michael St. Clair in 1975. Griffith was having an affair with Aneta Corsaut (Helen Crump) during the show. Griffith married Actress Solica Cassuto in 1975; they divorced in 1981. Griffith appeared in 181 episodes of Matlock, 1986-1995, and was in Return to Mayberry in 2003. He won an Emmy for his performance as Ash Robinson in Murder in Texas in 1981; ironically, he never won an Emmy for his performances in The Andy Griffith Show or Matlock although both shows were amongst the most popular in America because of his friendly personality. He was awarded the Presidential Medal of Freedom in 2005. Griffith married Actress Cindi Knight in 1983; they were together when he passed away in 2012. Griffith was diagnosed with Guillen-Barre Syndrome just two months after their wedding in 1983.

Barney Fife (Bernard Milton Fife played by Don Knotts and was in 141 episodes)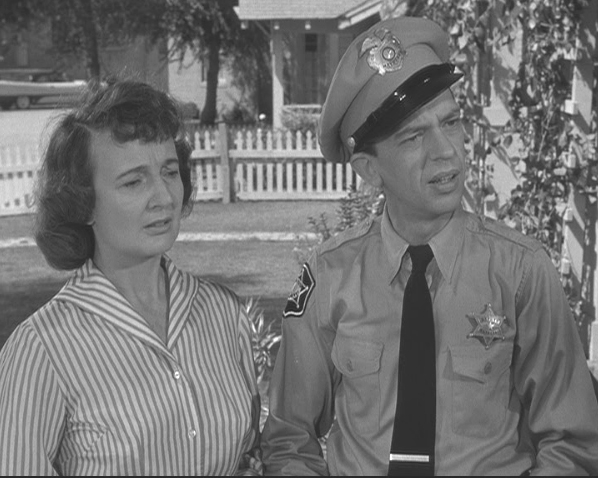 Andy tried to build Barney's confidence in Season One, Episode 7 with Andy The Matchmaker; he encouraged Barney to date Miss Rosemary after investing a lot of "shoe leather" in her
The Wit and Wisdom of Andy Griffith: Love Poems To the Lovely Juanita Beasley
Barney's second girlfriend was Juanita Beasley, a waitress at the Bluebird Diner, but she never made an appearance on The Andy Griffith Show although talked about regularly in Season 1 Andy Forcloses and Season 3, 4 and 5 in 7 more episodes

Thelma Lou (played by Betty Lynn) first appeared on the show in Season One, Episode 22 with Cyrano Andy; they met at Wilton Blair's funeral although she attended Mayberry Union High, and graduated in the same class as both Barney and Andy in 1945. In all, she appeared in 26 episodes. Later in Episode 30, Barney Gets His Man, after Deputy Fife captures an escaped convict, Barney is given the rest of the day off by Sheriff Taylor to spend with Thelma Lou; however, he rejects the offer because "you never know when another beast will come down out of the forest." Barney is in the "deadly game," and he's in it "for keeps."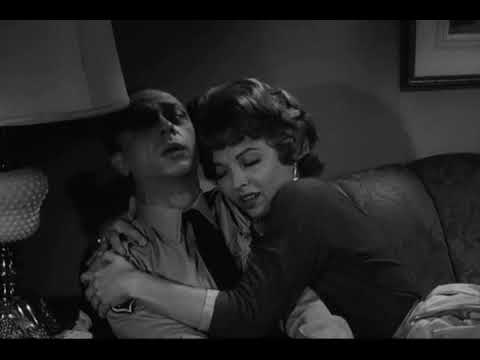 Barney on the Rebound in Season Two, Episode 5, and argument with Thelma Lou almost resulted in Barney Fife marrying Gladys "Melissa" Stevens. Andy found out she was already married to her "father," George.

In Season Two, Episode 13, The Farmer Takes a Wife, Barney was jealous after "Big" Jeff Pruitt fancied Thelma Lou, and began to court her until she showed him her rules for marriage including her meal plan for him.

In Season Two, Episode 29, Andy on Trial, Barney is manipulated by that "kid reporter" Jean Boswell (Ruta Lee) to give out information used against Andy for malfeasance

The Fun Girls made their debut in Season Three, Episode 6, Barney Mends a Broken Heart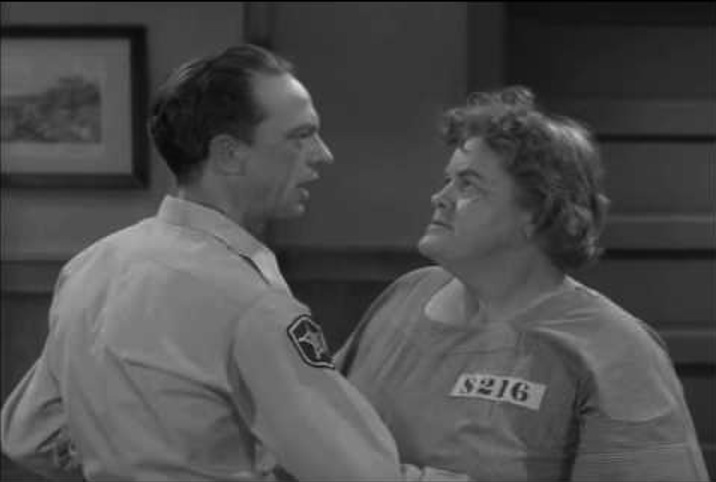 Convicts At Large was in Season Three, Episode 11; Barney dances cheek-to-cheek with "Big Maude" as she was really "getting to him"

In Season Three, Episode 19, Class Reunion, Barney was disappointed to find out that his old girlfriend, Ramona Wiley, had married Harry Becktoris. Even worse, she hardly remembered him.

In Season Three, Episode 27, Barney's First Car, Mrs. Lesh (a.k.. Myrt "Hubcap" Lesh) talks Barney into a "sweet deal;" below is a younger Ellen Corby. She was nominated for an Academy Award and won a Golden Globe for I Remember Mama, and won 3 Emmy's for The Waltons.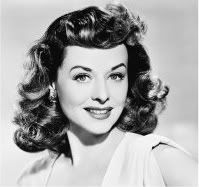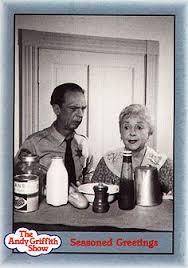 In Season Four, Episode 10, Up in Barney's Room, Mrs. Mendelbright (Enid Markey) is conned and drugged by Oscar Fields (J. Pat O'Malley) after Barney is evicted for cooking in his room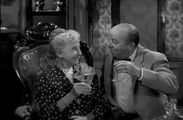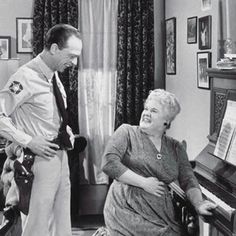 In Season Four, Episode 20, The Song Festers, Barney lost the tenor solo part in the choir to Gomer, but was cheered on by his voice teacher, Eleanora Poltice (Reta Shaw) to regain his part after Gomer lost his voice when a flushing radiator sprayed all over him.
In Season Four, Episode 27, The Fun Girls,

In Season Four, Episode 30, Barney and Thelma Lou, Phfftt, Barney put his "foot in his mouth" when stating to Gomer that he had Thelma Lou in his "hip pocket." She retorted by making Barney jealous with a brief affair with Gomer

In a visit to Raleigh in Season Seven, Episode 18, A Visit to Barney Fife, Barney is twitterpated with Agnes Jean Parker (Margaret Teele)
In the next episode of Season Seven, Episode 19,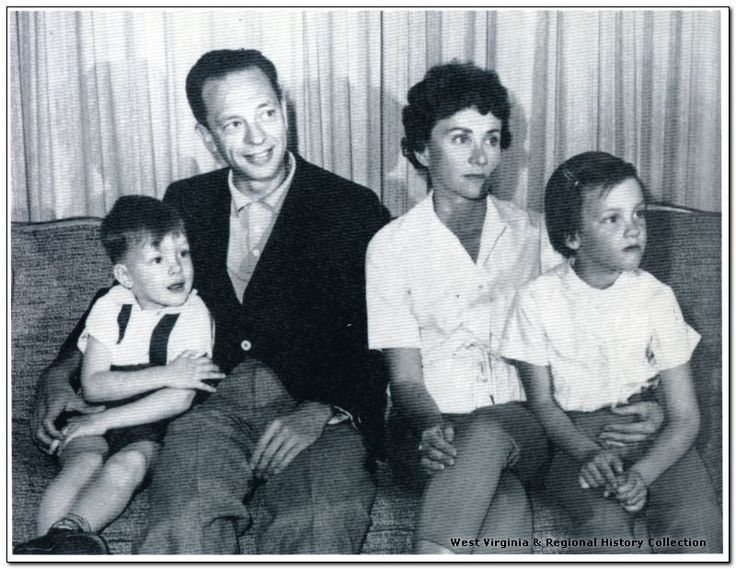 Don Knotts grew up in West Virginia; he was married to Kathryn Metz, 1947-1964, then, he married Loralee Czuchna, 1974-1983, and Frances Yarborough, 2002-2006, when he passed away. Barney's favorite episodes were The Pickle Story and Barney and the Choir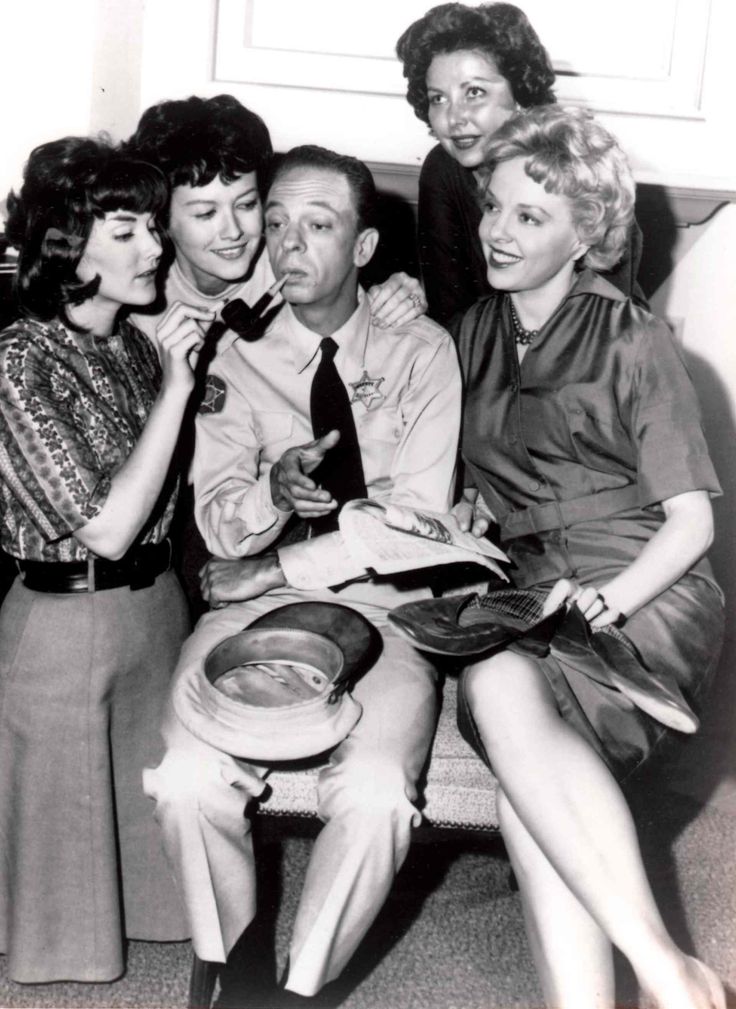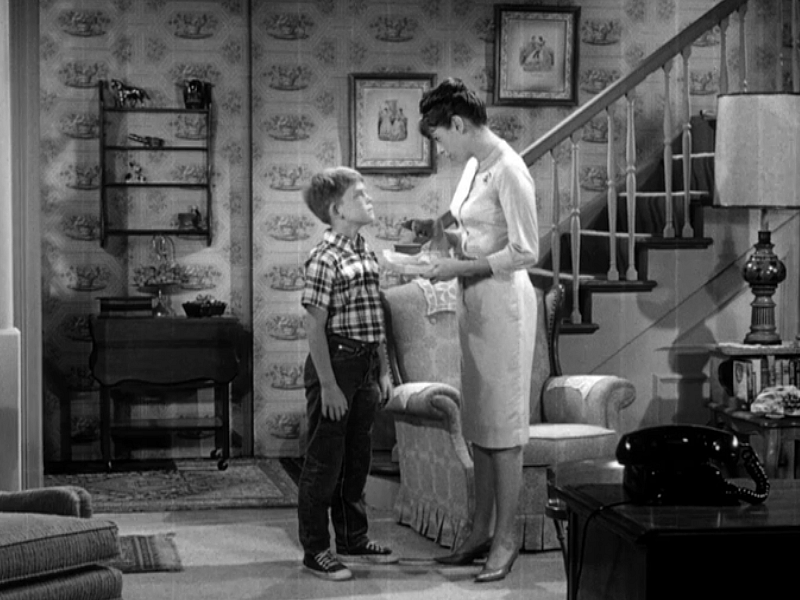 Opie's love began three seasons; the first was in Season Five, Episode One with Opie Loves Helen

In Season Six, Episode 22, Look, Paw, I'm Dancing, Opie finally gets up enough nerve to dance with Sharon Porter; Rhonda Jeter was in 8 episodes on The Andy Griffith Show as Karen Burgess, Ethel, Sharon McCall and Sharon Porter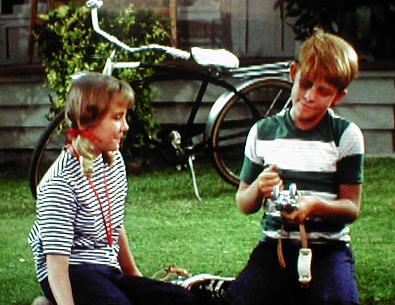 Opie also began Season Seven, Episode One with Opie's Girlfriend, Helen's Niece, Cynthia

Opie then began Season Eight, Episode One with Opie's First Love as he finally got up the nerve to ask Mary Alice Carter (Morgan Brittany) to a party; after she accepted, she reneged on her commitment when Fred Simpson asked her to go. All's well that ends well as Fred ignored Mary Alice so she went to the diner with Opie, Helen and Andy (Opie's Treat). Brittany later became the scheming half-sister of Pamela Ewing and Cliff Barnes, Katherine Wentworth, in Dallas.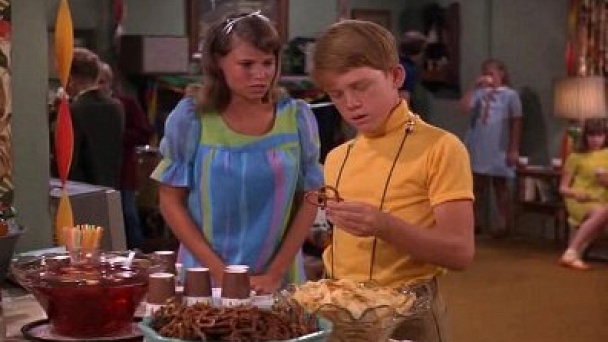 Opie's Group in Episode 9 of Season Eight catapulted Opie as one of the town's new rock starts, and Phoebe Joy (Kay Ann Kamper) played by Kay Lenz was tickled to speak with him at the refreshment table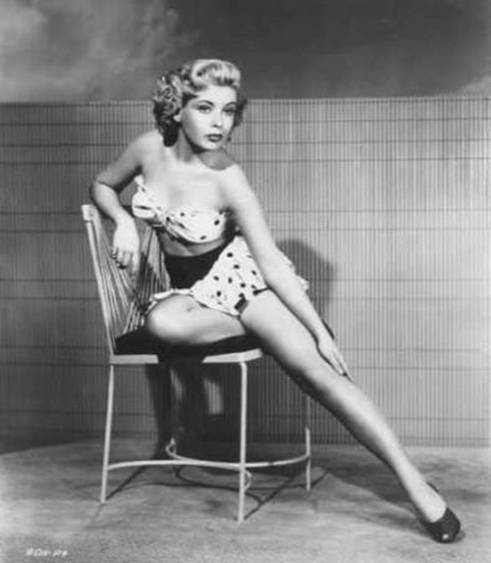 Aunt Bee (Beatrice Taylor played by Frances Bavier was in 175 episodes)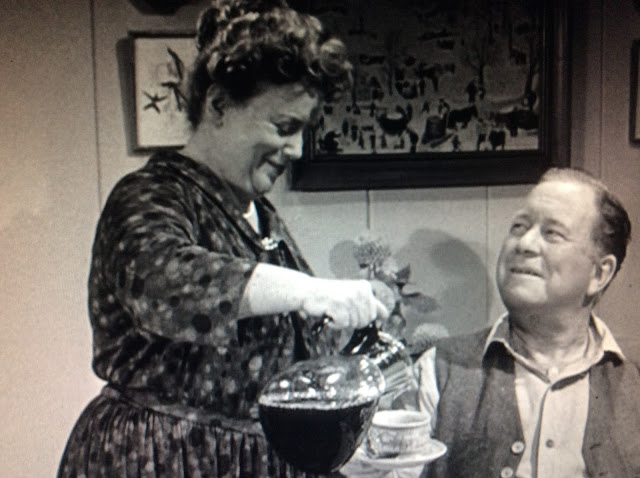 The first introduction of Aunt Bee into love came in Season Two, Episode 9 with Aunt Bee's Brief Encounter; she is smitten with Mr. Henry Wheeler, the handyman, after he nurtured her roses. Andy foreced his departure with a shotgun after a call to Mount Pilot confirmed his "goldbricking" ways.

In Wedding Bells for Aunt Bee in Episode 26 of Season Two, Fred Goss is invited to the Taylor's for dinner, but the outspoken, sloppy dry cleaner was not match for Beatrice.

In Season Three, Episode 24, Aunt Bee's Medicine Man, she falls for Colonel Harvey, and after drinking his elixir, she ends up in jail until she and her friends sobered up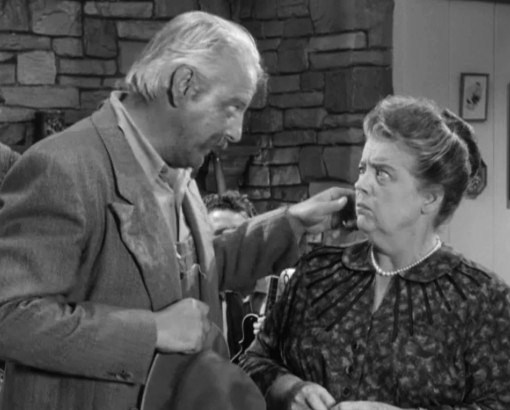 In Season Five, Episode 5, Aunt Bee's Romance, Roger Hanover, an old boyfriend and practical jokester, comes to Mayberry, and leaves without the $400 he sought in blackmail from Andy

Aunt Bee's Invisible Beau in Season Five, Episode 27, Orville Hendricks, a married "Butter and Egg Man," became the subject of a fabricated story by Aunt Bee; the Taylor's found a new "Butter and Egg Man" in Farley Thurston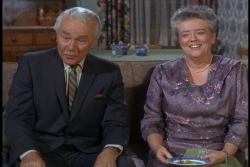 In Season Six, Aunt Bee The Swinger, retired Congressman, Jack Canfield

In Season Seven, Episode 5, Aunt Bee tried to gain the attention of visiting preacher, Revernd Layton, with a wig in Aunt Bee's Crowning Glory; her constant rival, Clara Edwards also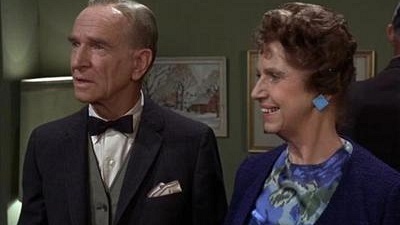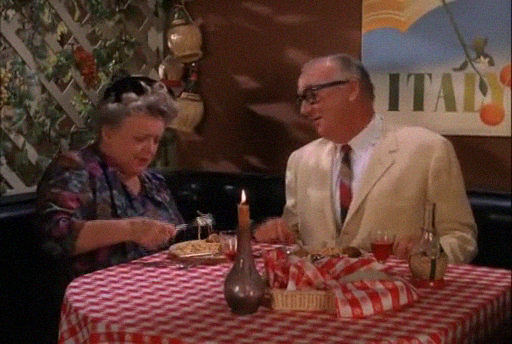 Bee Taylor and Clara Edwards compete for the affections of visiting lecturer, Professor Hubert St. John in Season Eight Episode 10, Aunt Bee and The Lecturer; Beatrice resembled and had all the same mannerisms and idiosynchocies of St. John's deceased wife, Ethel. At Morelli's, she even spun her spaghetti like Ethel.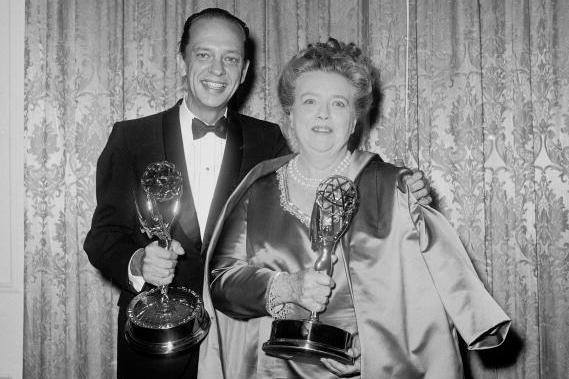 Both Don Knotts and Frances Bavier won Emmy Awards for their roles as Barney and Aunt Bee. She never married or had children. Apparently, she was very difficult to get along with on the set, and no cast members went to her funeral at Siler City, North Carolina December, 1989.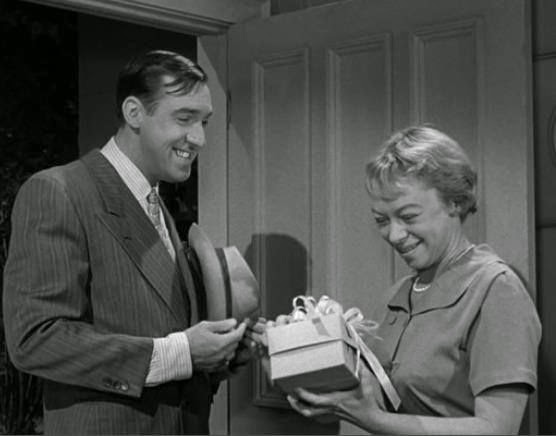 In a Date for Gomer, Season Four, Episode 9, Gomer accepts a date with Thelma Lou's cousin, Mary Grace, but forgets the corsage so Barney, Andy, Thelma Lou and Helen went to the dance without them only to come back later and find that they're both having a better time than they had at the dance where they fought and bickered. Thelma Lou gave Barney a couple bloody noses.
In Season Four, Episode 30, Barney and Thelma Lou, Phfftt! After Barney told Gomer that he had Thelma Lou in his "hip pocket," she learns this from Gomer as he took her to Mount Pilot for a dental appointment. Gomer and Thelma Lou went on a date to the movie. Barney got so jealous he almost punched Gomer in the nose.Thelma Lou and Barney finally made up. At the end of the episode, Barney repeats himself with the "hip pocket" declaration.

The 32nd Episode of the Fourth Season was a pilot for Gomer's own TV show, Gomer Pyle, U.S.M.C., 1964-1969, with 150 episodes, and in the 8th episode of the 1st Season, Gomer met the Dragon Lady
In the 10th Episode, A Date for the Colonel's Daughter
In the 19th Episode, Love Letters to the Sarge
In the 26th Episode, Double Date with Sarge

In the 29th Episode, Gomer Dates a Movie Star
In the Second Season of Gomer Pyle, U.S.M.C., in the 3rd Episode, The Blind Date,
In the 50th Episode, Sergeant Carter Dates a Pyle
In the 57th Episode, A Date with Miss Camp Henderson
In the 3rd Season, 70th Episode, Marry Me, Marry Me
In the 75th Episode, Love's Old Sweet Song
In the 83rd Episode, Lou-Ann Poovie Sings Again
In the 90th Episode, Lou-Ann Poovie Sings No More
In the Fourth Season, Episode 111, Gomer and the Queen of Burlesque
In Season Five, the 136th Episode, Win-A-Date,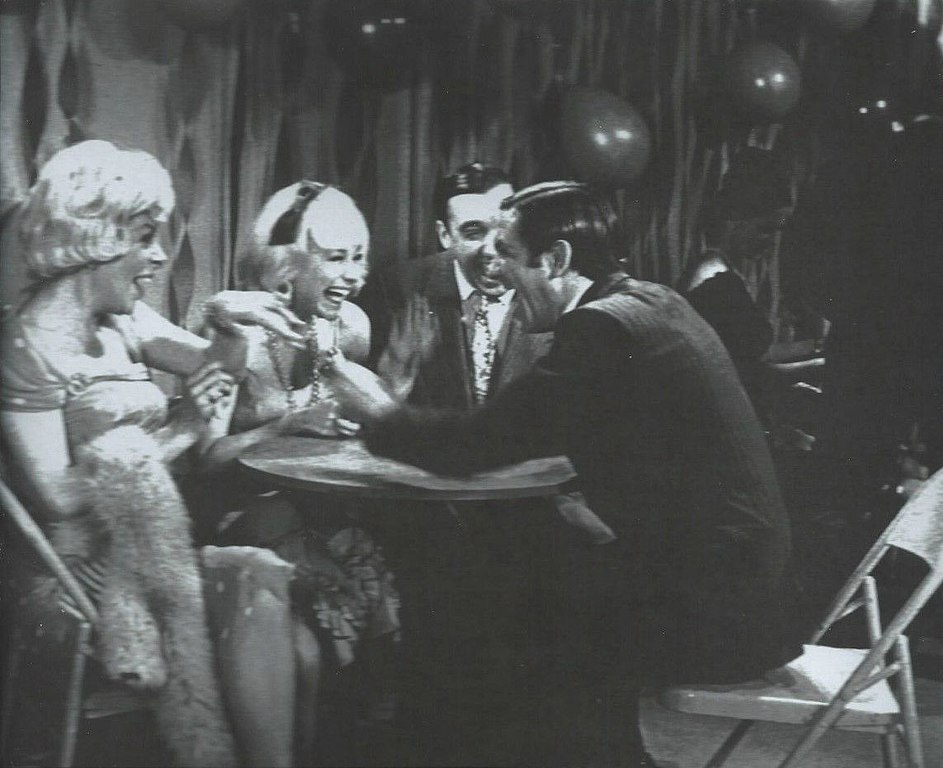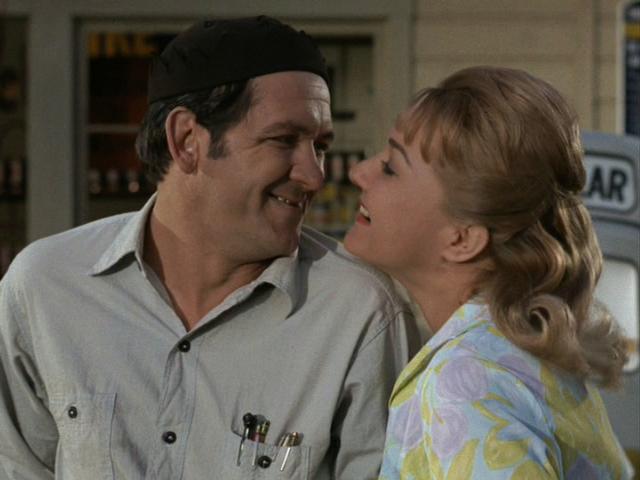 Goober's first love, Flora Malherbe (Alberta Nelson), was a waitress at the Bluebird Diner in Eat Your Heart Out, Season 6, Episode 24; then, in Episode 28, she replaced Goober at Wally's Filling Station in Goober's Replacement. Flora started as Nettie Albright who was a secret admirer of Barney Fife from Mayberry Union High from the episode, The Return of Barney Fife, Season Six, Episode 17.

In Season Five, Episode 20, Goober and the Art of Love; Andy taught Goober under the supervision of Officer Barney Fife, and Goober was Andy's biggest cheerleader. Goober progressed in his studies to hold Lydia Crosswaithe's hand before the end of their brief date

In Season Eight, Episode 29, A Girl for Goober, Dr. Edith Gibson is matched with Goober in a computer dating service; he takes her to Morelli's and gives her a corsage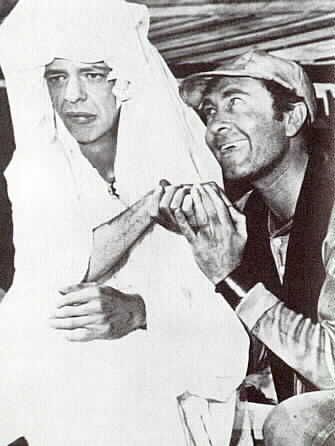 In A Mountain Wedding, Season Three, Episode 31
Bass had to have a uniform to impress his girlfriend in Season Four, Episode, Ernest T. Bass Joins The Army
In Season Five, The Education of Ernest T. Bass in Episode 4, Ernest falls for Helen
Howard Morris and Kim Novak in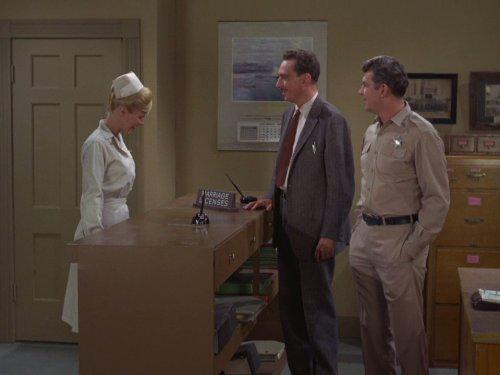 In Season Six, Episode 26, Howard Sprague meets County Nurse, Irene Fairchild (Nina Shipman), in The County Clerk; Howard's mother is not too pleased with the relationship

Later, Howard is enfatuated with Betty Parker in Season Seven, Episode 28, Big Brother; he spends more time dancing with her than mentoring her younger brother. She was so successful as Howard's dance partner, she became Lou-Ann Poovie, Gomer's girlfriend, on Gomer Pyle, U.S.M.C.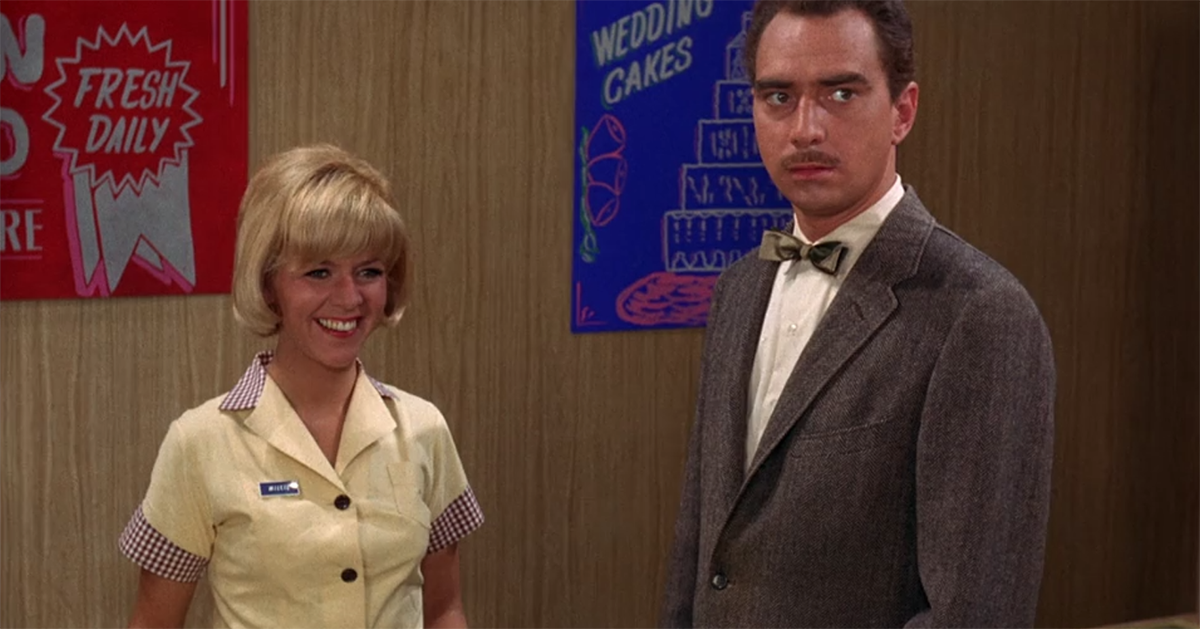 In Howard's Main Event, Season Eight, Episode 6, Howard Sprague and Millie Hutchins (Swanson) flirtations are interrupted by here former boyfriend, Clyde Plaunt
In Season Eight, Episode 26, Howard's mother gets married in The Wedding; Howard turns his house into a bachelor "pad" so he and Goober can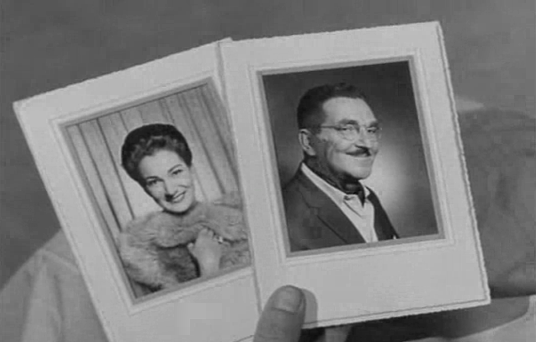 In Season Three, Episode 9, Floyd, The Gay Deceiver
Clara sang "Some Enchanted Evening" to widower, Harlan Robinson, in an effort to get a better price on The Church Organ in Season Six, Episode 14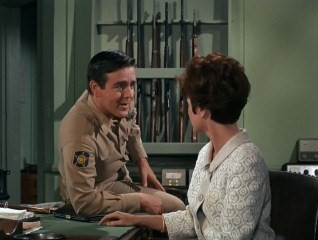 In Girl-Shy, Season Six, Episode 15, Warren Ferguson ; Burns appeared in 11 episodes.

Hard to believe that Burns was George Carlin's comedy partner, 1959-1963, and they produced an album at the Playboy Club together in 1963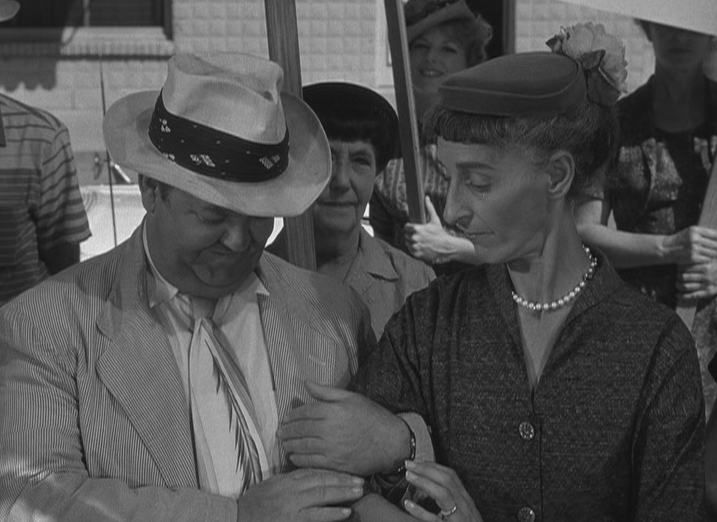 Otis, the Town Drunk, never had any affairs or special romances, but he did have a devoted wife, Rita (Dorothy Neumann) who was quite proud of the plaque he received in A Plaque for Mayberry, Season One, Episode 25; he appeared in 32 episodes and was mentioned in an additional 7 other episodes. Smith was from Petoskey, Michigan.