WORK VALUES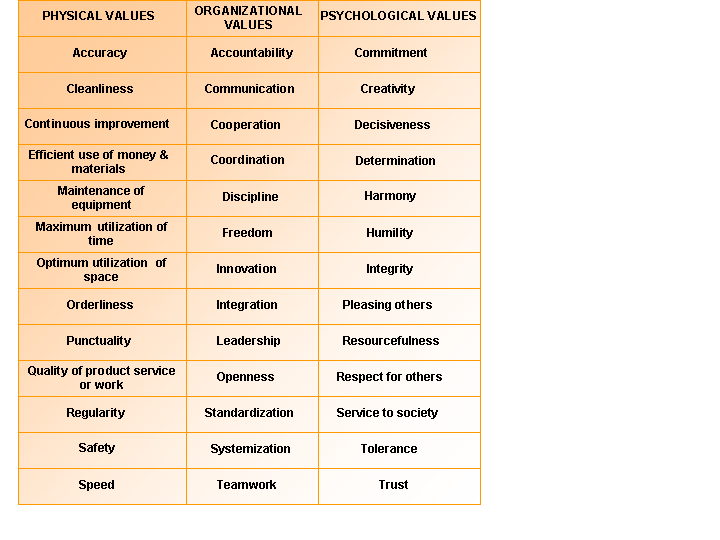 WORK INTERESTS/VALUES
___ Challenge: Learning new skills or information, self-development.
___ Creativity: Doing things in a new way, inventing things or developing different approaches or methods
___ Helping Others: Doing things for others, building a better world.
___ Income: Making a high salary, hourly wage.
___ Independence: Being your own boss, deciding how and when to do your work.
___ Outdoor Work: Working outside, working in different types of weather.
___ Prestige: Doing work that is perceived as important, and for which people admire and/or respect you for.
___ Public Contact: Providing information to the public, talking to people outside your organization.
___ Security: Having stable employment, steady income, secure benefits such as health insurance, life insurance, pension, etc. (not worrying about being laid off/outsourcing/etc.)
___ Variety: Doing many different activities, not doing the same things all the time.
___ Working in a Group: Working with others, being cooperative, getting to know co-workers.
___ Little Physical Activity: Doing work that requires very little physical activity (not much lifting or carrying/10 lbs. or less)
___ Physically Challenging Activity: Doing work that does require physical activity such as lifting, carrying or moving heavy objects, lots of walking (50-100 lbs.)
Rank the top 4 work values above!
PERSONAL VALUES
______ Satisfying and succussful career
______ Job security
______ Good family relationships
______ A world without discrimination
______ International fame
______ Pleasure
______ Strong religious faith
______ Lovely home in a beautiful setting
______ Self-knowledge
______ Ability or position to influence world affairs
______ The right to do what I want
______ Excitement
______ Sense of accomplishment
______ A lot of money
______ Love and understanding of friends
Work Values Inventory
Online Quiz
Work Values Quiz
Work Values Checklist
Prioritizing