The first 'school' in Washtenaw County was an outdoor school held in the summer of 1825 near Platt Road, eventually replaced by a log cabin. In 1837 another log cabin school was erected in Pittsfield Township, at which site in 1853 would be built Meadowview School. The development of the schools in Pittsfield Township is well-documented in this collection, in the Pittsfield Township, 1833-1860 series. Ann Arbor was scarcely a year old in September 1825 when a Miss Monroe opened a primary school in a log school house. John Allen had erected the building on his property at the northwest corner of Main and Ann streets. It was just across from what would be court-house square, then serving as Allen's vegetable patch. It was a crude building with small glass windows and split log benches.
We know of little more than the existence of this first school. Miss Monroe, the first teacher, died in 1829. Her successor, Harriet G. Parsons, moved the school into a frame house on the corner of Washington Street and Fifth Avenue in 1829. Miss Parsons later married Lorrin Mills, a tailor who built the first brick house in town. These pioneer schools were not supported by public funds but by rate bills and other assessments levied on the parents of the children. Public schools were not even authorized until 1830, and it was some years before tax money began to support education. Consequently, many of Ann Arbor's boys and girls did not attend school. In 1832, the average attendance was only 35 out of a possible 161 children five to fifteen years old.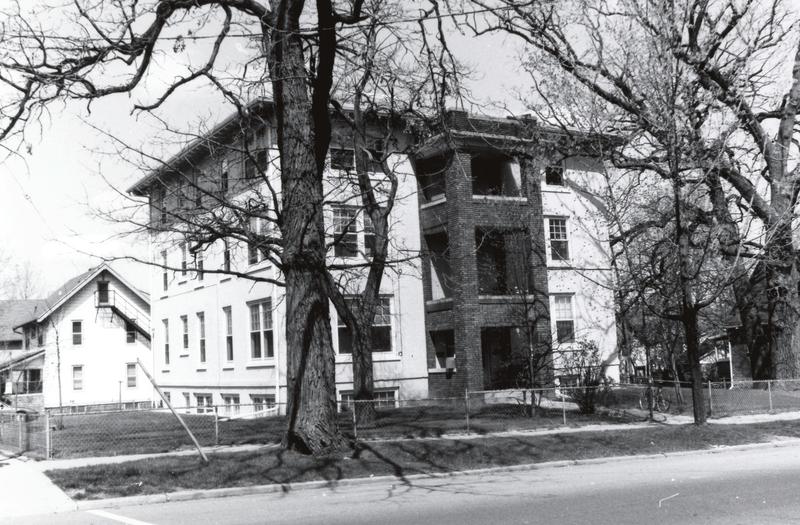 Misses Clark School in 1867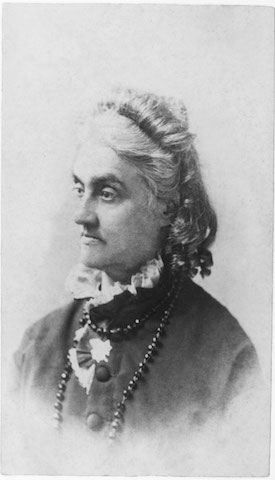 For secondary education a whole variety of private schools were established beginning with the Merrill Brothers' school in 1829--"a select school...for teaching higher English and Latin and Greek." Some were more prosperous than others. One of the most successful, and the private school with the longest history, was the Misses Clark School for young ladies; Mary Clark was the Principal, and the building was at 505 N. Division. It was established in 1839 by three well-educated sisters from New York. They operated the school until the death of Mary, the senior partner, in 1875. A unified public school system emerged slowly. Those citizens who lived across the Huron River in "Lower Town," which existed until 1861 as a separate village, maintained their own school system up to that time. In Ann Arbor teachers in the "aristocratic" north district were paid $224 per year, those in the south $90 until the two districts agreed to build a union school. When the Union School opened in 1856, it was the finest building in the city with an assembly room which could hold 700. Moreover, it was the most expensive school in Michigan on one of the largest sites.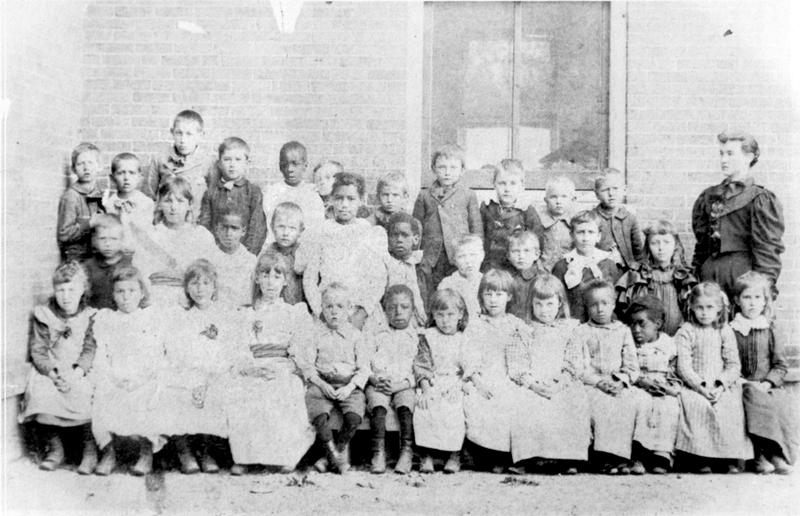 Fifth Ward School in 1855 near the Broadway Bridge later became Donovan School in 1908 at 944 Wall Street
The Union School far outshone in grandeur and landscaping the campus of The University of Michigan, which by action of the legislature was permanently located in Ann Arbor in 1837. In 1856, the school began with 11 students and 8 teachers; the land was purchased fro $2,000, and the school was constructed for $32,000. Daniel B. Briggs was the first principal, 1858-1860; he earned his law degree in 1850 after graduating from Williams College, and left Ann Arbor to be Principal in Jackson for the next 5 years, and was later appointed Superintendent of Public Instruction in 1872 after serving as Superintendent of Macomb County. Judge Claudius Buchanan Grant was Principal, 1860-1862; he was an 1859 University of Michigan graduate who later graduated from Law School, served with distinction in the Civil War reaching the rank of Colonel, went on to become a University of Michigan Regent, a Michigan State Representative, and Michigan Supreme Court Judge, 1889-1909. Grant was followed by Uriah W. Lawton in 1862 who later became the first Superintendent in 1864. Lawton was a Quaker who graduated from Brown in 1856; he taught school in Dexter before taking the Principalship in Tecumseh. Lawton left to become Superintendent of Jackson Schools for 12 years, 1868-1880. Martin Luther D'ooge became Principal at Ann Arbor High School, 1863-1865; he was a Professor at the University of Michigan, 1868-1870 and 1889-1897. Albert Pattengill was Principal, 1868-1869, and his brother, Judson Pattengill became Principal, 1876-1908.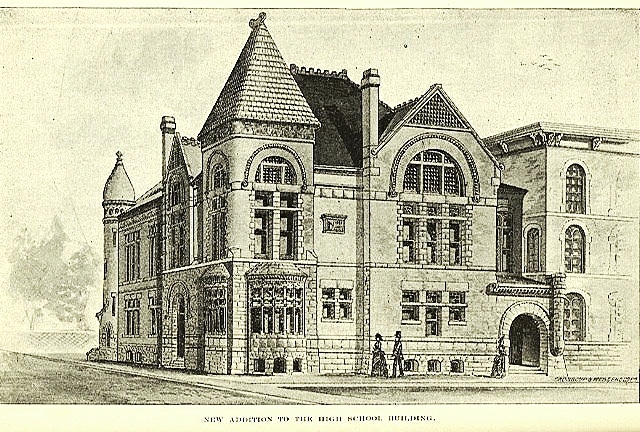 A new addition was added to Union School in 1889
The coming of the University undoubtedly was the single most important event in Ann Arbor's development. Its founding determined much of the subsequent history of the community. A land company of five leading citizens purchased 200 acres of farm land east of State Street and gave 40 acres of it as an inducement for the fledgling school to locate here. Its first buildings, imposing by frontier standards, were four professors' houses and University Building (later called Mason Hall), which opened in 1841. Its first class graduated in 1845. A medical department was added to the literary department in 1850; law followed in 1859. From 1837 onward, the history of the University and that of Ann Arbor have been inseparable and interdependent. There emerged a feeling of creative tension that usually was congenial, or at least tolerant, only occasionally slipping into hostility. History of Public School Buildings in Michigan
Ann Arbor's first residents were actively establishing other social foundations besides schools. A group of villagers began a library in 1827, which by 1830 had 100 volumes. In 1831, twenty-eight Ann Arborites joined the Lyceum, the purpose of which was "the cultivation of science and knowledge by members on subjects chosen by themselves, the collection of books and apparatus, and specimens of Natural History." The University of Michigan Library began in 1838; it is one of the ten largest libraries in America.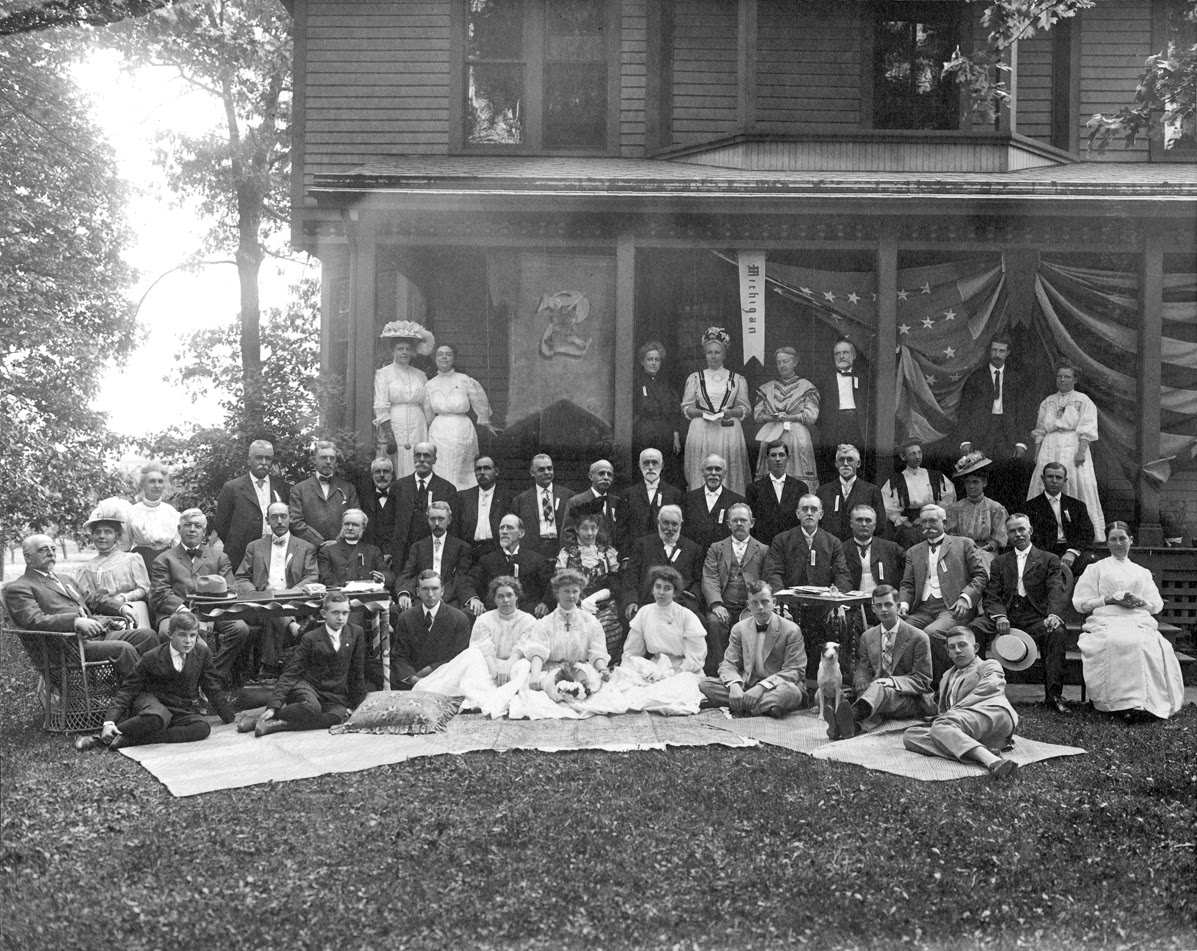 The Ann Arbor High School Class of 1872 held their 35th reunion on June 18, 1907 at the Evart A. Scott House
The path to the Union High School was tortuous, slow, and often contentious. At least fif­teen communities — from Flint to Tecumseh —opened public high schools before Ann Arbor did. The reasons for the delay were time­less: money and politics: Ann Arbor's first schoolhouse, built on land donated by village founder John Allen, opened in September 1825. By 1830 the township of Ann Arbor was divided into eleven school districts, with District 1 including the village. The first report of District 1's commis­sioners, in 1832, sum­marized the situation briskly: "No. of children between 5 and 15 years of age in the district, 161. Average No. in school, 35. No public moneys received."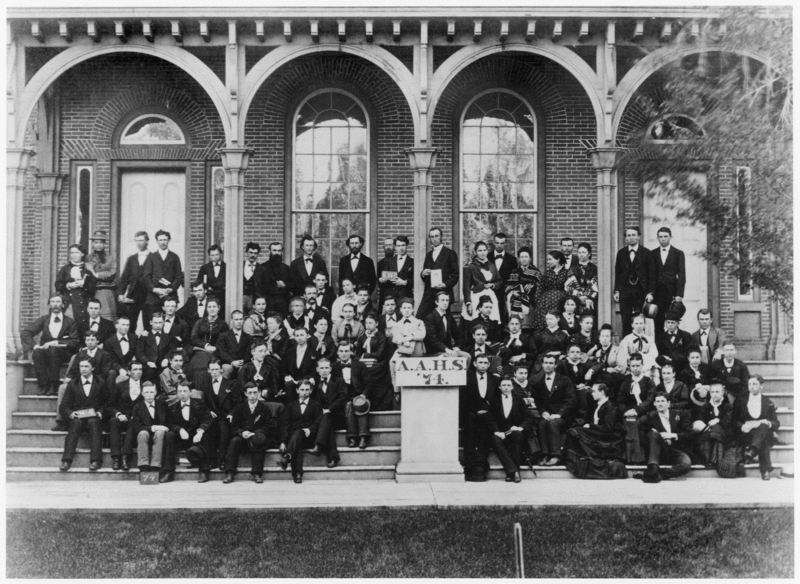 Ann Arbor High School Class of 1874
Support for publicly funded education was slow to develop. Many residents, especially the wealthy who could af­ford private schools, op­posed any tax for oper­ating public schools. As a result, complained the Michi­gan State Journal in 1835, "a neglect of schools has be­come almost a proverbial reproach upon our village. The situation was complicated by the multiplicity of school districts. By 1839 the eleven districts of Ann Arbor Township had been consolidated into four, and in 1842 those were consolidated into one. Enrollment in 1858 was 1295 students, and increased to 1351 then to 1922 by 1866. The first graduating class in 1860 had 11 graduates. The population of Ann Arbor was 5,097 in 1860; it increased to 7,363 in 1870, and 8,061 in 1880. 1880 Graduation at Presbyterian Church. But in the 1881 History of Washtenaw County, Michigan, Walter S. Perry, superin­tendent of schools from 1870 to 1897, records that in 1845, "a petition, which secured the names of nearly all the solid men of the town north of Huron St., the aristo­cratic part of the village, was presented to the school in­spectors, praying them to divide the districts 'before any expenses incurred in preparing to build a mammoth school-house, as we prefer the system which experience has proved to the visionary and costly experiments.' Counter petitions of those living in the south and west portions of the town were made, but nevertheless the divi­sion was made, and for eight years the town supported two schools and two sets of officers throughout."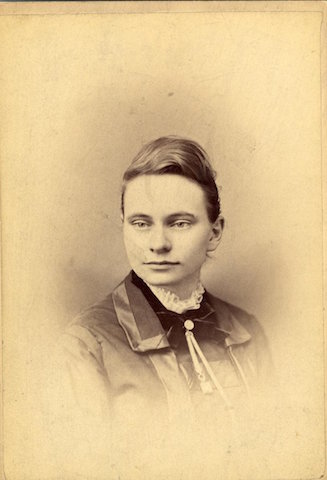 June Rose Colby graduated from Ann Arbor High School in 1874, and became the first woman in the United States to earn a PhD in 1886 at the University of Michigan in American Literature
The two school districts were finally unified in No­vember 1853. Within days, a committee was appointed to develop plans for the "Union School." By the end of De­cember, the school board had decided on a site—one and three-fifths acres, bounded by Huron, State, Washington, and Thayer streets. The property, owned by Elijah W. and Lucy Morgan/cost $2,000. The board presented plans and construction cost esti­mates for the building at a public meeting on February 4, 1854. After a long and vehement debate, it was resolved "that the District Board be, once it is hereby authorized and directed to erect and furnish at the expense, and on the faith and credit, of this District, a brick building for a Union High School." The board voted to raise $10,000 by tax to cover the anticipated cost. "We do not like to pay taxes better than others, but when we know that we are paying for school purposes the money goes freely and without regret," the Michigan Argus editorialized. "We must have good schools or big jails."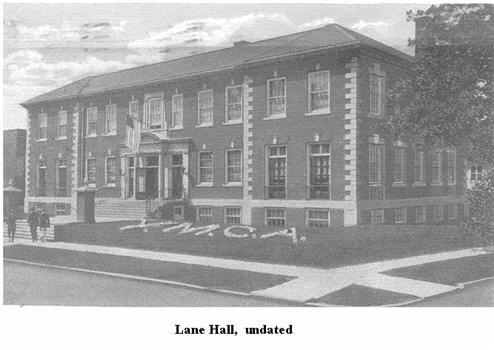 Ann Arbor YMCA began in 1858, was chartered in 1892, housed on 110 North Fourth Avenue, 1904-1959, and Lane Hall was built in honor of Judge Victor Lane in 1917 across the street from Ann Arbor High School at State St. & Washington. A new facility was built in 1959 at 350 Fifth Ave. across from the Ann Arbor Public Library that was dedicated in 1957, and it is now housed at 400 S. Washington St. since April 1, 2005 serving over 27,000 people in the area.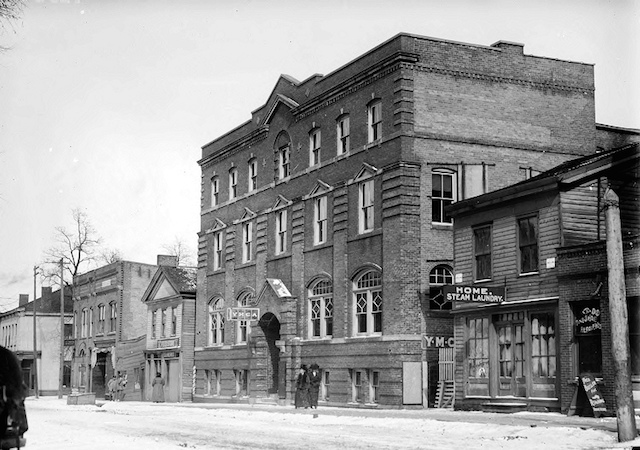 YMCA at 110 North Fourth Ave.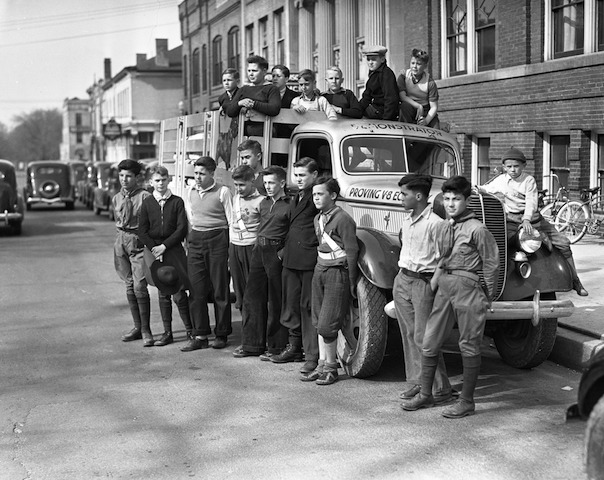 YMCA Trip April, 1937 leaving from 110 N. Fourth Ave.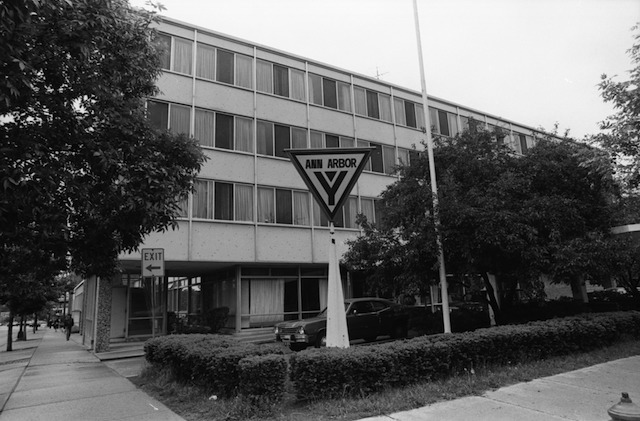 YMCA at 350 Fifth Ave.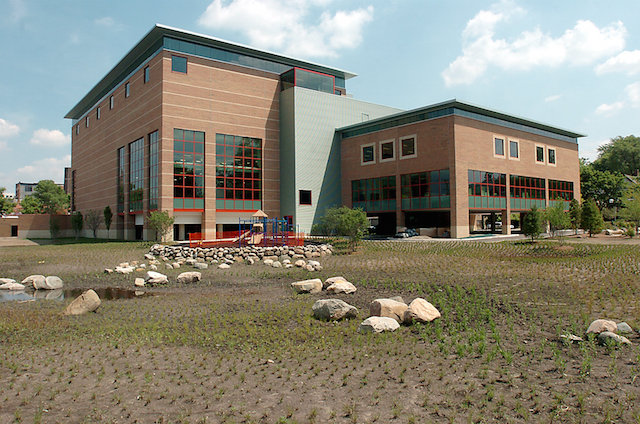 YMCA at 400 S. Washington
Elijah W. Morgan was born in Watertown, New York, on May 15, 1805. In his youth, he worked with his father Elisha repairing agricultural implements. At the age of 17, he entered Lowville Academy in Lewis County, New York, where he studied and where he for a time was a teacher. He later studied law in the office of Charles Dayan, and it was here that he heard many accounts of the "prairie country" and the prospects facing those who would settle in the Michigan territory. In 1829, Morgan journeyed to Detroit to learn first-hand about life in the midwest. After visiting Ann Arbor, Saline, Tecumseh, and Adrian, Morgan and his wife Lucy Stow selected Ann Arbor as the "healthiest" and most promising area in which to live.
Morgan quickly became a leader among the people of his adopted community. In 1830, he was admitted to the bar, and soon thereafter involved himself in the economic growth of the settlement. Morgan was one of five men who formed the Ann Arbor Land Company which donated 40 acres of land to the state of Michigan as the site for the future University of Michigan. He was also first president of the Toledo, Ann Arbor & Northern Railway Company. Morgan was director of the Bank of Washtenaw (1836-1839), and in 1896, he helped to found Ann Arbor Savings Bank. Morgan also held many county offices. He was prosecuting attorney, alderman, member of the first Ann Arbor Public School Board of Trustees, chairman of the Democratic County Committee, and was Commissioner of Deeds. For 50 years, Morgan played an active role in Ann Arbor's economic and civic development. He died on January 21, 1892 at the age of 87.
Lucy Stow Morgan of Middletown, Connecticut was a woman "of more than ordinary ability" and "very capable in human transactions." Before her marriage to Elijah she was a teacher in Lewis County, New York during the years 1821-1827. Following her marriage in 1829 and her move to Ann Arbor, Lucy Morgan invested in lands and amassed a large fortune in Washtenaw and Jackson counties. She died in 1887 at the age of 91.
The Morgans' land was on the extreme eastern end of the village—so far from the center of town that it had been used only for pasture and the occasional circus per­formance. But once the school was sited, development soon followed. "Many new houses are being built and yet the demand is not supplied," the Argus reported in Sep­tember 1857. "People are moving here to take advantage of the University and our model Union School." In its haste to get the school under way, the board had badly misjudged its cost. In addition to the $10,000 voted at the meeting in February 1854, the Argus reported in September that a "tax of $7,000 was voted to be raised the present year, and to be appropriated toward the erection of a new School building. A tax of 70 cents per scholar was voted for School purposes, and other small amounts for contingent expenses."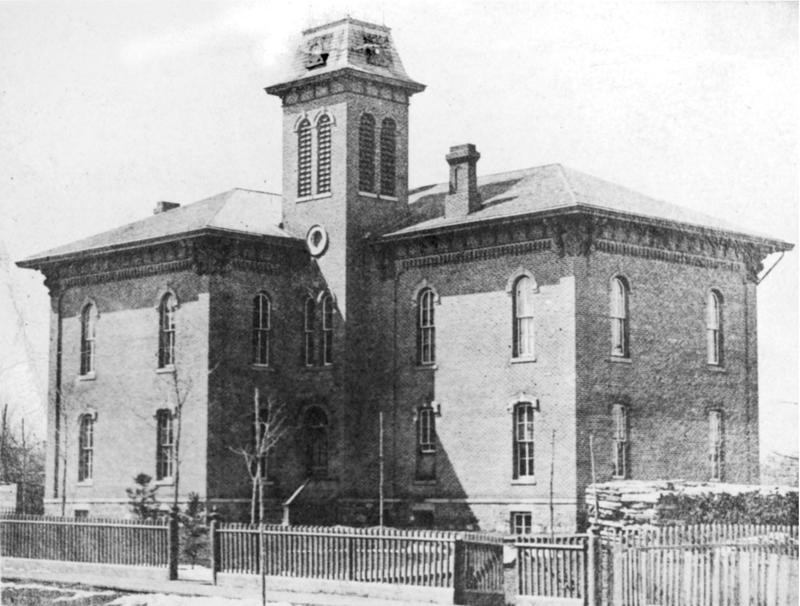 Fourth Ward School on Division St. in 1867 would later become Jones School in 1922
The following January the Argus reported on a bill, just passed by the Michigan Legislature, that seems to have been aimed at removing all possible obstacles to progress on the building. The legislation gave school boards the "power to designate sites for as many school-houses, including a Union High School? as they may think proper, by a vote of two thirds of the le­gal voters present, at any regular meeting." Boards were also grant­ed the power to pur­chase land, raise taxes upon property within the district, fix tuition for nonresident schol­ars, make and enforce bylaws and regulations, borrow money, and re­pay loans. Ann Arbor's board now could proceed in the knowledge that its actions bore legal sanc­tion—a timely reassur­ance, as construction funds were once again found insufficient. In addition to the $10,000 voted in February 1854 and $7,000 in Septem­ber of the same year, a meeting in September 1855 authorized bor­rowing $10,000, bring­ing the total appropria­tion for the building to $27,000. The following January, another public meeting approved bor­rowing a final $8,000 to complete and furnish the building and fence and grade the grounds.
School records do not provide a total cost figure for the building. However, from 1855 through 1863 the district issued 167 individual bonds, ranging in value from $50 to $1,100, and totaling $32,637.50. That matches closely with the expen­diture figures given in the Argus, which add up to $35,000—more than triple the original estimate. For its money, though, the city got a show-place—a building a railroad publication called "the crowning glory of the town." Built of brick on a fieldstone foundation, the handsome Italianate school stood three sto­ries tall, set well back from the street, with a curving driveway in front. The third floor was one huge assembly hall, used for public gatherings of all sorts, including the U-M graduation exercises. The basement, wrote the state superintendent for public instruction, "contained living quarters for a janitor and his family, a writing room, a recitation room, and a primary school room."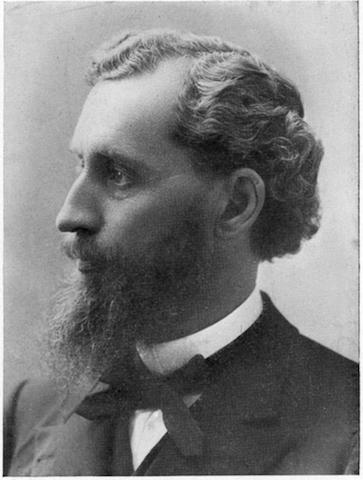 Walter Perry was Ann Arbor Public Schools Superintendent, 1871-1897
The following January, the Argus published a long story praising the new facilities--as well as the orderliness, efficiency, and spirit of the student body and faculty. The paper reported that the curriculum included: "Four classes in Latin, two in Greek, two in French, two in German, two in Bourdon's Al­gebra, three in Elementary Algebra, one in Geometry, one in Natural Philosophy, tour in Arithmetic, one in Book Keeping, and three in English Grammar. . . . Instruction was also given regularly to both departments in Writ­ing, Drawing and Vocal Music; and private les­sons are given in Instrumental Music." Noting that the number in attendance was 356, the report concluded: "Our school is well organized, well disci­plined, and well instructed; thus far it has more than answered our most sanguine expec­tations, and it now gives the most cheering promise or continued prosperity." Though the U-M would not admit women until 1870, the Union School was coed from the start. The Argus noted in fall 1857 that residents paid nothing for the basic course of study, aside from a "modest fee" for those wishing to pursue foreign languages, art, or music.
"For the information or our friends residing in adjoining Towns, we give the terms—per quarter or 11 weeks—on which non-resident scholars are admitted: Higher Dept., English Studies, $4. Higher Dept., English and Lan­guages, $5. Intermediate English, $3. Inter­mediate English and Languages, $4."The high school was still educating many nonresidents when superintendent Perry wrote his history of the school district, circa 1880: "It is one or the largest preparatory and aca­demical schools in the country, and its reputa­tion has become well nigh national. Or its 400 to 500 pupils, about 60 per cent are non-residents. Its annual tuition receipts go far toward cancelling the cost or its support, while many families become temporary residents or the city in order to secure the advan­tages of its superior instruction. Since 1861, the date or its first graduation class, the school has graduated 870 pupils, a large portion or whom entered the University of Michigan. It is doubtful if any other enterprise of the city has contributed more, even to its material prosper­ity, than has the Ann Arbor high school."
In its first year in Ann Arbor, the University of Michigan had two professors and seven students. There were more Regents (nineteen) than faculty and students combined. The reorganized University did not have a president, but the faculty elected a presiding officer each year from their own ranks. The original founding date was 1837, but it was changed later to 1817. The first classes in Ann Arbor were held in 1841, with six freshmen and a sophomore, taught by two professors. Eleven students graduated in the first commencement in 1845.
Freshmen entering in 1841 (women were not admitted to the University until 1870) took admissions examinations in mathematics, geography, Latin, Greek, and other subjects. They also had to furnish "satisfactory testimonials of good moral character." Students paid an initial admissions fee of ten dollars but no tuition.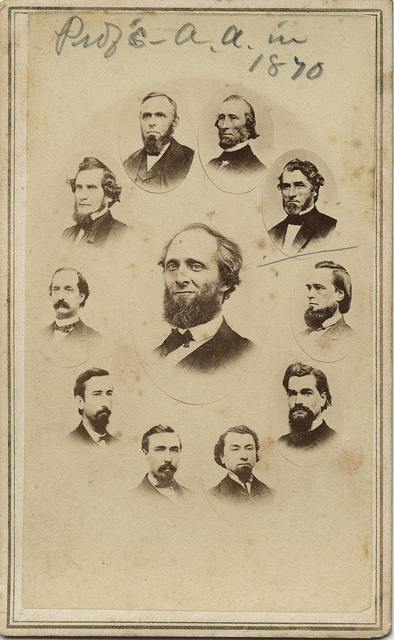 University of Michigan Faculty in 1869
In 1866, Twenty-five years after the move to Ann Arbor, the University of Michigan became the largest university in the country, with 1205 enrolled students. In 1867, the enrollment reached an all-time high of 1255 students. At that time, the University was comprised of the Medicine Department, with 525 students; the Law Department, with 395 students; and the Literary Department, with 335 students. There were 33 faculty members. James Burril Angell was the longest tenured President, 1871-1909. The University of Michigan, 1817-2017. One of the things making Ann Arbor Public Schools extremely unique is that their birth and growth were tied to the University of Michigan's birth and growth in Ann Arbor.

Ann Arbor High School Football Practice in 1902 at the "old" fairgrounds (Burns Park)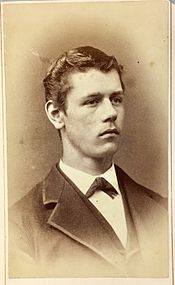 Irving Kane Pond graduated from Ann Arbor High School in 1875
The initial curriculum at Ann Arbor High School was divided into two sections—classics and English. They covered similar material, but the former was more rigorous for college preparation. In 1872, a commercial course was started, and two years later, Horatio Nelson Chute, an 1872 University of Michigan graduate, was hired to teach science; he published several books on physics and was nationally recognized as a leader in teaching science. He designed some of the first comprehensive courses in high school physics, astronomy, and chemistry, which were copied all over the country. Levi Wines, an 1870 Ann Arbor graduate, was also hired to teach mathematics after he graduated from the University of Michigan in 1874; he went on to become a builder, founded the University Musical Society in 1879, and served a Parks Commissioner in 1905. As enrollment grew, so did the build­ing. A portico was added to the west side in 1857. Also in 1872, the school was extended on the east side by about forty feet, nearly doubling in size. Commencement in 1874. Commencement in 1875. Commencement in 1877. That same year new heat­ing equipment, seats, and bells were pur­chased. Commencement in 1885 at Baptist Church. Commencement in 1888. In 1889, a final expansion nearly doubled its size again, extending the school all the way to Huron Street. The Gothic-style addition was no soon­er completed than it was nearly destroyed: on September 10, 1889, smoke was seen pouring out of a window on the first floor. Fortunately, firemen and a group of about 100 boys were able to extinguish the fire in short order. Afterward there was discus­sion of taking steps to fireproof the build­ing—but nothing was done. There were 54 graduates in 1873, 77 graduates in 1883 (only 9 started at the school in 1879), 79 graduates in 1886, 71 graduates in 1891, 97 in 1892, 100 in 1896, and 79 in 1897. List of 1898 Graduates. Enrollment in 1896 was 559 students. Ann Arbor's population was 9,431 in 1890 and grew to 14,509 in 1900.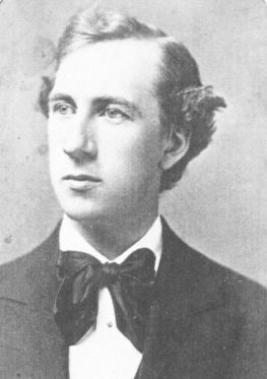 Levi Wines, taught 51 years at Ann Arbor High School, 1879-1930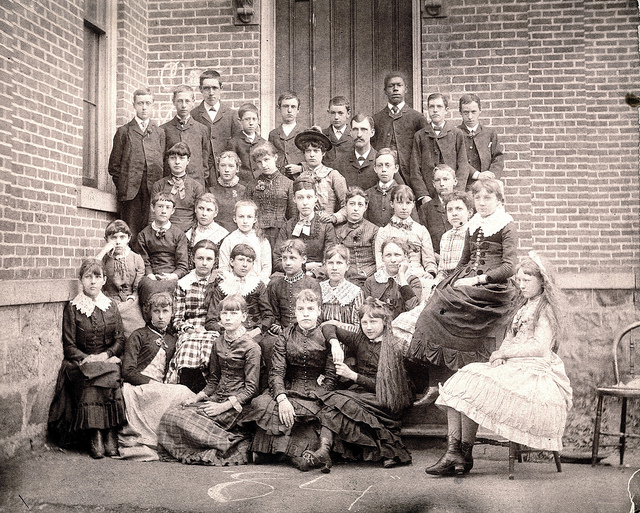 A 7th Grade Class in 1887
Fifteen years later, on New Year's Eve 1904, the entire school was consumed by flames. Because water pressure was low and the fire was well advanced when it was discovered, the firemen could not save the building. Even though the blaze occurred in the middle of the night, most of the town came out to watch. Principal Judson Pattengill, science teacher Horatio Chute, math teacher Levi Wines, and school superintendent Herbert Slauson organized a rescue mission. Aided by about 100 students, they were able to save much of Chute's prized physics labo­ratory equipment and most of the 8,000 li­brary books. But much more was lost— textbooks, botany and chemistry equip­ment, school records, teaching aids, and sports equipment. "Friends of mine who were high school students at the time tell me that they stood with tears running down their cheeks, cry­ing unashamed as they saw the flames break out in one after another of their classrooms," local historian Lela Duff wrote in 1956. Overnight, the city had lost its showplace, the anchor of the develop­ment of a large section of the local real es­tate market, and a trendsetting educational institution.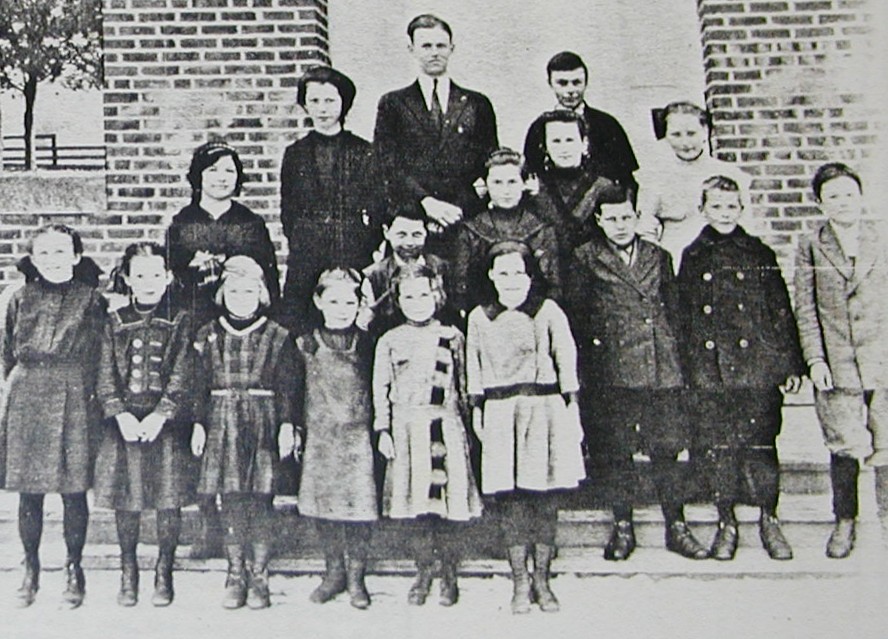 Fosdick School in 1914
Christmas vacation was ex­tended just two days. With an outpouring of community support, classes resumed on January 12. The eighth grade moved en masse to Perry School, while high school classes met in borrowed churches and student religious centers, Moran's School of Shorthand, and the basement and storerooms of the new Hamilton Block at Thayer and North Uni­versity. Efforts to replace the school started the morning after the fire with an emergency meeting of the school board. A bond issue to fund a new building passed in March, 370-42. The district hired Malcomson and Higginbotham of Detroit to design both the new school and an adjoining library facing Huron (the district had already re­ceived a Carnegie grant for the library be­fore the fire). Both are neoclassical de­signs with pillars, multisectioned win­dows, and arched main entrances. But the school is made of brick, while the library has a stone facade, and details differ subtly on the roofs and entrances.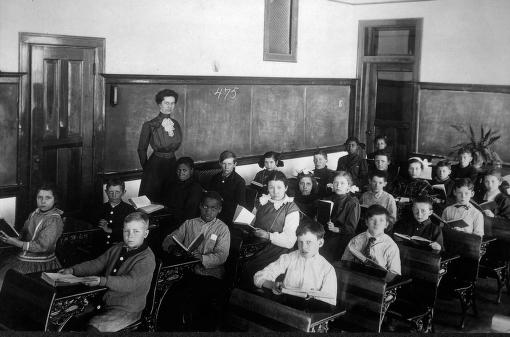 Donovan School was at 944 Wall Street; it opened in 1909. Above is a classroom in 1911 with Teacher Lily Goodhew.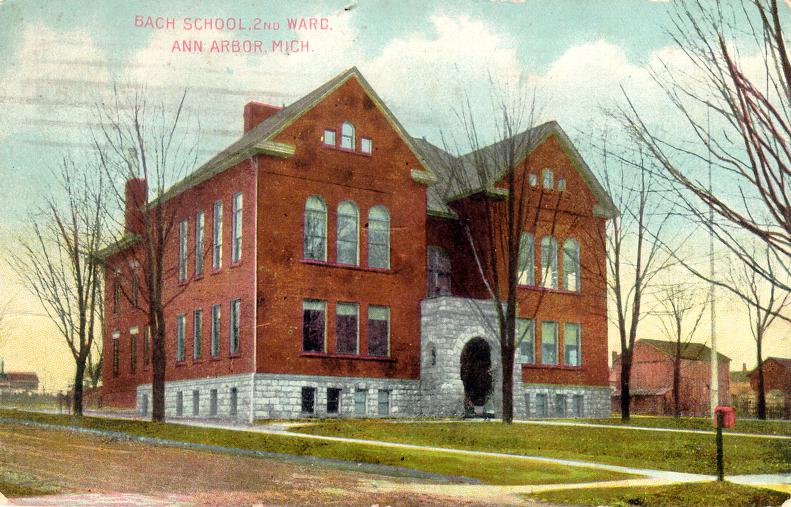 Bach School in 1909; it was previously known as the Second Ward School from 1861
The new school opened for classes on April 2, 1907, and was dedicated in a community ceremony ten days later. "That Ann Arbor now possesses the finest public school building in Michigan, if not in the United States, is admitted by all who have visited whether residents of the district or of other sections of the country," the Daily Times enthused. If students entered at the side doors on Washington or Huron, which most did since they had their lockers there, they were on the bottom floor. About a third of that floor was the domain of Chute, who had been allowed to design it for science instruction. The gym was in the middle. At the back, on the Thayer Street side, were rooms equipped for vocational classes — wood and metal shops and drafting rooms.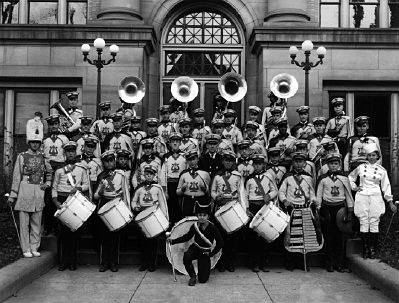 Ann Arbor High School Band in 1935 under the direction of William Champion
Students who came in through the grand entrance on State Street could go down half a flight to the gym or half a flight up to reach the auditorium. The top floor had two big session rooms—combi­nation study halls and places for students to be when not in class—facing State Street. Divided by sexes at the Union School, in the new school they were sepa­rated by alphabet. Longtime (1946-1968) principal Nick Schreiber was hired in 1936 to be the session teacher for L-Z. His counterpart, Sara Keen—called "Miss Kerosene" by the school wags—took care of the first part of the alphabet. As in the Union School, the curriculum centered on subjects needed to get into college. But the new school also offered greatly expanded vocational courses—the state's 1905 compulsory school attendance law required the school to serve more stu­dents who weren't college-bound.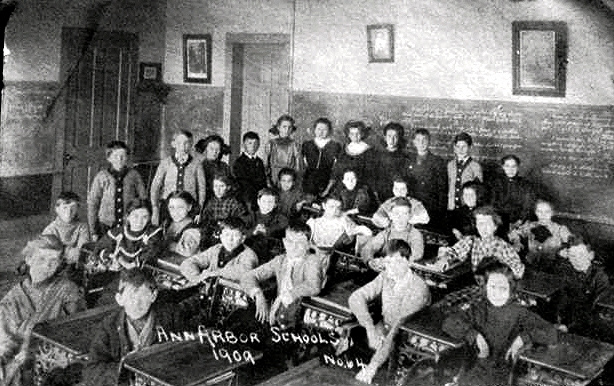 Ann Arbor School Classroom November 4, 1909
Many alumni remember the school as­semblies. Veteran local radio personality Ted Heusel heard a broadcast of one of Hitler's speeches at an assembly in 1938. A Swastika vandalized Angell Hall on May 23, 1940; there was also a Swastika hoisted up on the Ann Arbor High School flagpole on June 5, 1941 for perhaps a "Senior Prank." In another assembly he saw the chief archer from the movie Robin Hood stand in the balcony and hit targets on the stage. Another assembly featured U-M football star Tom Harmon. "He came down the aisles with everyone screaming," says Heusel. Ted Palmer never forgot the assembly at which his history teacher played a trick on the students. "Miss Perry came from the right side and another Miss Perry came from the left and met in the center. It as­tounded everyone to see two Miss Perrys. It turned out she was an identical twin." Three years later, the sisters played a vari­ation of the same trick on Dick DeLong and his classmates.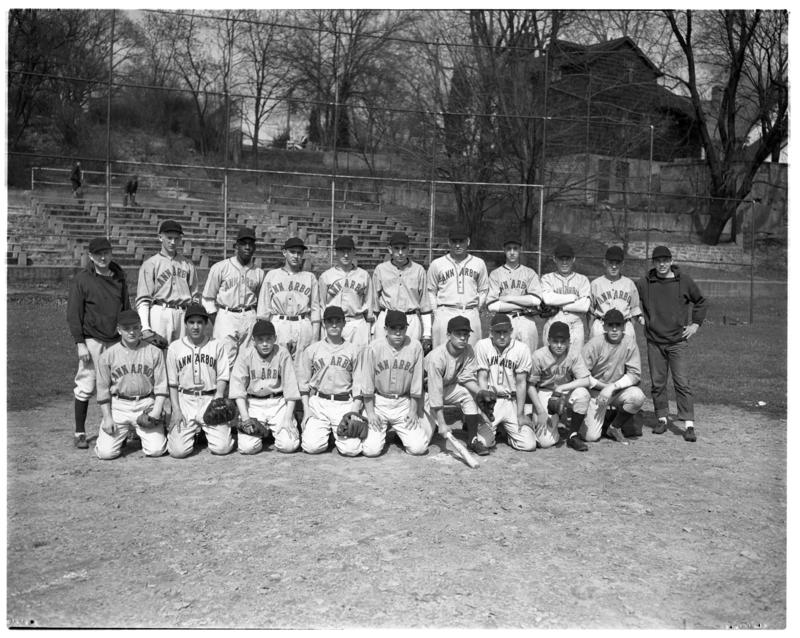 Ann Arbor High School Baseball at West Park
In the gym underneath the auditorium, students took physical education and played indoor competitive games. Palmer ran track by circling the gym, twenty-two laps per mile. "It wasn't much straightway, but some schools had less," he recalls. To practice the forty-yard dash, students ran the length of the hall that connected the Washington and Huron street entrances. This practice was halted when one student didn't stop in time and went right though the glass, seriously injuring himself. For cross-country, Palmer jogged to West Park and ran there, returning to school for showers. Students participating in football or baseball ran to Wines (now Elbel) Field but were lucky in having a little building there where they could change and shower. Kip Taylor, who scored the first touchdown in Michigan Stadium, was one of their coaches. Begin­ning in 1938, Ann Arbor High's teams were nicknamed the Pioneers. A 1962 school booklet explained that the name was appropriate because the high school was "a pioneer in the true sense of the word, being one of the first schools in the state to have an organized athletic program."
Ann Arbor High School Tennis Team coached by Donald "Dobbie" Drake who also coached football, swimming, and wrestling at Ann Arbor High School, 1926-1949; he was head coach of swimming. 
At lunchtime students could eat at school, but "we liked to mingle with the college kids on State Street," recalls Palmer. The area was full of lunch places, well remembered by high school alumni — Kresge's counter for hot dogs, next door at Granada's for hot beef sandwiches, Betsy Ross in Nickels Arcade (built in 1915) for deviled ham sandwiches, Toppers on Division for 150 hamburgers. The lures of the neighborhood included the State Theater. In his memoirs, princi­pal Nick Schreiber recalled a day, after a heavy snowstorm, when other schools closed but the high school remained open. In protest, a large number of students left for the matinee at the State. "When I learned of the exodus to the theater, I went over and asked the manager, a Rotarian friend, if I might have the theater lighted while I took the stage and announced that those students who did not return to class­es were in for disciplinary action," Schreiber remembered. "They left the theater in haste."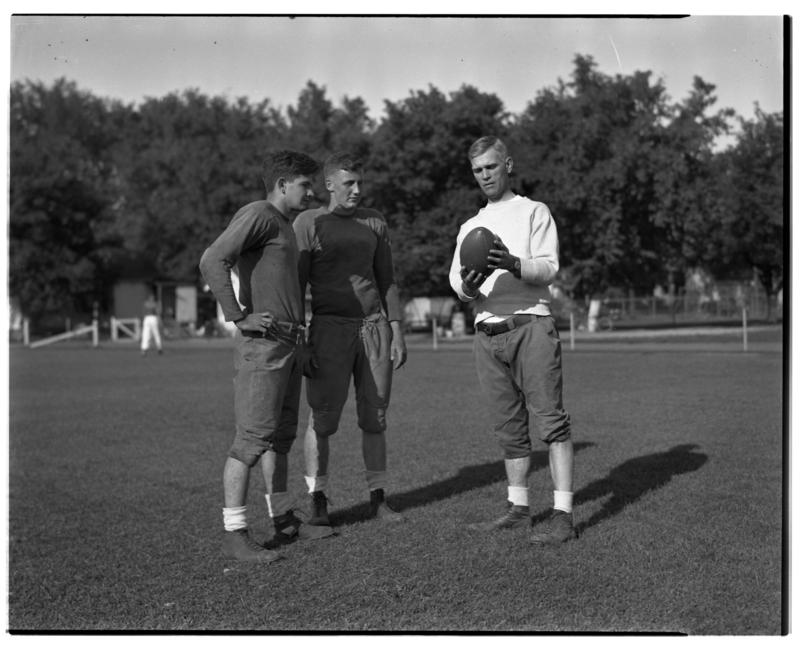 Lavern "Kip" Taylor, an Ann Arbor HS graduate, coached football at Ann Arbor High School, 1939-1945, before leaving to coach with Biggie Munn at Syracuse and MSU; he caught the first touchdown pass at Michigan Stadium on October 1, 1927. He was Head Football Coach at Oregon State, and managed the Univeristy of Michigan Golf Course until he retired in 1972.
The high school served well through the city's explosive growth in the 1920s, the De­pression, and World War II. But after the war it was increasingly overcrowded. 208 Graduate at Hill Auditorium in 1927. Built for 800 students, it was serving close to 1,400 by the time it closed in 1956. "The wood floors were creaky when we went there," recalls Bob Kuhn, a student in the 1940s. "The school seemed old. The cement stairs were worn." The U-M, too, was growing rapidly and needed more space. So the city and uni­versity worked out a swap: the university got the high school, while the public schools got a large university-owned par­cel diagonally across from Michigan Sta­dium—the site of the present Pioneer High. Included in the trade was Wines Field, now renamed Elbel, after Louis Elbel, author of "The Victors"; today, it is used for U-M band practice.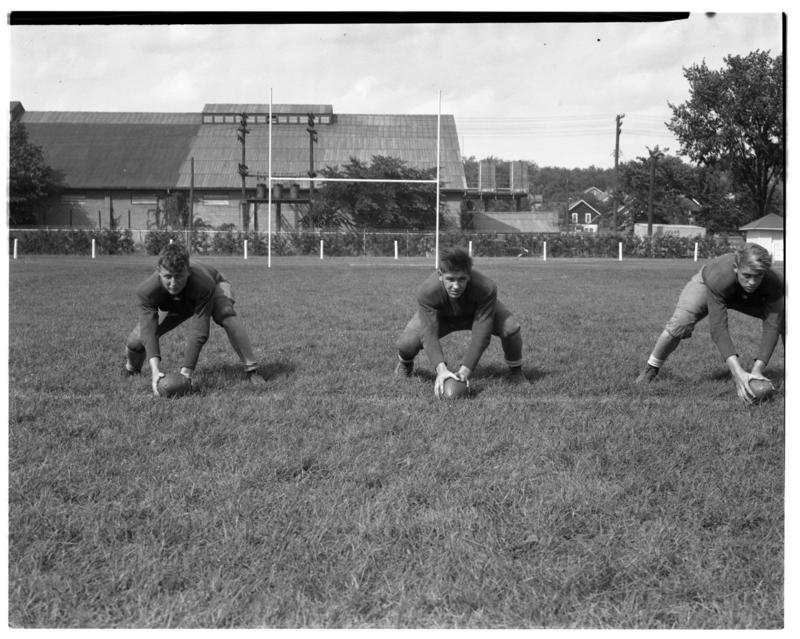 Ann Arbor High School Football Practice at Wines Field, later renamed Elbel Field; the first football game was played there in 1915
The university renamed the old high school the Frieze Building, after an es­teemed nineteenth-century professor, and built an addition on the back. Even though people thought the building was run down during its last years as a high school, it last­ed fifty years more with very little mainte­nance. But this year is likely to be its last. In January the U-M regents voted to de­molish the Frieze Building to make room for what they are provisionally calling "North Quad." Preservation activists and Ann Arbor High alumni argued for saving the building or at least the facade, but U-M planner Sue Gott rules that out, saying the university needs to use the entire site, in­cluding the State Street lawn. Still on the table is the possibility of preserving the Carnegie Library—if it can be combined successfully with the new building.
Much of this article is based in part on Wil Cumming's history of the Ann Arbor Union High School (Pictorial History, 1824-1974)


Ann Arbor High School Biology Lab
High Schools:
Ann Arbor High School
Union School began October 4, 1856, and was renamed to Ann Arbor High School in 1871 and doubled its size with the building of an addition to the high school. In 1876, Principal Judson Pattengill, 1866 U of M graduate, spearheaded the addition of extra-curricular activities.  Additions to the school's curriculum evolved based on community  and instructional needs to include: Commercial, Industrial Arts, Home Economics, Physical Education, Vocational Education and Cooperative Occupational Education courses. The first edition of the Omega yearbook was published during the 1884 school year.  It continues publishing an annual edition every year with an exception when resources were devoted to the war effort during World War II. Varsity football began in 1885.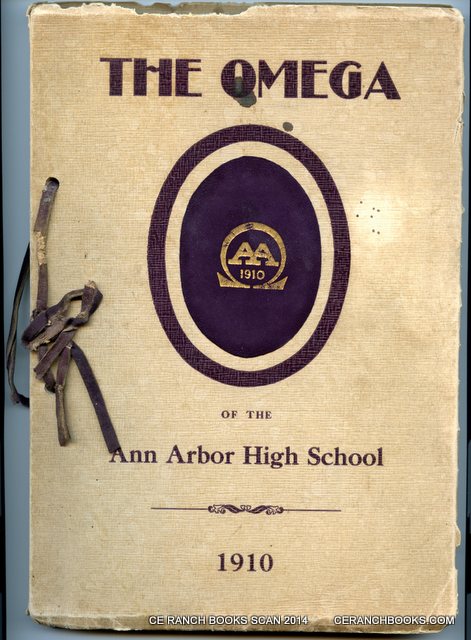 Football traditions begin during 1845 with the formation of Ann Arbor High's first football team.  Over 50 years pass before Ann Arbor High in 1901 defined Purple and White as the official school colors. Push On The alma mater of the school identifies PURPLE as "the sign of might" and WHITE as "the sign of truth and honor." Irving Kane Pond, a 1875 Ann Arbor High School graduate, score the first touchdown for the Michigan Wolverines in 1879. Many of Michigan's football players were former Ann Arbor High School graduates. Ernie Allmendinger was Ann Arbor High School's First All-American; he played Guard at Michigan, 1911-1913. John Maulbetsch was Ann Arbor High School's second All-American Football Player; he graduated in 1911, started at Adrian College, but transferred to Michigan, 1914-16, where he was called the "Featherweight Fullback" and the "Human Bullet." He went on to coach football, basketball, and baseball at Oklahoma A&M after building Phillips University into a football power.
        
Ann Arbor High School's 1908 State Championship Football Team had their banquet in the school gymnasium
 Tragedy struck Ann Arbor High School with a fire in 1904 that completely decimated the entire building.  Ann Arbor High School was destroyed and it took two years to rebuild a new high school.  During this time, classes met in local churches or rented office space in the community.   Innovation from a tragedy had Ann Arbor High School utilizing its first portable classrooms. Reconstruction occured at the same site with the replacement school costing $340,000.  Ann Arbor High School reopened to students and staff in the fall of 1906. Eventually the building transitions from Ann Arbor High School to become a part of the University of Michigan and was renamed the Frieze Building.  The building life span remained for over 100 years until the University of Michigan has the complex torn down to erect student housing in its place. Ann Arbor Public Schools was founded in 1905.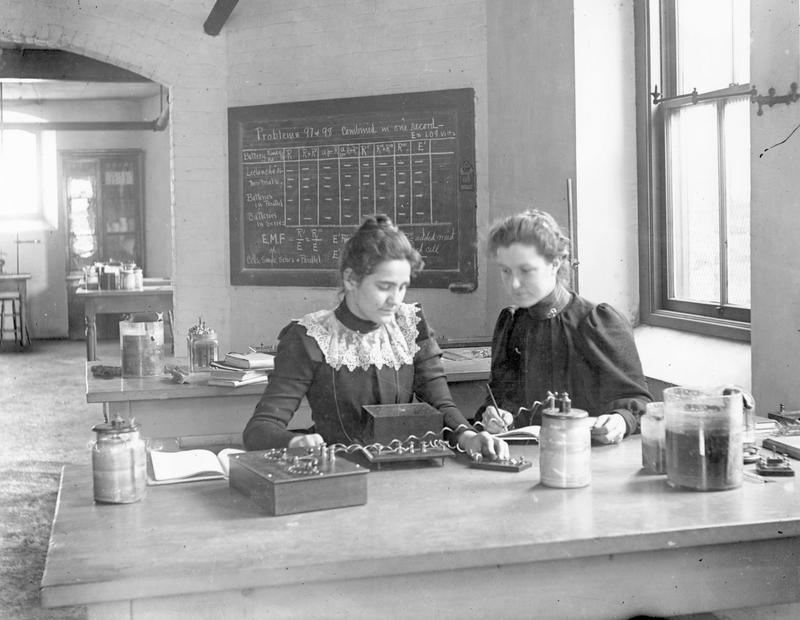 Ann Arbor High School Physics Lab
After a decade of school colors and with the 70th year of Ann Arbor High School football approaching it was only fitting that Ann Arbor High School have its own school song. Margaret Horton Cooley, daughter of Thomas Cooley, wrote the words for the school song "The Purple and White" in 1914. The musical tune was composed by Earl V. Moore, Dean Emeritus of the School of Music at the University of Michigan, 1914-1960. In the same year, 1914, Hill Auditorium was built; this is where Ann Arbor families celebrated the May Festival and the June Ann Arbor High School Graduation Commencements with a two block march from Washington and State Street to North University. The University of Michigan held many of their graduation commencements at Ferry Field through the 1940 when their graduating classes became too large; then, they used Michigan Football Stadium.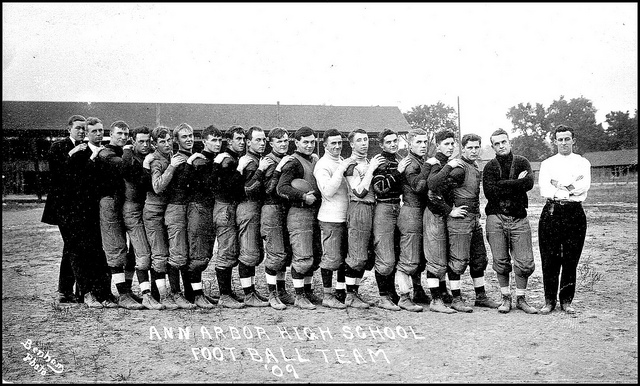 Ann Arbor High School Football Team in 1909 with Coach George Miller
The Ann Arbor News sponsors an essay contest in 1936 to find a nickname for the school. The field is narrowed to six options with Richard J. Mann, an Ann Arbor High School graduate, earning the first place prize of $5,000.  The winning nickname was "Pioneer."  Mann earned distinction later on by serving the Ann Arbor School District School Board and in the capacity as President of the School Board.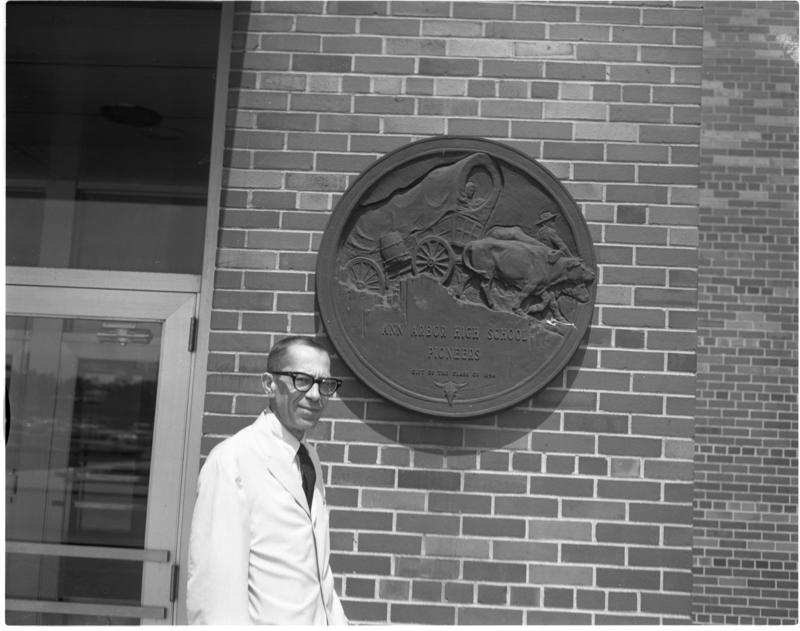 Mann on June 26, 1962 at Ann Arbor High School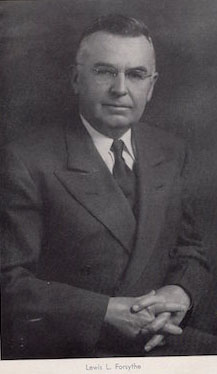 Lewis Forsythe holds the distinction as the longest serving principal at Ann Arbor High School behind Judson Pattengill; he was born in Washtenaw County in 1880, graduated from the University of Michigan in 1904, and served as Principal at Mount Clemens High School, Superintendent of St. Louis and Ionia Schools before returning to Ann Arbor.  He began his service at the beginning of World War I, 1917, and retired 29 years later in 1946. Forsythe was also the first Director of the Michigan High School Athletic Association; he wrote, Athletics in Michigan High Schools: The First 100 Years, in 1950.  Forsythe Junior High School was dedicated in his honor in 1960. His successor, Nicholas Schreiber, served with distinction for 22 years retiring in 1969. Ted Rokicki only lasted two years until 1971.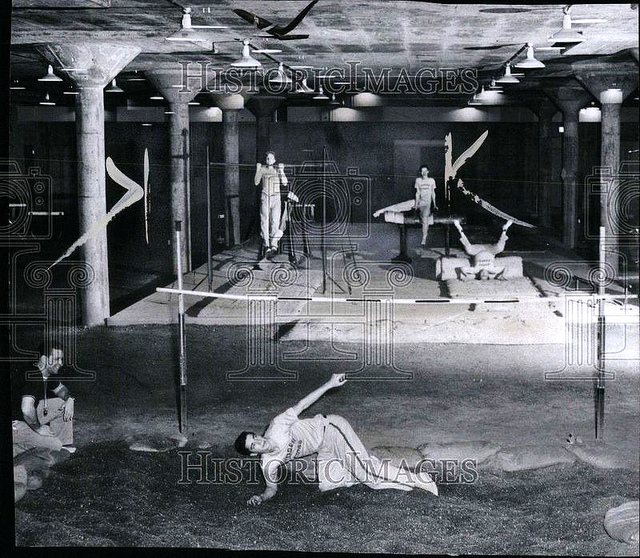 The "new" Ann Arbor High School's basement athletic facilities known as "The Pit"
---
The Ann Arbor School District purchased 210 acres of land for $135,000 at the corner of Main and Stadium Boulevard. In 1953, three years after the purchase of the land, Trustee Ashley Clague turned the first shovelful of earth at the ground breaking ceremony to build a new Ann Arbor High.  Construction of the building took over three years to complete and cost exceeded $6,000,000.  Ann Arbor High's new building included both a large and small auditorium, specialiized rooms for band, orchestra, and choir, a gymnasium, pool, and planetarium. The Building of Ann Arbor High School The Football Field was renamed in 1962 Hollway Field in honor of former Football Coach, 1920-1938, and Athletic Director, Lou Hollway, 1927-1961. Hollway also served as President of the Kiwanis Club.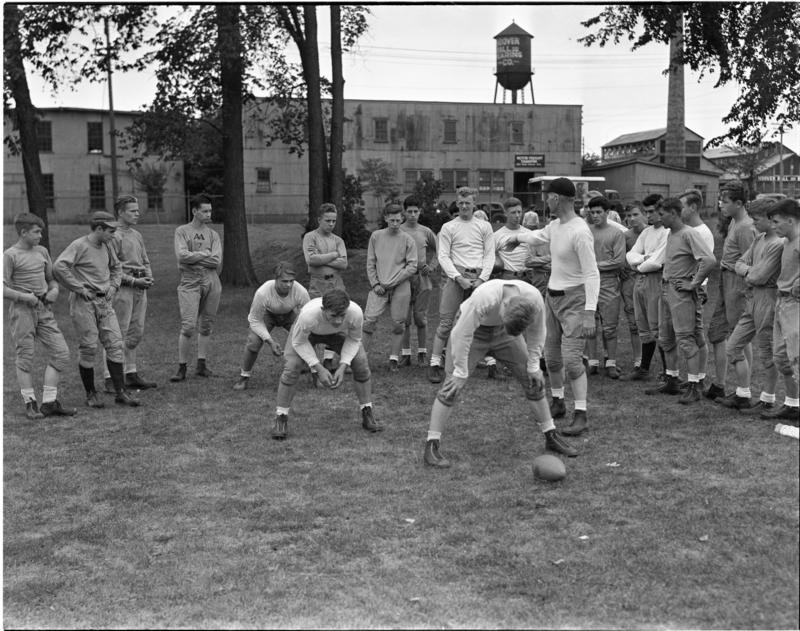 Lou Hollway coaching football at Wines Field in 1938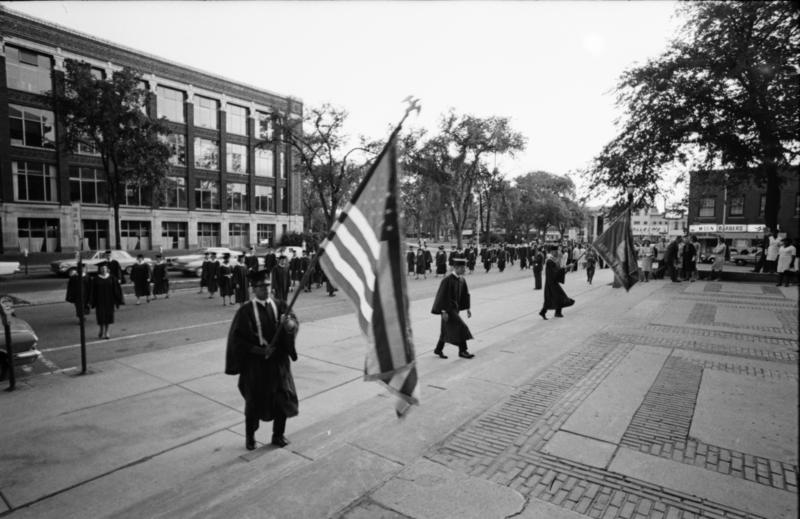 It was a long standing tradition for Ann Arbor High School Graduates to march two blocks from the Ann Arbor High School at State & Washington down State Street to North University and finally Hill Auditorium where they were awarded diplomas for decades until the new high school was built at Main & Stadium. The graduations continued at Hill until 1969 when the decade long tradition changed to Crisler Arena.
Students, teachers, and staff helped with the transition from their old school building to their new school building. Finally on April 9, 1956 students were welcomed for their first day of classes.  The new high school easily accommodated its 1,374 students.  A special dedication  for the new Ann Arbor High School was held on April 15, 1956.  The following year an intense re-evaluation of the educational curriculum at Ann Arbor High School is prompted after the successful launching of the Sputnik satellite by the Soviet Union. School Planetarium The post-war tidal wave of births labels children born at this time as "baby-boomers" and leads to a hugh spike in the number of students attending school in the 1960's. 1965 Graduation When Crisler Arena was built in 1967, Ann Arbor Pioneer and Huron High Schools began holding their graduation commencements at that venue.
2015 High School Enrollment=4,708 Students

Huron High School (Opened 1969) 2015 Enrollment=1,498, Capacity=1,755
1967 Huron High School scheduled to open.
1968-69 "Pioneer" students attend Ann Arbor High School in the morning, "Huron" students attended in the afternoon. Huron (the campus) opened in 1969. Originally, classes were held at Ann Arbor High School (now known as Pioneer High). Fall 1969 Huron High School opened.
1970 Huron wins its first state championships in swimming and cross country (1969). How Huron High School got their nickname, River Rats.
1973  Student Council members voted themselves out of the office because they felt that they held no power with the administration.
April 1982 Peer facilitation program began.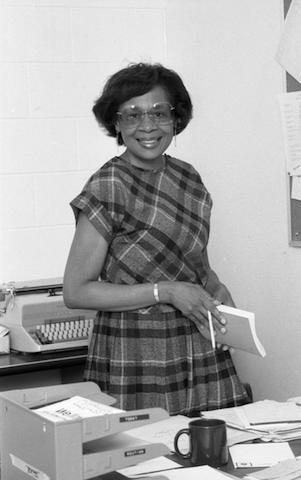 Dr. Joetta Mial served a Principal, 1986-1993; James "Lights Out" Toney graduated in 1986
April 1988 Ann Arbor Board of Education passed a $31 -million renovation and construction program. The Student Advocate School Board (SASB) convinced the school board to adopt a renovation plan without enclosing the arch.
1988-1991 Renovations included alterations to Huron structure. Since the 1970's, the library and lunchrooms have been enlarged and science and math wings have been added. Extensions of the science wing (5200), the band room (7124), the math department (6100, 6200), the athletic wing including the new pool and gym (1000s) .The athletic department and the dome gym were constructed.
1992 Split lunch rule instated
May 12, 1993 The auditorium dedicated to Paul K. Meyers. Paul K. Meyers (1969-1979) graduated from Harvard University and University of Michigan before becoming a chemistry teacher in the Ann Arbor Public Schools in 1949. During the 1967-68 school year, he involved himself in the planning of Huron High School and became its first principal in 1968. He served as principal for 11 years before resigning for medical reasons in 1979.
1995 New additions - The Sports team facilities were improved by the 1995 additions of the new pool, a track and football stadium.
1997 The football stadium was lighted for evening games.
2004 Artificial turf replaced grass in the Stadium.
2004 Exterior Signage ("Riverbank Stadium" and "Home of the River Rats" signs) added to Press Box and additional signage to Concession Stands.
2006  Over the summer the road under the ARCH was closed and the area resurfaced with concrete.  An extensive patio area, pavered pathways and landscaping which included several trees and plantings were added. 
During 1967-68, a new Ann Arbor High School was being constructed and there was a problem. The school that was to be Huron did not yet have a mascot.

Before the school even opened, Ann Arbor High students who were not going to be relocated to Huron came up with the nickname "River Rat". They used the name as a joke to refer to their newly rivaled classmates who would attend a school built on the Huron River and near an old medical waste site. But the Huron students turned the joke around, and they, too began referring to themselves with pride as River Rats.
Administration felt differently about their issue of the River Rat. Huron's first principal, Paul Meyers, had an especially strong dislike of rats after bad experiences with them as captain overseas during World War II. So the nickname was ignored for the most part, and when Huron's construction finally completed, "River Rat" did not appear to be in the running as mascot. Albert Gallup was Meyer's Assistant, and served at Huron, 1968-1986; Gallup Park was named after his father, Eli Gallup who was Parks Superintendent, 1919-1957. Island Park Elms in the 1930s Placing of "The Rock" at Hill & Washtenaw in 1932 Aerial Football 1930s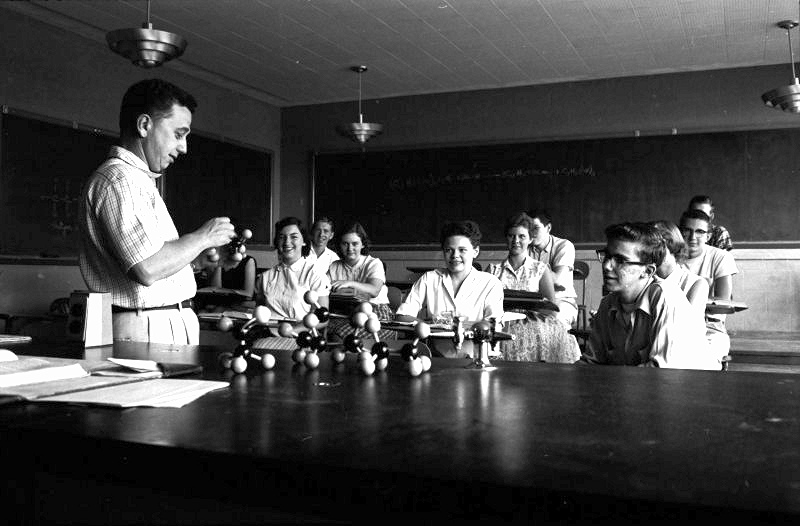 Meyers teaching chemistry at Ann Arbor High School in 1958
When Huron was opened in 1969, its mascot was intended to be the Huron. However, this mascot did not draw much enthusiasm or support from the students, and shortly after its opening, Huron had a write-in student ballot to determine a few choices for a possible alternative. Several of the more popular choices, including the Highlanders, the Hawks and the Indians, were put on a ballot during the student elections that year. The River Rat never made it to that ballot.
However, none of the listed mascots could muster up fifty percent of the votes and student kept writing in "River Rat" instead of selecting a given choice on the ballot. Huron went several years without a mascot, during which time local newspapers started referring to Huron sports teams by the old nickname. Baseball players became "Bat Rats" and wrestlers became "Mat Rats." It was the media that validated the name River Rats.
Ann Arbor Huron has won State Championships in Boys Swimming and Diving, 1970 (Pat Wallace), 1973 (John Pheney), 1988 (David Johnson), 2008 (Kelton Graham); Cross Country 1969 (Des Ryan), Boys Tennis 1980-1981-1983 (Gordon Boettcher), 1996 (James Burdelski), 2008-2011-2012-2013 (Stefan Welch), Girls Tennis 1985 (Wil Cummings), 1988-1989 (Martin Topliss), 2004-2006 (John Veit), Field Hockey 2010-2011-2013 (Tia Sutton/Margi Scholtes).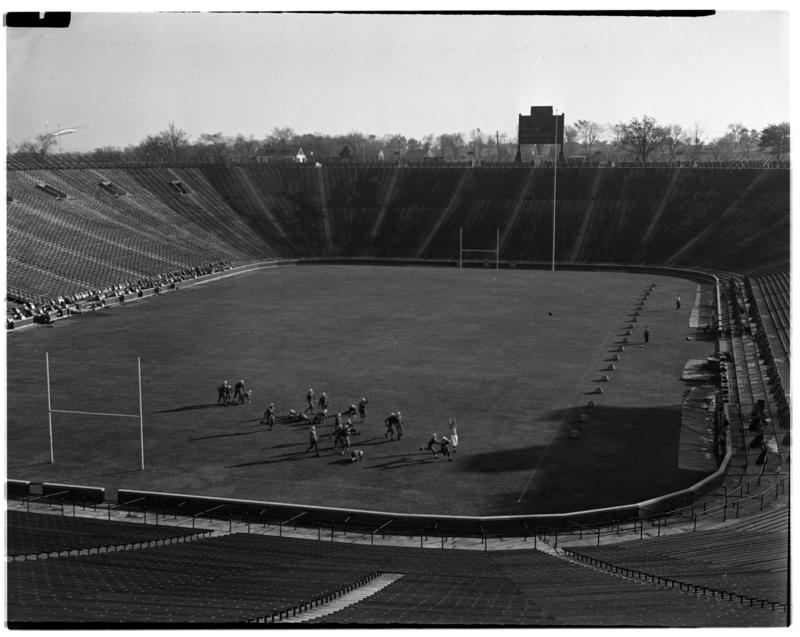 Ann Arbor High School Football Team practices at Michigan Stadium in 1943, they won a State Championship under Kip Taylor; Pioneer and Huron met there for the first time at Michigan Stadium in 1971
For over one hundred years the Ann Arbor needed only one high school in the community.  Expanded community growth during the 1960's  led Ann Arbor Public schools to initiate plans to build another comprehensive high school. After plans were underway to build the second high school the community re-christened Ann Arbor High School to be known as Pioneer High School.  The second high school was named Huron High School.  945 Graduate at Crisler Arena in 1968.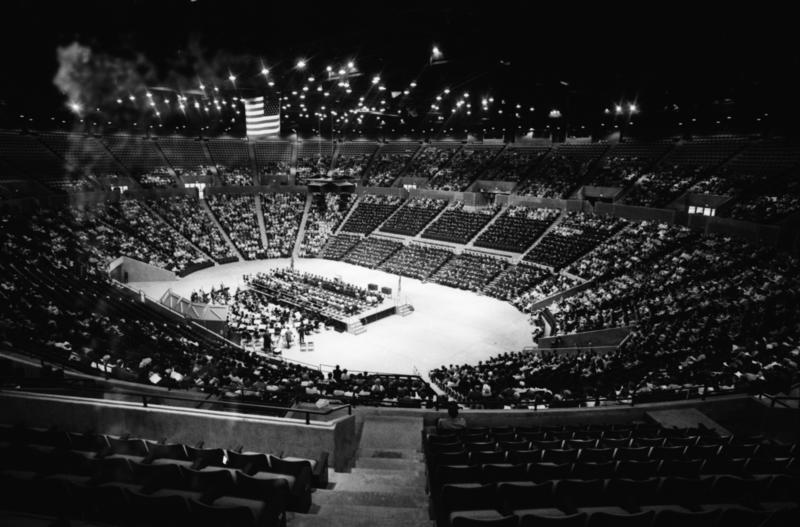 Ann Arbor Pioneer Class of 1969 Graduation at Crisler Arena
A unique school year existed for these two high schools during the 1968-1969 school year with Pioneer High School and Huron High School co-existing as separate schools at Pioneer High School.  Pioneer students and staff attended from 7:30 am to 12:30 pm while Huron students and staff attended from 1:00 to 6:00 pm.  Pioneer bid farewell to Huron High in the fall of 1969 when Huron High opened it building to students in September. 1158 Graduates in Ann Arbor in 1971.
Community growth continues over the next two decades and portable classrooms are added at Pioneer High School.  A 3 floor wing addition to Pioneer High School is added to meet the demands of an increasing student population.  Additional portable classrooms are added and nicknamed the 'Portable Village'.   Yet crowding conditions continue at Pioneer with its student population swelling to a peak of almost 3,000 students. 
After district studies, community forums, many meetings, and bond passage a 3rd comprehensive school building is designed for Ann Arbor.  Skyline High School opens its doors in the fall of 2008 to students under a phased in enrollment process with its first group of 9th grade students.  
Pioneer, close to the heart of town, and a stone's throw from the University of Michigan campus, proudly carries forward the Purple and White tradition in the new millenium in defining and implementing a 21st Century education. Bob Galardi was a Pioneer HS Principal during his 32 year career.
Ann Arbor High School Championships:
Men's Baseball: 1898, 2004, 2010 (Jerry Holley) Basketball: 1999 Cross Country: 1919, 1920, 1921, 1922, 1923, 1924, 1987, 1990, 1993, 1994, 2008, 2010 (Don Sleeman) Football: 1899, 1908, 1923, 1943, 1952, 1955, 1962, 1984, 1987 Golf: 1931, 1936, 1945, 1946, 1953, 1957, 1959, 1960, 1965, 1969 Gymnastics: 1925, 1965, 1974, 1975, 1979, 1985 Ice Hockey: 1964, 1966, 1967, 1971, 1984, 1985 (Art Armstrong) Lacrosse: 1992 Swimming: 1956, 1957, 1959, 1977, 1978, 1979, 1980, 1981, 1982, 1984, 1985, 1993, 1999, 2002, 2003, 2005, 2006, 2009 (Dennis & Liz Hill) Tennis: 1940 (doubles), 1941 (singles), 1990, 1991, 1993, 2001, 2002, 2003, 2004, 2005, 2006, 2007 (Tom "Brick" Pullen), 2008 Track: 1900, 1907, 2007 Water Polo: 1974, 1976, 1980, 1981, 1984, 1988, 1997, 1998, 1999, 2001, 2002 Wrestling: 1949, 1950 (Frank Kline, Athletic Director, 1962-1972) Women's Cross Country: 1987, 1988, 1997, 2010 Field Hockey: 1984, 1986, 1987, 1989, 1990, 1991, 1992, 1993, 1994, 1995, 1997, 1998, 1999, 2000, 2001, 2003, 2005, 2006, 2007, 2008, 2009, 2012 Golf: 1986, 1993 Lacrosse: 1995 Synchronized Swimming: 1990, 1992, 1995, 1996, 1997, 1998, 1999, 2000, 2001, 2002, 2003, 2004, 2005, 2006, 2007, 2009, 2010, 2011, 2012, 2014 Swimming: 1979, 1985, 1987, 1989, 1990, 1991, 1992, 2000, 2001, 2002, 2003, 2004, 2005, 2006, 2007, 2008 (National Champions, 2002 & 2005, National Co-Champions 2004) Tennis: 1992, 1998, 2001, 2005, 2010 Track: 1985, 1986, 1987, 1988, 1989, 1990, 1991, 1996, 1997, 1998, 1999, 2001, 2002, 2006, 2007, 2008 (Bryan Westfield) Water Polo: 2000, 2002, 2003, 2009 Co-Ed Crew: 2007 (Men's and Women's), 2010 (Women's), 2014 (Women's) Equestrian: 1995
Ann Arbor Pioneer-Battle Creek Central Football Rivalry
Ann Arbor Huron vs. Pioneer Football Rivalry
Ann Arbor Pioneer High School State Championships by Sport
Ann Arbor Pioneer High School Legacy Award Winners
Ann Arbor Pioneer High School Alumni Award Winners
Ann Arbor Pioneer High School Voluneer Award Winners
Ann Arbor Pioneer High School Athletic Director History
Uriah W. Lawton was the first Superintendent, 1862-1867; he was acquitted of assault on a student in 1864. Elisha Jones followed Lawton as Superintendent, 1867-1870. Walter S. Perry, was Superin­tendent of Schools from 1871 to 1897. Herbert M. Slauson was Superintendent, 1898-1920; he died in 1936. Leslie Anderson Butler (1913 University of Chicago grad and Instructor at Central Michigan) was Superintendent, 1920-1924. Otto Webster Haisley was Superintendent, 1924-1953. Jack Elzay was Superintendent, 1953-1967; Elzay was President of the Michigan School Business Officials in 1957. Scott Westerman served as Superintendent, 1967-1971. Bruce McPherson was Superintendent, 1971-1973, Harry Howard (1973-1985), Richard Benjamin was Superintendent, 1986-1994. John Simpson was Superintendent, 1994-1998. The District has hired seven Superintendents (1999-2016): Rossi Ray-Taylor (1999-2003), George Fornero (2003-2006), Todd Roberts (2006-2010), Robert Allen (2010-11), Patricia Green (2011-2013), Jeanice Kerr-Swift (2013-2017). Green was the highest paid Superintendent in the state in 2013 earning over $245,000 annually. Ann Arbor has had 18 Superintendents, 1864-2017 with Haisley, Perry and Slauson with the most years of service.
Library History (History of Ann Arbor Library, 1827-1991)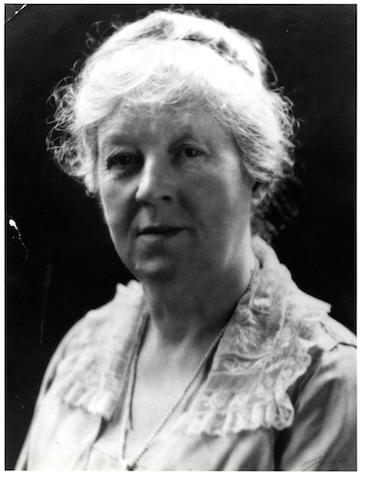 Nellie Loving, Ann Arbor's First Librarian, 1883-1922
The first Library in Ann Arbor was established in 1827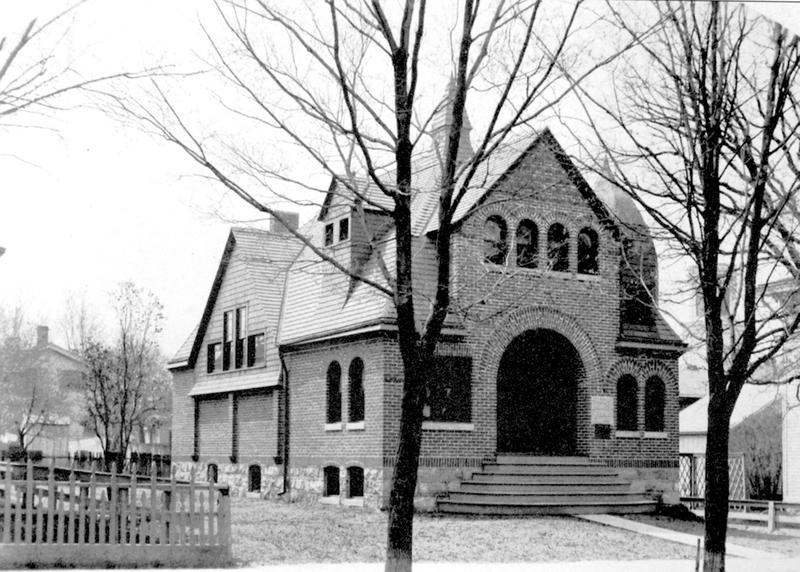 Ladies Library at 324 E. Huron St. at Division in 1885; it was demolished in 1945 to make room for the Michigan Bell Telephone Co. Building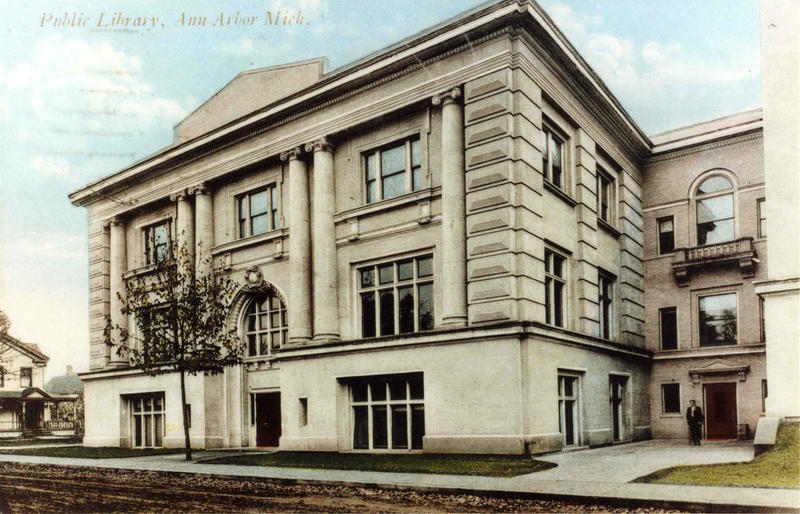 The Carnegie Library was part of Ann Arbor High School, and built in 1907 on Huron St.; it was no longer used when the Library was built on Fifth Ave. and Williams in 1957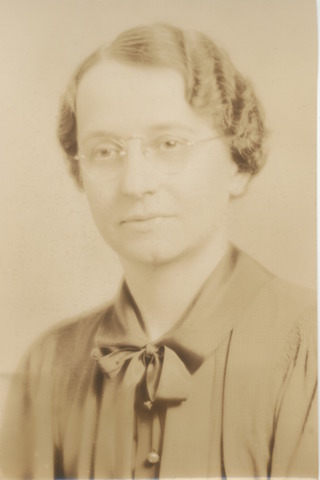 Frances Hannum, Head Librarian, 1928-1951. She also re-indexed County Birth Records back to 1867 so people could get Social Security cards in her retirement.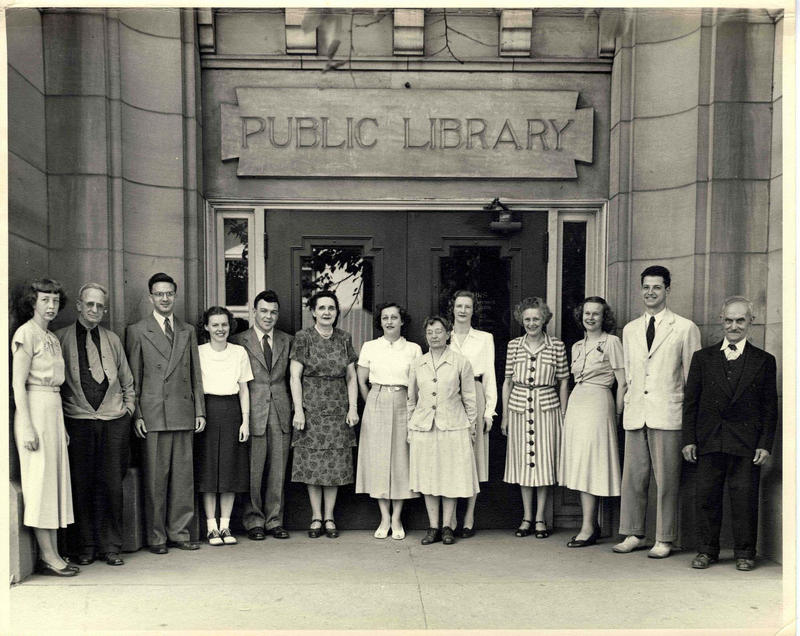 Ann Arbor Public Library in 1949
Ann Arbor Public Schools District Library was dedicated in 1957. Old News Bookmobiles were used 1957-2006. The Loving Branch was added in 1965, the Westgate Branch was added in 1977, the Northeast Branch in 1981, and the Mallett Creeks Branch in 2004.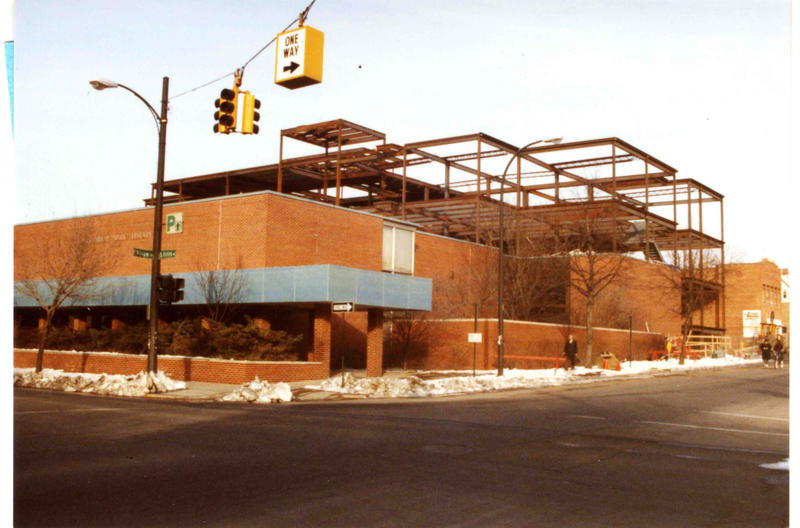 Ann Arbor Public Library constructing their latest addition in 1990
The Balas Building was opened in 1972; it was named after former Business Manager, George Balas, 1925-1970, and has housed Central Office Adminstration since that time.
Community
(the former Jones School Opened as a High School in 1972)
2015 Enrollment=533, Capacity=515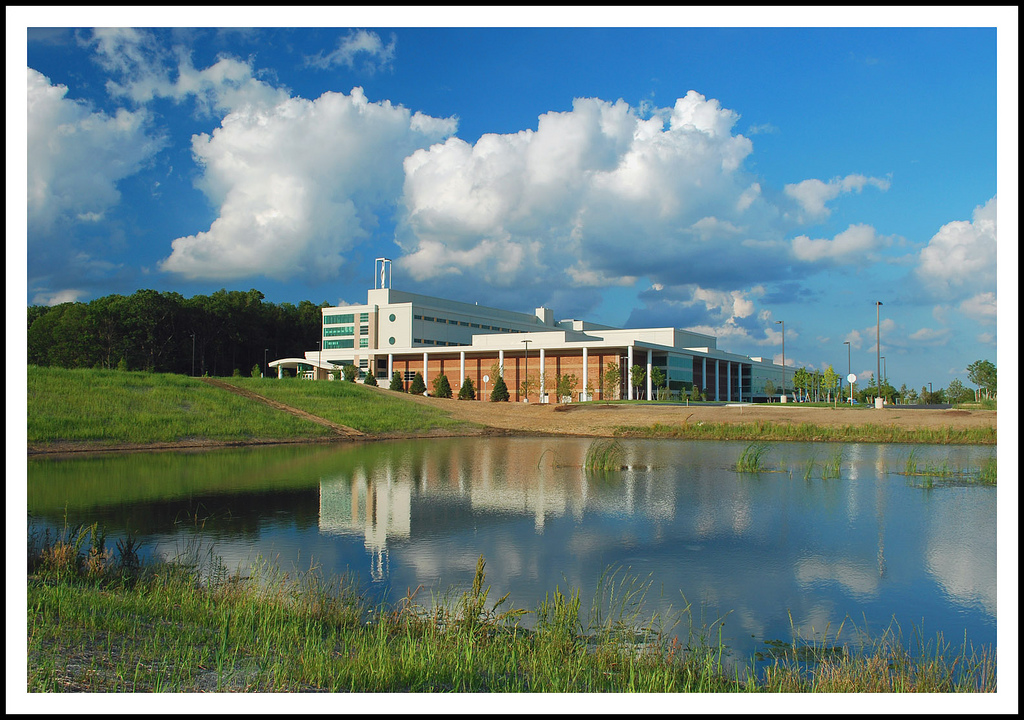 Skyline (Opened in 2008 at the cost of $93.2 million) Skyline wins first State Championship in Girl's Swimming 2015 Enrollment=1,465, Capacity=1,728
Ann Arbor bids farewell to Clemente Program
High School Enrollment History: 1985-2015
| | | | | | | | | | | | | | | |
| --- | --- | --- | --- | --- | --- | --- | --- | --- | --- | --- | --- | --- | --- | --- |
| Year | Huron | Pioneer | Skyline | Saline | Dexter | Chelsea | Ypsilanti | Willow Run | Ypsi Lincoln | Milan | Gab.Richard | Manchester | Whitmore Lk. | Totals |
| 2015 | 1795 | 2025 | 1703 | 1879 | 1166 | 845 | 1088 | n/a | 1403 | 820 | 556 | 365 | 309 | 13954 |
| 2014 | 1722 | 1857 | 1627 | 1844 | 1160 | 838 | 1300 | n/a | 1422 | 828 | 545 | 379 | 330 | 13852 |
| 2013 | 1823 | 1893 | 1715 | 1897 | 1171 | 877 | 1399 | n/a | 1460 | 872 | 544 | 398 | 360 | 14409 |
| 2012 | 1810 | 1670 | 1645 | 1849 | 1202 | 851 | 1097 | 429 | 1520 | 959 | 515 | 404 | 403 | 14354 |
| 2011 | 1861 | 1865 | 1683 | 1806 | 1200 | 890 | 1214 | 426 | 1530 | 1016 | 506 | 394 | 403 | 14794 |
| 2010 | 2079 | 2477 | 1303 | 1834 | 1204 | 923 | 1234 | 445 | 1495 | 961 | 494 | 390 | 413 | 15252 |
| 2009 | 2347 | 2698 | n/a | 1770 | 1167 | 928 | 1155 | 544 | 1508 | 923 | 502 | 405 | 384 | 14331 |
| 2008 | 2197 | 2852 | n/a | 1759 | 1172 | 943 | 1160 | 722 | 1512 | 867 | 501 | 408 | 395 | 14488 |
| 2007 | 2502 | 3204 | n/a | 1826 | 1153 | 1005 | 1127 | 712 | 1513 | 831 | 500 | 397 | 409 | 15179 |
| 2006 | 2713 | 3194 | n/a | 1892 | 1080 | 1022 | 1162 | 662 | 1479 | 816 | 479 | 413 | 368 | 15280 |
| 2005 | 2692 | 3822 | n/a | 1826 | 1058 | 1027 | 1117 | 733 | 1424 | 727 | 428 | 398 | 372 | 15624 |
| 2004 | 2624 | 3220 | n/a | 1679 | 1035 | 1064 | 1147 | 720 | 1367 | 717 | 378 | 381 | 352 | 14684 |
| 2003 | 2612 | 3310 | n/a | 1686 | 1009 | 1060 | 1145 | 745 | 1271 | 701 | 316 | 372 | 337 | 14564 |
| 2002 | 2552 | 3194 | n/a | 1683 | 942 | 1070 | 1138 | 712 | 1195 | 683 | 298 | 370 | 324 | 14161 |
| 2001 | 2465 | 3123 | n/a | 1582 | 917 | 1003 | 1124 | 743 | 1164 | 670 | 305 | 350 | 284 | 13730 |
| 2000 | 2651 | 3033 | n/a | 1508 | 900 | 952 | 1088 | 646 | 1049 | 611 | 296 | 373 | 289 | 13396 |
| 1999 | 2259 | 2681 | n/a | 1449 | 824 | 901 | 1115 | 667 | 1022 | 618 | 297 | 339 | 280 | 12452 |
| 1998 | 1954 | 2436 | n/a | 1298 | 783 | 855 | 1069 | 667 | 1049 | 616 | 285 | 368 | 250 | 11630 |
| 1997 | 2051 | 2283 | n/a | 1244 | 718 | 833 | 1092 | 693 | 987 | 641 | 276 | 355 | 246 | 11419 |
| 1996 | 1908 | 2124 | n/a | 1148 | 735 | 815 | 1105 | 735 | 984 | 611 | 255 | 353 | 242 | 11015 |
| 1995 | 1908 | 2124 | n/a | 1148 | 735 | 815 | 1105 | 735 | 984 | 611 | 255 | 353 | 242 | 11015 |
| 1994 | 1677 | 2019 | n/a | 1066 | 699 | 769 | 1143 | 749 | 925 | 575 | 227 | 336 | 249 | 10434 |
| 1993 | 1656 | 2012 | n/a | 1012 | 632 | 750 | 1187 | 842 | 851 | 595 | 244 | 324 | 230 | 10335 |
| 1992 | 1632 | 1946 | n/a | 932 | 625 | 731 | 1271 | 857 | 830 | 579 | 251 | 313 | 230 | 10197 |
| 1991 | 1630 | 1859 | n/a | 892 | 613 | 694 | 1298 | 857 | 830 | 586 | 241 | 316 | 244 | 10060 |
| 1990 | 1577 | 1903 | n/a | 899 | 579 | 664 | 1342 | 825 | 812 | 618 | 260 | 333 | 233 | 10045 |
| 1989 | 1701 | 1944 | n/a | 934 | 584 | 666 | 1504 | 843 | 822 | 632 | 247 | 335 | 247 | 10459 |
| 1988 | 1728 | 2156 | n/a | 985 | 608 | 689 | 1546 | 900 | 828 | 709 | 255 | 326 | 270 | 11000 |
| 1987 | 2010 | 2271 | n/a | 1026 | 633 | 757 | 1625 | 936 | 874 | 719 | 270 | 371 | 255 | 11747 |
| 1986 | 2247 | 2370 | n/a | 1037 | 647 | 804 | 1730 | 1006 | 931 | 743 | 309 | 364 | 237 | 12425 |
| 1985 | 2386 | 2268 | n/a | 1059 | 668 | 804 | 1766 | 957 | 925 | 732 | 323 | 369 | 238 | 12495 |
Junior High Schools: (2015 Enrollment=3,439)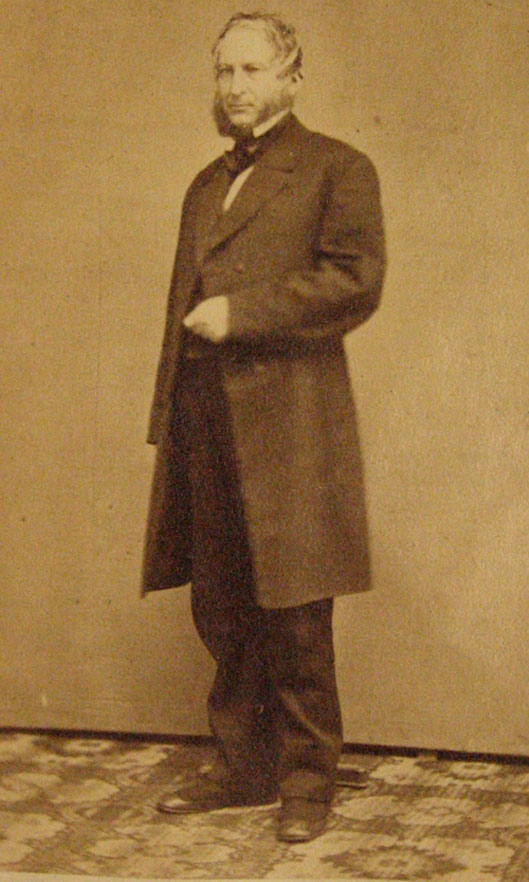 Tappan (Opened in 1951, it was named in honor of Henry Philip Tappan, the first President of the University of Michigan) Gene Maybee Retired in 1970 2015 Enrollment=754, Capacity=806
Tappan Elementary School was built on East University Avenue, Ann Arbor, in 1885. It was sold to the University of Michigan in the 1920s and renamed East Hall. Burns Park Elementary School used to be named Tappan School prior to 1951.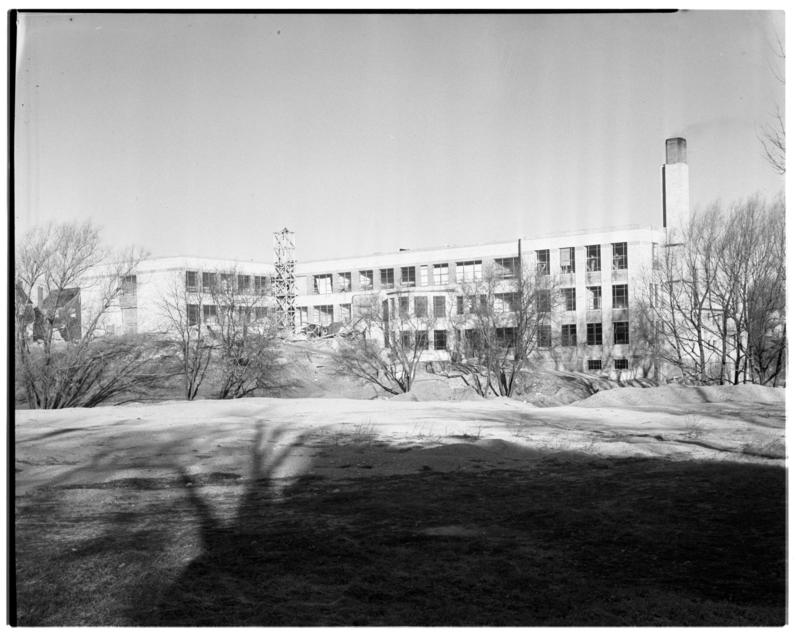 Slauson (Opened in 1937 and named after Herbert Slauson who passed away in 1936) Rolla B. Finley 2015 Enrollment=777, Capacity=882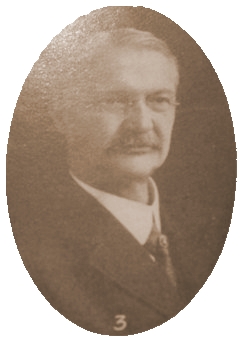 Herbert Slauson graduated from the University of Michigan in 1877, and married an Ann Arbor girl, Clara Conover, that same year; Professor Slauson was named Superintendent in 1898
Forsythe (Opened in 1960, named after Lewis Forsythe, Principal at Ann Arbor High School) 2015 Enrollment=683, Capacity=655
Scarlett (Opened in 1969, named in honor of Miss Mary Lyon Scarlett who died in 1963 at the age of 71 after serving as an English teacher at Tappan; she served the district for 44 years since 1918. She taught at Macon, Tecumseh and Wyandotte before coming to Ann Arbor) 2015 Enrollment=581, Capacity=756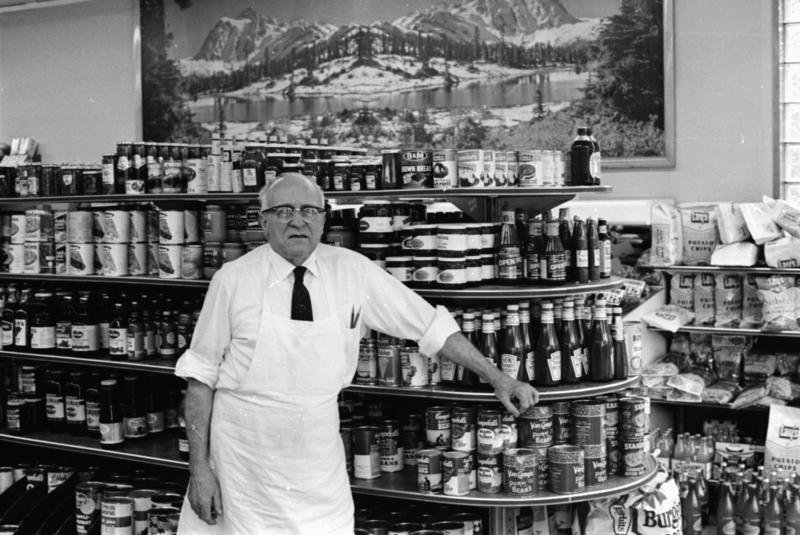 Clague (Opened in 1972, named after Grocer Ashley Clague with a 6th grade education) 2015 Enrollment=644, Capacity=756
Elementary Schools: (2015 Enrollment=6,931)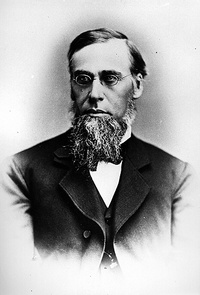 Abbot (Opened 1962; it was named after Theophilus Capen Abbot who was the first Principal at Union School in 1857; he left Ann Arbor to teach at Michigan Agricultural College, and became their 3rd President in 1862-1885) 2015 Enrollment=293, Capacity=450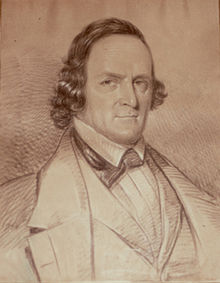 Allen (Opened February, 1961; it was named in honor of Ann Arbor's Co-Founder, John Allen) 2015 Enrollment=388, Capacity=360
Angell (Opened in 1923, named after former University of Michigan President, 1871-1909, James Burrill Angell) 2015 Enrollment=343, Capacity=293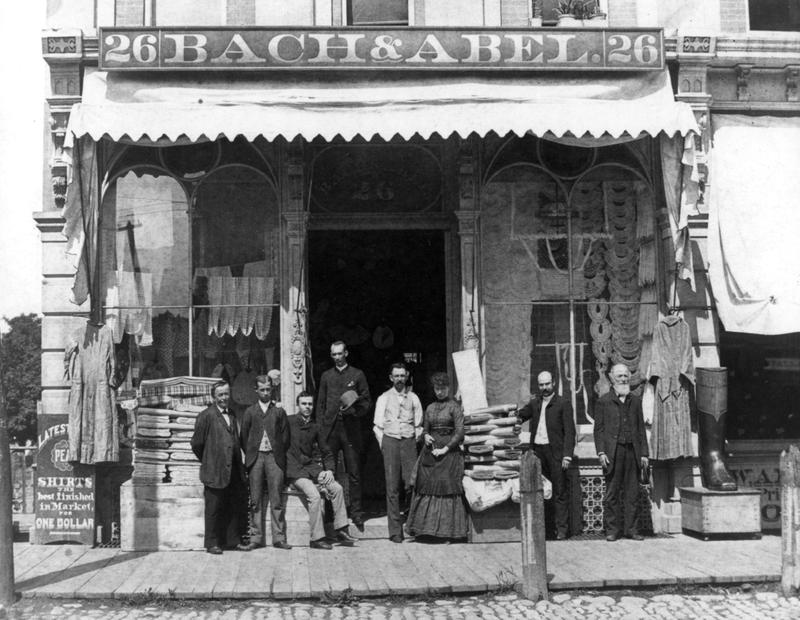 Bach (School opened in 1861 and was called the Second Ward School. The original building cost $3745. In 1879 the first addition was constructed for $4060, and got a second addition in 1899, a third in 1899 and a fourth in 1922. It was renamed in 1898 after Philip Bach who was Mayor, 1858-1859, and owned Bach & Abel Dry Goods Store, 1867-1895, in the Bank Block. Philip Bach came to Ann Arbor in 1835, and was a clerk for Daniel Brown & Co.; he formed a partnership in 1839 with Peter Abel, and opened a dry goods store at the corner of Main St. & Washington St. He was a member of the school board, 1837-1891. Bach's 3rd wife, Anna Botsford Bach, who he married in 1876 was also on the school board and active in the Ladies Library Association and the YMCA) Emilie Marschke 2015 Enrollment=359, Capacity=360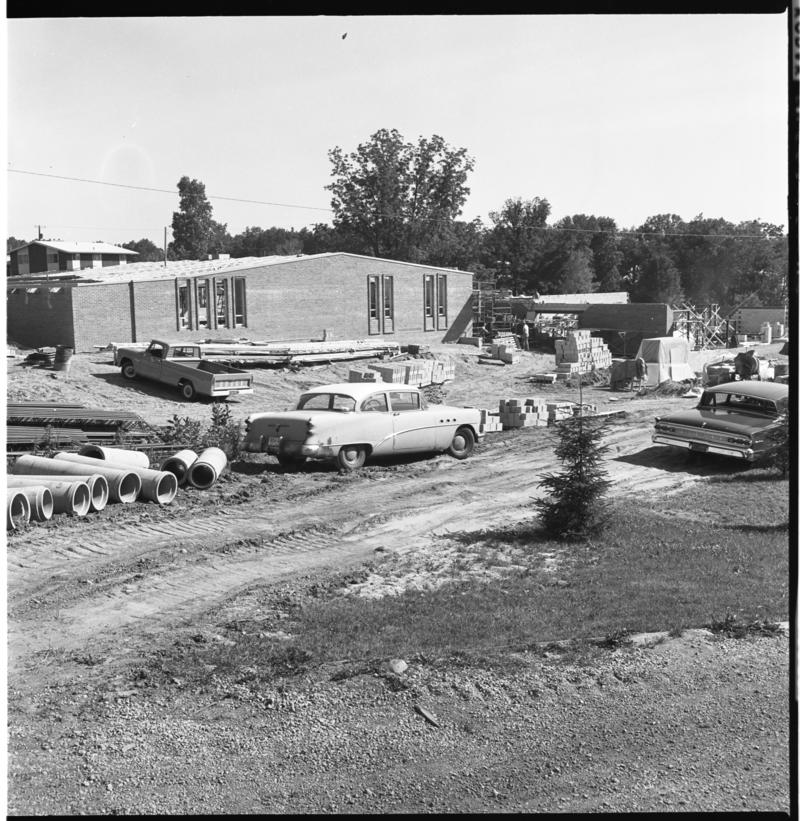 Bader (Opened 1965; it was named after Edith Bader who came to Ann Arbor in 1921, and was Principal at Perry School and Assistant Superintendent until her retirement in 1942. The School was built for $399,000 for 21,820 square feet on Bedford with Margaret Maurer as its first Principal)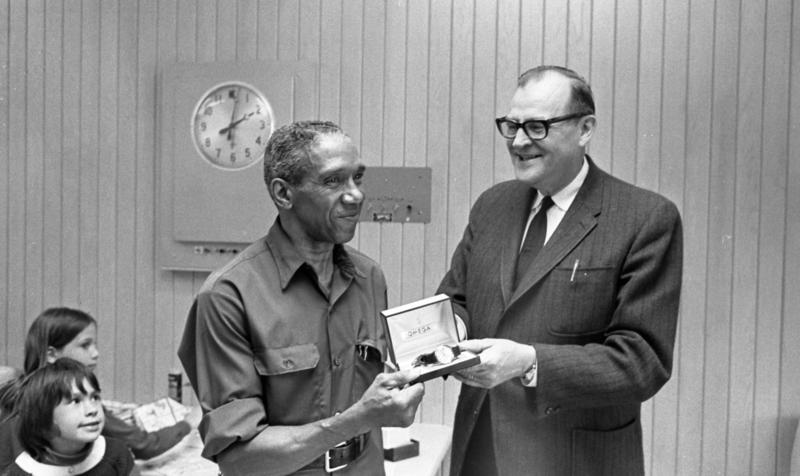 Bryant (Opened in 1972, named after Clifford Bryant who served Ann Arbor Public Schools as a custodian from 1945 at Ann Arbor High School until his retirement September, 1971 with his final 11 years at Dicken; he is pictured with Emerson Powrie May, 1971) 2015 Enrollment=302, Capacity=455
Burns Park (formerly called Tappan School, built in 1925; it was named after former University of Michigan Botany Professor, George P. Burns, who created the Arboretum and Botanical Garden Land)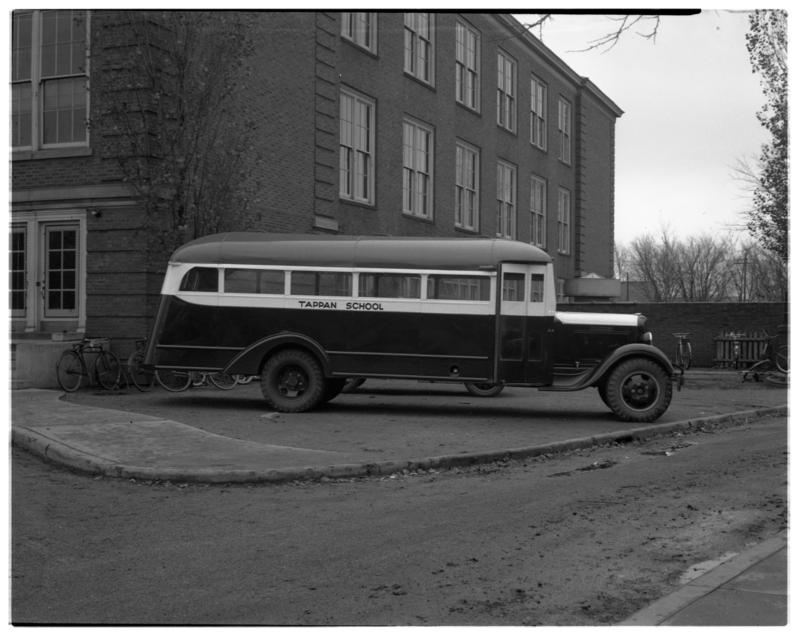 Burns Park is named after Professor George Burns who was the Ann Arbor Commissioner for a time. In 1910, the old fairgrounds, located here, were changed to a park and named in his honor. Before 1925, there were trolley barns here. In January 1925, they burned and this school building was built as Tappan Junior High. In 1951, Tappan moved and took its name with it. This building then took its name from the park.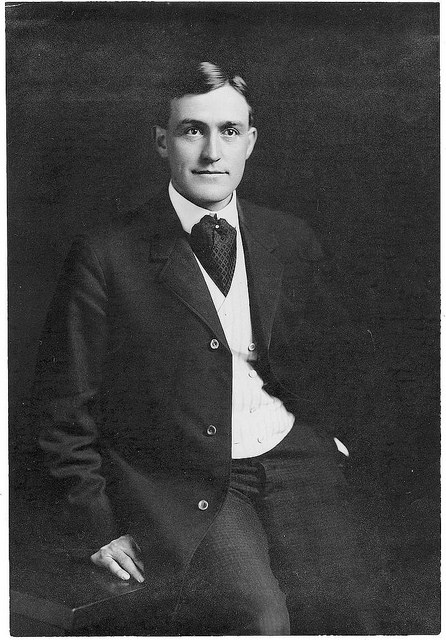 George Plummer Burns
Carpenter (Opened in 1952) 2015 Enrollment=420, Capacity=405 (Old Carpenter Opened in 1837)
Carpenter Elementary School originally opened in 1825 as a one-room log cabin on the corner of Carpenter and Packard streets, though it wasn't named Carpenter Elementary School until 1837. In 1854, the school moved to the west side of Carpenter Road and eventually was destroyed by fire. The school moved to its third location at 3360 Carpenter Road in 1914, and became the first building to have electricity. The school moved to its present location on the southeast corner of Central and Dayton in 1952 and has grown to include a population of nearly 400 students.
Clinton (Opened in 1968, Closed in 1985)
Dicken (Opened in 1957) Miss Carrie Dicken 2015 Enrollment=339, Capacity=338
Dixboro (Joined Ann Arbor Public Schools in 1958)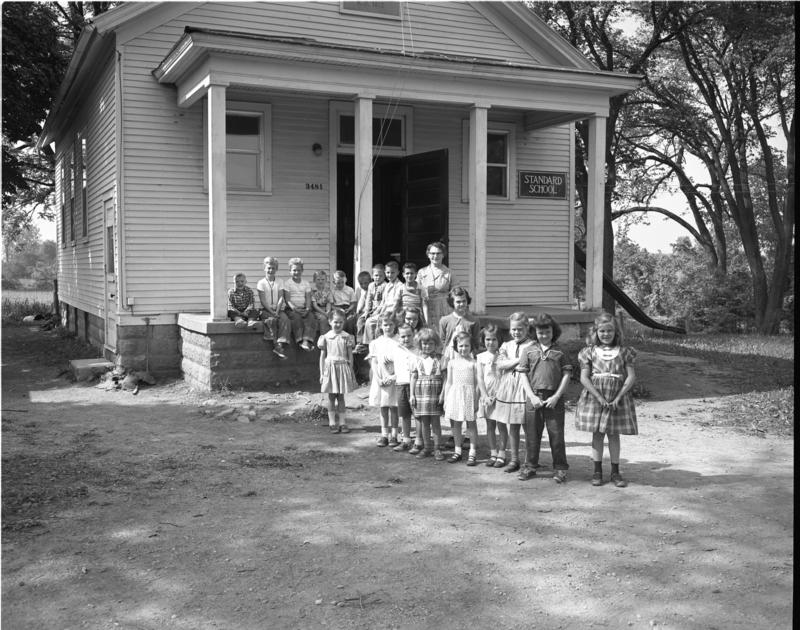 Dold (Opened in 1865) was annexed to Ann Arbor in 1957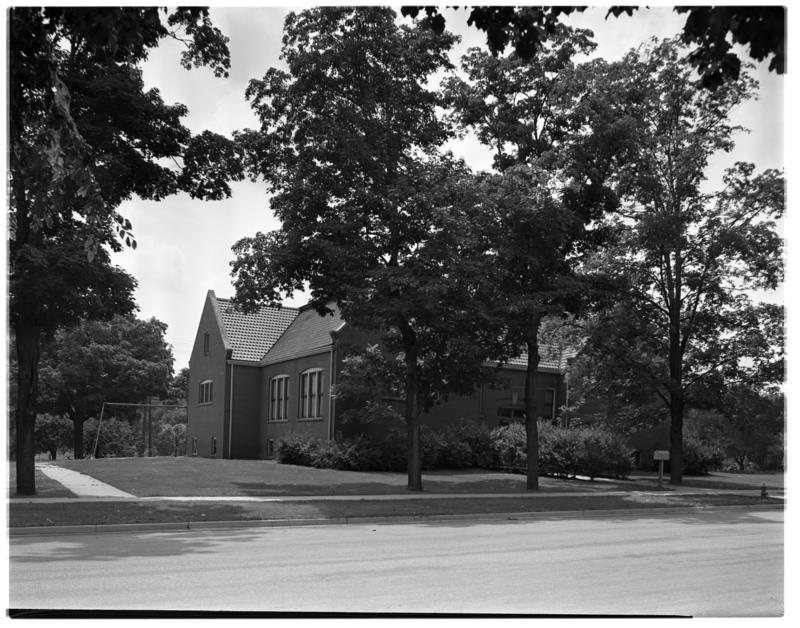 Donovan School in 1938
Donovan (Opened in 1909 at 944 Wall St., the former Fith Ward School closed in 1984; it was named in honor of Grocer Patrick Donovan who was also a Trustee for Ann Arbor Public Schools, and his grocery store was at 1006 Broadway)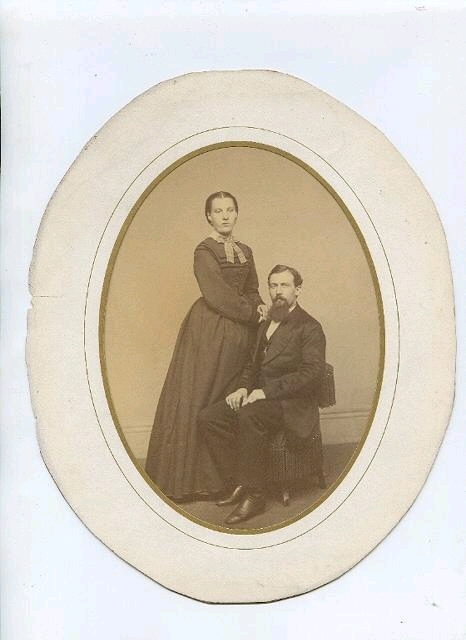 Eberbach (Opened in 1916, named after Ottmar Eberbach, former school board member. It closed in 1951, and became the Central Office for Ann Arbor Public Schools, 1957-1971. Miss Helen Platt was its only Principal)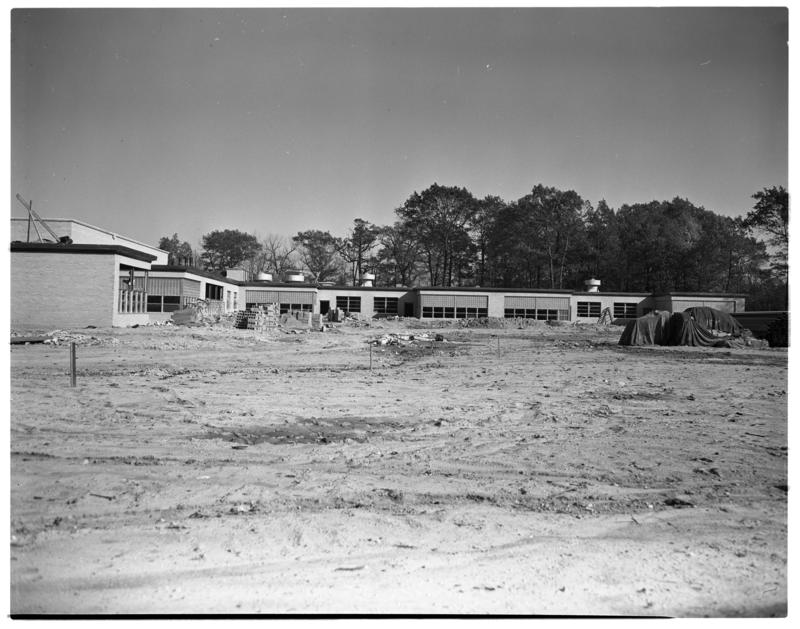 Eberwhite (Opened in 1950 at 800 Soule Blvd.; it was named after Eber White, a conservative Whig and Abolitionist, who was one of the founders of the First Methodist Episcopal Church in 1827 and built a home at the corner of Liberty and Eberwhite in 1840) 2015 Enrollment=318, Capacity=382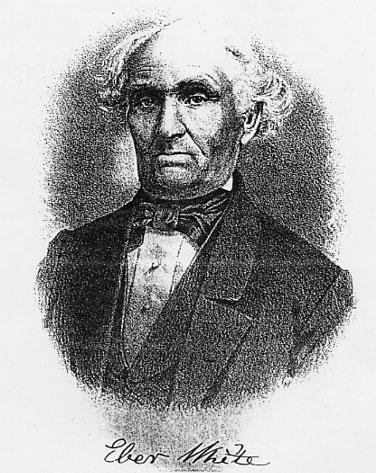 The Eberwhite community has deep roots in the beginnings of Ann Arbor. Our namesake, Eber White, was one of the first settlers of our city. Eber White came to Ann Arbor in 1824, just three months after Allen and Rumsey (founders of Ann Arbor) had staked out the city. He bought a quarter section of land on the outskirts of the city between what is now Seventh Street and Dartmoor on both sides of Liberty Road. In the early days of Ann Arbor, Liberty was known as White's Road. After Eber White bought the land, he returned to his home state, New York, to marry Polly Rogers and bring her back to Michigan. (Eber White was born in Schenectady, New York in 1798; he belonged to a remarkable family noted for its patriotism.) When Eber and Polly White reached Ann Arbor, Eber built a rough log cabin for them to live in on the north side of Liberty. In 1840, the Whites built a more permanent house on what is now the southeast corner of Eberwhite Boulevard and Liberty. They had six children, one of whom (Adelia) married Dr. William Soule, whose name was taken for the street on which Eberwhite School would be built more than 100 years later. Eber White was very active in community affairs. In 1827, he joined with four other people to form the first Methodist congregation in Ann Arbor. He was also a chief organizer of the county agricultural society. Eber White also had strong political views. Being a staunch abolitionist, he helped slaves pass through the Underground Railroad. Although originally a Whig, he became a pioneer member of the Republican Party when it formed in Jackson in 1854. Eber White died in 1872 at the age of 71. 
Forten School (Opened in 1837)
Fosdick School (Opened in 1831)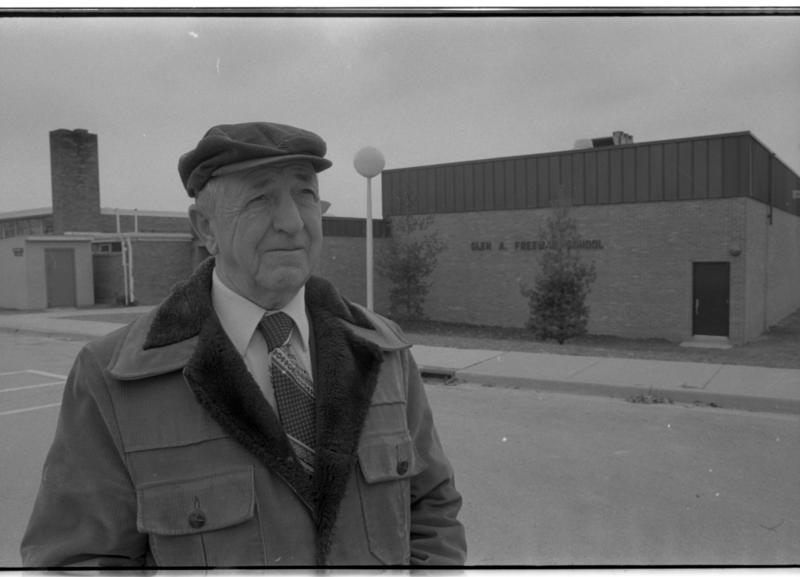 Glen Freeman in front of his school in 1981
Freeman (Opened in 1976, Closed in 1985; it was named in honor of Glen Freeman who was Dixboro's "Mr. Scout," and was a Scoutmaster there, 1929-1952. He also served a President of the Dixboro School Board. He graduated from Ypsilanti High School in 1920 after starting his education at Frains Lake School)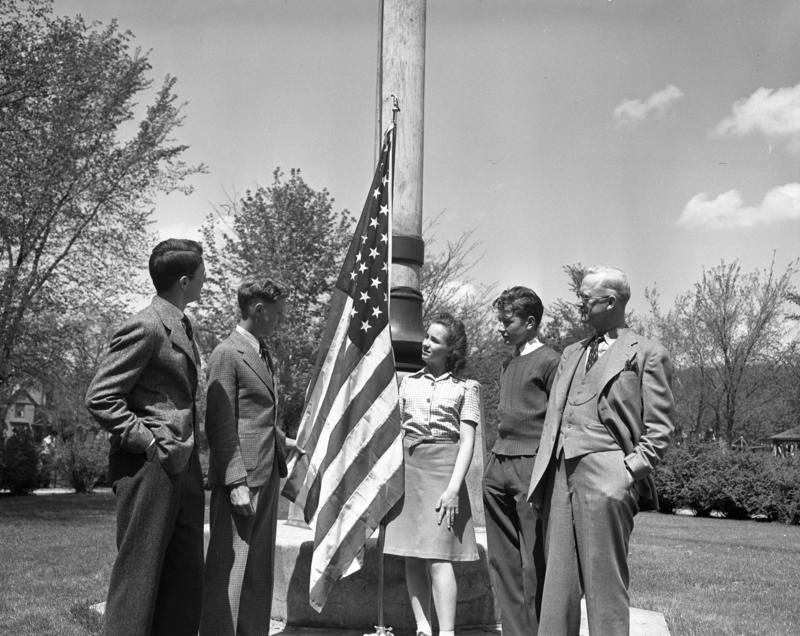 Otto Haisley with students
Haisley (Opened in 1954, the school was named in honor of former Superintendent, Otto Haisley, 1924-1953) at 825 Duncan St. 2015 Enrollment=367, Capacity=360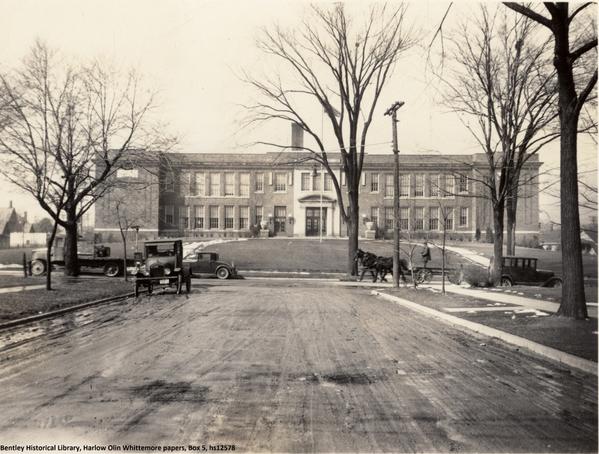 Jones School in 1928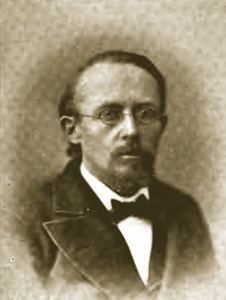 Jones School Closed in 1965 due to Desegregation Brown vs. Board of Education in 1954. In 1931, 109 of 150 African-American Students attended Jones School with 22 at Ann Arbor High School. Jones opened in 1922, and named after Elisha Jones who was a University of Michigan Professor, 1870-1888, and Superintendent of Ann Arbor Public Schools, 1867-1870. Jones School used to be called Fourth Ward School since 1867 on Division St. Harry Mial, the first Black Teacher in Ann Arbor Public Schools, taught at Jones School in 1954, and later became Principal at Northside for 15 years; his 32 year educational career ended in 1986.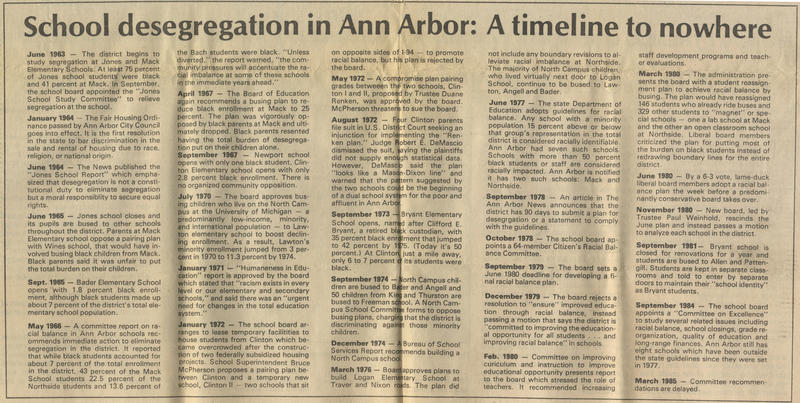 Lakewood (Opened 1961) 2015 Enrollment=308, Capacity=405
Lawton (Opened in 1964 and named after Ann Arbor's first Superintendent, Uriah Lawton, 1862-1867) 2015 Enrollment=475, Capacity=495
Logan (Opened in 1976) Mr. Harold Logan Loved Us Harold Logan came to Ann Arbor in 1936 teaching at Mack School, then he moved to Slauson when it was completed where he became Principal in 1941-1968; he was name National Secondary Principal of the Year in 1962 2015 Enrollment=318, Capacity=338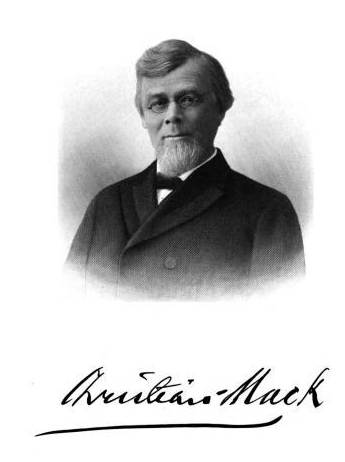 Mack (Opened in 1923; Mack School opened in 1923 for a cost of $262,775. Miss Emma Weitbrecht was the first Principal. The School was named after Christian Mack who served on the Ann Arbor Public Schools School Board for 25 years, and was one of the founders of the Zion Lutheran Church where he was a Deacon. Mack, a German immigrant, founded Mack & Schmid on Main St. with Frederick Schmid Jr. in 1860 after working three years at John Maynard's Dry Goods Store. They were the first Ann Arbor store to replace wooden sidewalks with stone in 1881. It later became Mack & Company in 1895, and his son, Walter, ran the store until it went out of business in 1940.) Now, Mack is called Ann Arbor Open School (K-8) 2015 Enrollment=540, Capacity=445
Malletts Creek School (Opened in 1825)
Martin Luther King (Opened in 1969) 2015 Enrollment=483, Capacity=450
Meadowview (Opened in 1952, Closed in 1972)
Mills School (Opened in 1832)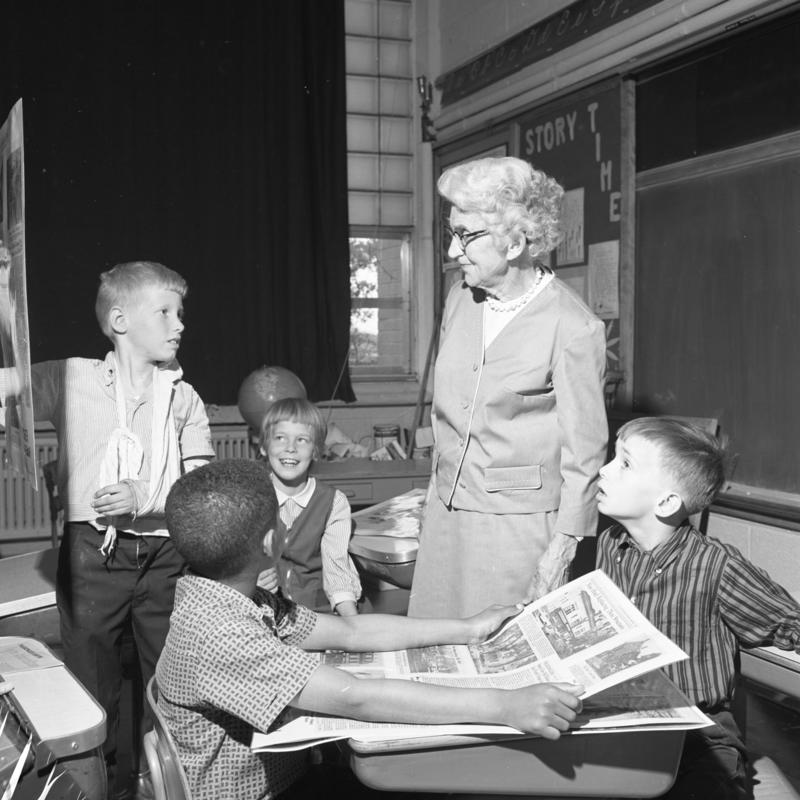 Mitchell (Opened in 1952; it was named after Mary D. Brewster Mitchell who taught for 30 years in Detroit, Dexter and Pittsfield School District #9 where she became Superintendent) 2015 Enrollment=317, Capacity=293
History of Mitchell (History of Mallett Creek School goes back to 1825)
Newport (Opened in 1972)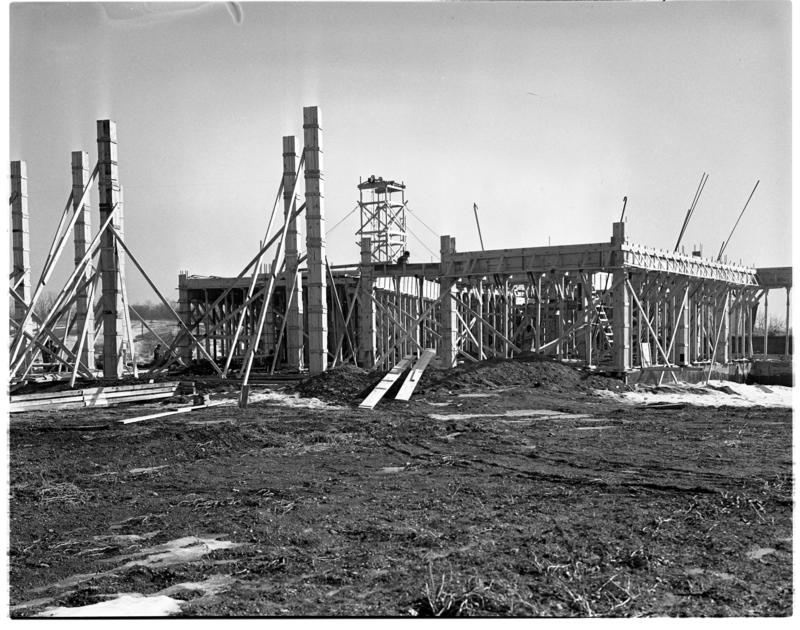 Northside (Opened in 1939, now called Ann Arbor STEAM Pre-School) 2015 Enrollment=527, Capacity=445
Oakgrove (Opened in 1832)
Pattengill (Opened in 1957, named after former Ann Arbor High School Principal, Judson Pattengill who graduated from the University of Michigan in 1873, and was Principal, 1876-1908. Pattengill's brother, Albert, was also a Principal at Ann Arbor High School in 1868-1869, and later became a Professor of Greek at the University of Michigan, 1869-1906, and was the first Chairman of the Board in Control of Athletics, 1894-1906) LeRoy Cappaert was Pattengill's First Principal, and also served as a City Councilman 2015 Enrollment=285, Capacity=360
Perry (Opened in 1934); the Walter S. Perry School opened in 1903 at 330 Packard St.
Platt School (Opened in 1825, Closed in 1945)
Pittsfield (Opened in 1945, annexed into Ann Arbor Public Schools in 1957)
Stone (Opened in 1826) (Jarvis Stone School was built in Salem Township in 1856)
Sutherland School (It was named for Langford Sutherland who owned 650 acres that was divided into smaller farms on Textile Rd.; Tobias and Ernest Sutherland were teachers there)
Thurston (Opened in 1964; it was named after Lee Mohrmann Thurston, and came to Ann Arbor after World War I to earn three degrees from the University of Michigan in 1918, 1929, and 1935 in education. He was an Assistant Superintendent at Ann Arbor Public Schools, and served in several administrative capacities, 1926-1938, and was appointed State of Michigan State Superintendent of Public Instruction in 1948. He was appointed by President Eisenhower in 1953 as United States Commissioner of Education, but died that same year; Redford Thurston High School was also named in his honor in 1955) 2015 Enrollment=461, Capacity=428 (Thurston-Old News)
Town Hall School (Opened in 1840)
Valentine School (Opened in 1857)
Westerman Preschool at 2775 Boardwalk named after former Superintendent Scott Westerman 2015 Enrollment=314, Capacity=187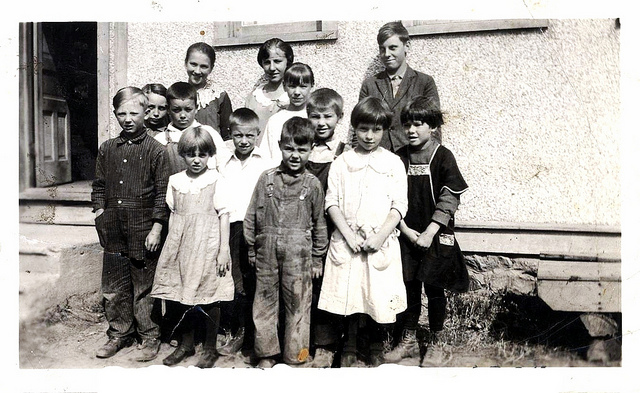 Wagner School on Earhart Road in 1924
Wines (Opened in 1957, named after Levi Wines who was born in Ann Arbor in 1852, graduated from Ann Arbor High School in 1870, graduated from the University of Michigan in 1874 and worked as an engineer for 5 years before joining the faculty at Ann Arbor High School in 1879 where he served for 50 years until his resignation in 1930) 2015 Enrollment=441, Capacity=360
Ann Arbor Public Schools Enrollment in 2015=17,095 Students in 32 Buildings
Ann Arbor School Enrollment Capacity 2015
| | | | |
| --- | --- | --- | --- |
| Ann Arbor School | Opened | Closed | Annexed |
| Stone School | 1826 | n/a | n/a |
| Union School | 1856 | 1904 | n/a |
| Bach School | 1861 | n/a | n/a |
| Perry, W.S. School | 1903 | 1963 | n/a |
| Ann Arbor High School | 1907 | 1956 | n/a |
| Donovan School | 1909 | 1984 | n/a |
| Eberbach School | 1916 | 1951 | n/a |
| Mack School | 1923 | n/a | n/a |
| Angell School | 1923 | n/a | n/a |
| Tappan School/Burns Park School | 1925 | n/a | n/a |
| Jones School | 1922 | 1965 | n/a |
| Perry School | 1934 | n/a | n/a |
| Northside School | 1939 | n/a | n/a |
| Pittsfield School | 1945 | n/a | 1957 |
| Eberwhite School | 1950 | n/a | n/a |
| Tappan Junior HS | 1951 | n/a | n/a |
| Carpenter School | 1952 | n/a | n/a |
| Meadowview School (first school in Washtenaw County-1825) | 1952 | 1972 | 1957 |
| Mitchell School | 1952 | n/a | 1957 |
| Dixboro School | 1953 | n/a | 1958 |
| Haisley School | 1954 | n/a | n/a |
| Ann Arbor Pioneer High School | 1956 | n/a | n/a |
| Dicken School | 1957 | n/a | n/a |
| Pattengill School | 1957 | n/a | n/a |
| Wines School | 1957 | n/a | n/a |
| Allen School | 1961 | n/a | n/a |
| Lakewood School | 1961 | n/a | n/a |
| Abbot School | 1962 | n/a | n/a |
| Thurston School | 1964 | n/a | n/a |
| Lawton School | 1964 | n/a | n/a |
| Bader School | 1965 | n/a | n/a |
| Clinton School | 1968 | 1985 | n/a |
| Ann Arbor Huron High School | 1969 | n/a | n/a |
| King School (Martin Luther) | 1969 | n/a | n/a |
| Scarlett Junior HS | 1969 | n/a | n/a |
| Clague Junior HS | 1972 | n/a | n/a |
| Bryant School | 1972 | n/a | n/a |
| Newport School | 1972 | n/a | n/a |
| Community High School (formerly Jones) | 1972 | n/a | n/a |
| Logan School | 1976 | n/a | n/a |
| Freeman School | 1976 | 1985 | n/a |
| Ann Arbor Skyline High School | 2008 | n/a | n/a |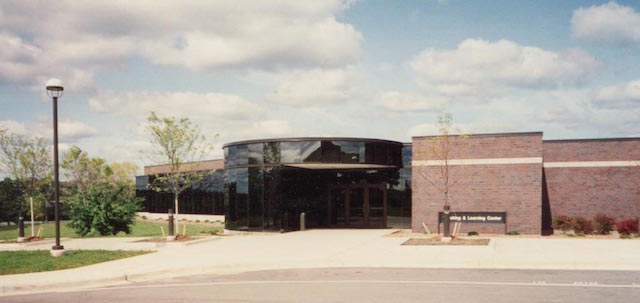 In 1962, the Washtenaw Intermediate School District was created with Julius Haab as the first Superintendent; a bond was passed in 1971, and High Point School opened in 1974 to serve the needs of all districts in the county.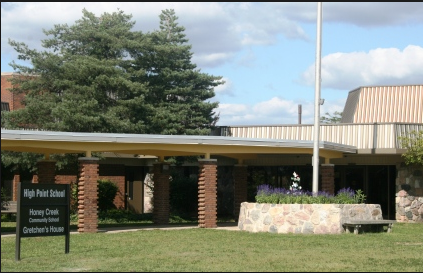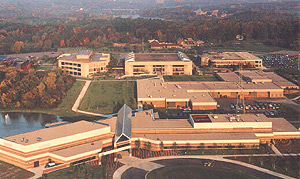 WCC in 1991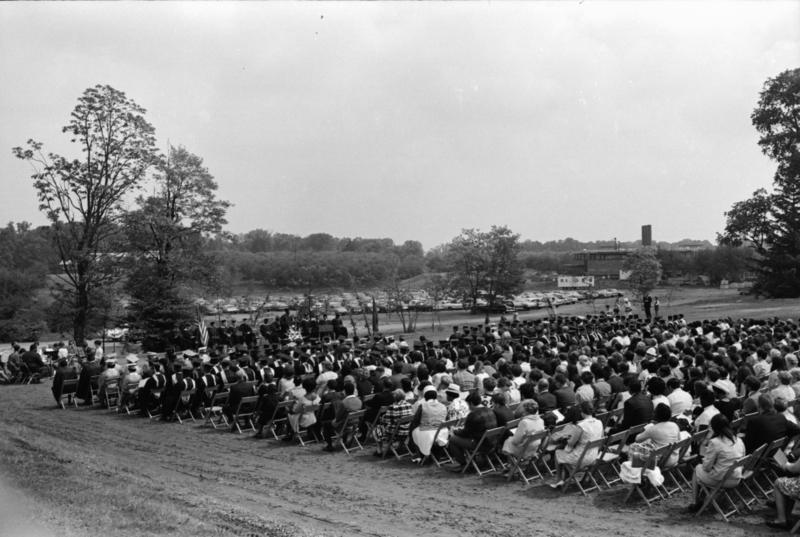 WCC First Graduation June 8, 1969
Voters approved a millage authorizing Washtenaw Community College January, 1965, hired 41 full-time instructors January, 1967, and moved to its permanent campus opened January, 1970 on land from the Franzblau Farm. Washtenaw Technical Middle College began in 1997.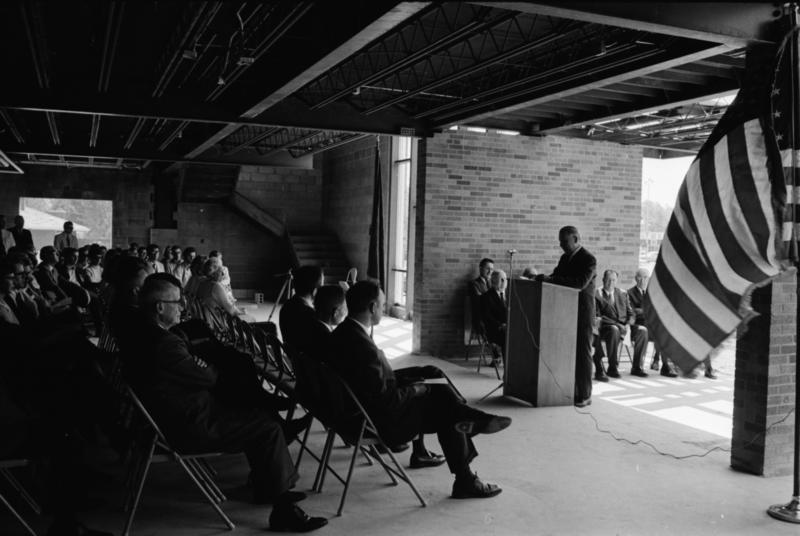 WCC Dedication May, 1969
Ann Arbor Rejects the Annexation of Whitmore Lake Schools in 2014
Mullison's Stables (owned by Guy and Gladys Mullison, proprietors of site of the Washtenaw County Fair, 1922-1942, eventually becomes Vet's Park in 1954 at the corner of Jackson & Maple. Before that, the Washtenaw County Fair was held in the "old" fairgrounds in what we know of today as Burns Park (43rd Washtenaw County Fair held October 2, 1891)
From the time the student Football Association was first organized in 1873, informal games and practice sessions were held on the "playground" on the north edge of campus. A baseball diamond was laid out near the site where Waterman Gym was later built and the Chemistry building now stands. In the Fall, a gridiron was laid out on the baseball field, usually in a north south direction. The playground was also the site of many spirited contests between class football teams. Games for which admission was charged were held off-campus at the Washtenaw County Fairgrounds. Originally located at the southeast corner of the intersection of Hill Street and Forest. In 1890 the fairgrounds moved to what is now the site of Burns Park. Building the Big House.
Private Schools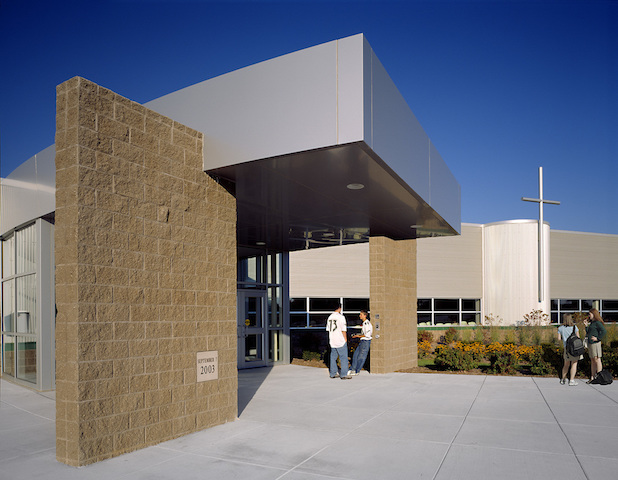 Ann Arbor Gabriel Richard (Opened in 1868, formerly Ann Arbor St. Thomas until 1980; it moved to 530 Elizabeth St. in 1886, and the new building was opened September, 2003 at 4333 Whitehall Drive near Domino Farms for the Shamrocks) 1940 Graduates 1969 Graduation Tuition for the 2017-2018 School Year is $9,981 plus other non-refundable fees amounting to $815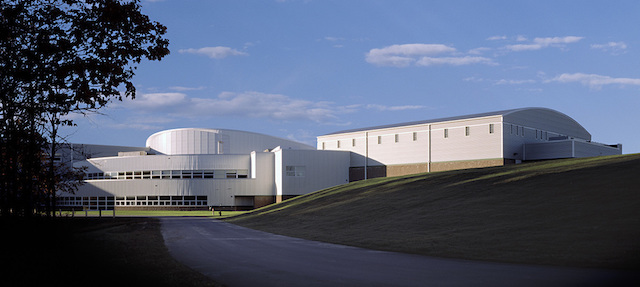 The history of St. Thomas the Apostle Church is intimately connected with Irish immigration to Washtenaw County and their eventual concentration in Ann Arbor in the area bounded roughly by Huron, Glen, North Main Street, and the Huron River. The Irish first congregated in Northfield Township, but in the 1830s, they slowly began to move into Ann Arbor. St. Thomas's first church was built on East Kingsley Street in 1845.
In 1868 the parish purchased a former public school on Kingsley which served as the parish's first parochial school. By 1886 the school had grown so much that the parish built a new building in the middle of the block between State and Elizabeth Streets. By the time Father Edward Kelly arrived in 1891, the parish was badly in need of a new church which was eventually dedicated in 1899 thanks to his tireless efforts. The second decade of the 20th century saw the razing of the old school behind the church and its replacement by several school buildings for both elementary and high school students.
In 1954, a new elementary school addition was built. In 1977, St. Thomas High School transformed into Father Gabriel Richard High School which eventually moved to Domino's Farms in 2003. Soon after its departure, the elementary school and parish offices were renovated and expanded thanks to the efforts of the parish community's efforts to raise $5.2 million through a capital campaign.
Ann Arbor Greenhills School (Opened in 1969; it is the most expensive Private School in the State of Michigan. Tuition for 2017-18 is $21,950 for middle school students and $22,450 for upper school students.)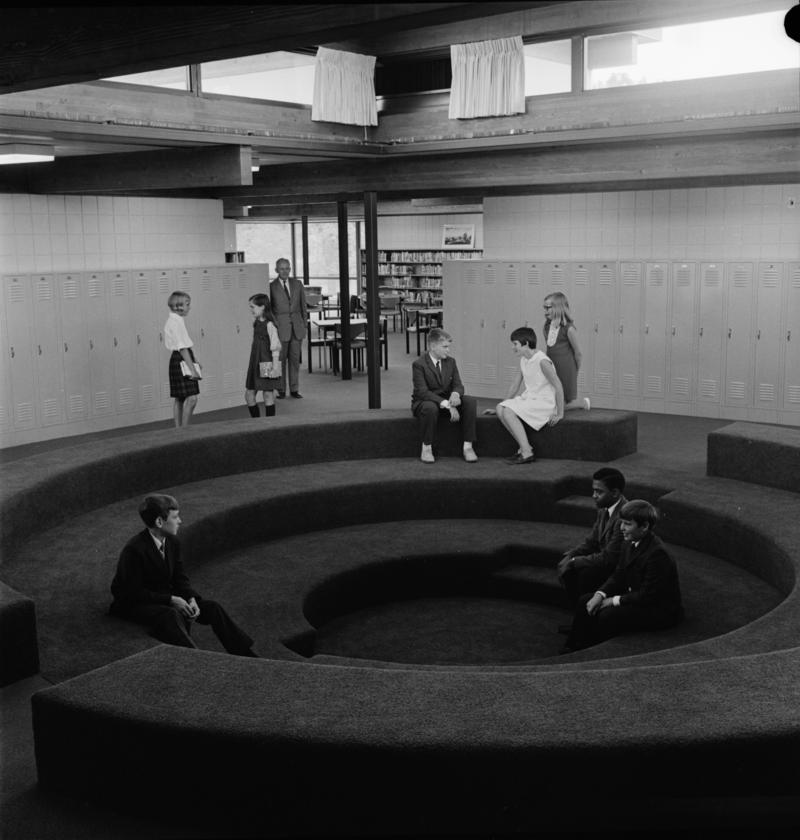 Washtenaw International High School (Opened in 2011; it was the former East Middle School in Ypsilanti) (First Graduating Class in 2015 with 130 students with 68% earning an International Baccalaureate Diploma)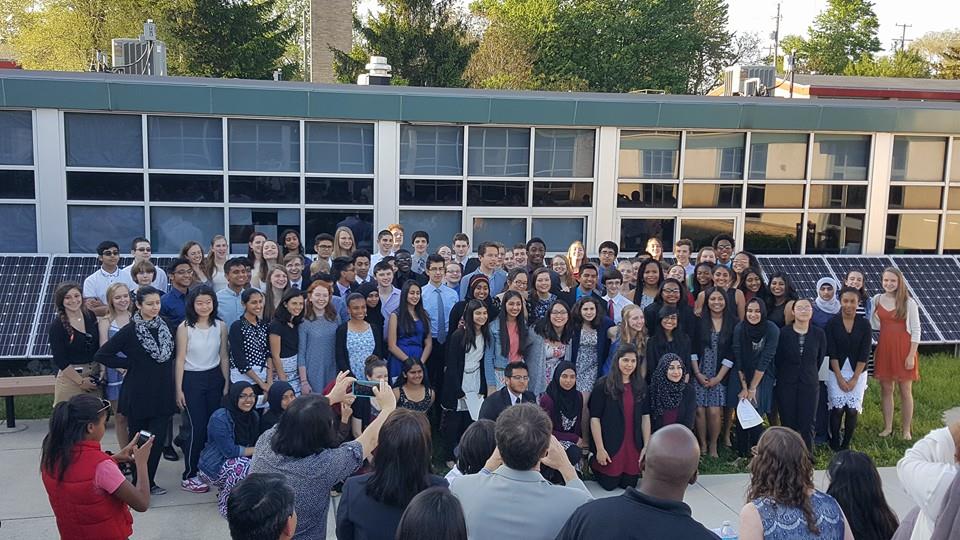 Ann Arbor Christian School (Opened in 1986) at 5500 Whitmore Lake Rd.; Tuition for 2017-2018 for Grades 6-8 is $9,513 and Grades 1-5 is $8,721 with a 20% discount for a second child and 45% for a third child enrolled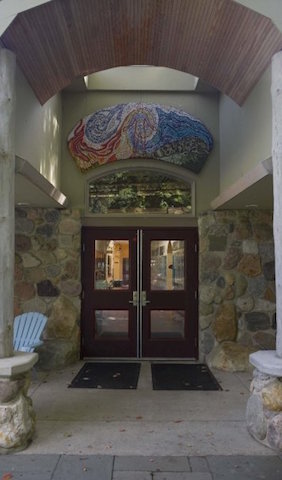 Ann Arbor Rudolph Steiner School (formerly Newport Elementary at 2775 Newport Rd. for their Lower School, opened in 1980 with 10 students, and currently enrolls 350 Pre-K-12th grade; it purchased a six acre site in 2001 at 2230 Pontiac Trail for a High School (Robert Black Plans) which opened Fall, 2002. Waldorf Education) The Tuition for 2017-2018 is $15,240 for Pre-K to Grade 8 and $18,820 for High School.
Emerson School (Opened in 1973 by Jean Navarre with 11 students and 2 staff; it moved to its new building constructed in 1983 at 5425 Scio Church Rd. with 375 students and 69 staff K-8th grade)
UHigh, 1921-1969; they were members of the Huron League, 1935-1958, and the Cubs won state championships in golf (1934, 1940, 1941, 1946, 1947, 1948, and 1949), swimming (1940, 1942, 1943, 1944, 1945, and 1946), and track (1952) UHigh in Old News UHigh.net 1959 Graduation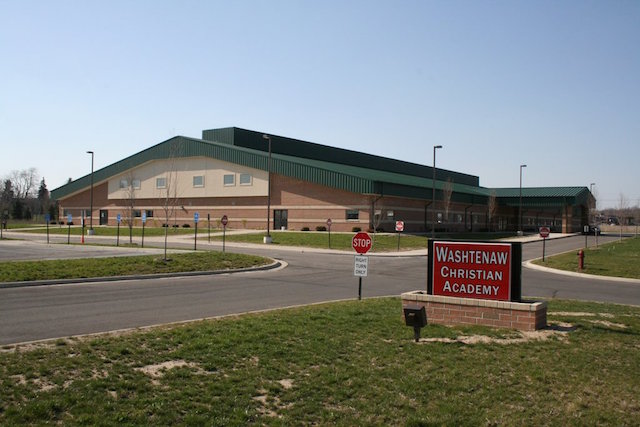 Washtenaw Christian Academy at 7200 Moon Rd. in Saline (Opened in 1975, and moved to their 27 acre campus in 2005 with 72,000 sq.ft.); Tuition for 2017-2018 is $8,972 for Grades 7-12
The Oldest Public Schools in the United States: Ypsilanti (1849) and Ann Arbor (1856) rank 65th and 70th
Other Area Schools
Delhi
Hamburg
Lima Center
Popkins