CA-60 CUMULATIVE RECORD FOLDER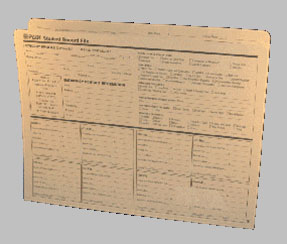 All school districts are required to keep certain student records, some of them for as long as 99 years! The Cumulative Record Folder (Form No. CA60) includes documents such as:
ELEMENTARY INSERT (CA60A)
SECONDARY INSERT (CA60B)
HEALTH INSERT (CA60C) Immunization Records
READING INSERT (CA60D)
SPECIAL HELP-such as Guidance Clinic, Remedial Work, Special Education (copies of annual IEP/Section 504 meetings), Social Adjustment, Parent-Teacher Conferences, etc. (CA60E or CA60G)
TEST TABULATION SHEETS (CA60T)
RECORDS (CA60P):
a. Anecdotal
b. Inheritable Tendencies
c. Neighborhood Environment
d. Where reared-farm, city or town
e. Parents' Preference of Occupation for Student
f. Associates
g. Sociograms
h. Sex Curiosity and Development
i. Character and Moral Traits
j. Truancy History
k. Vocational Placement and Guidance (EDP)
l. Statement from Part-Time Employers
m. Offenses and Disciplinary Actions
n. Temper Tantrums
o. Participation in School Activities
Other information kept in the Cumulative Record Folder includes pictures, attendance records, all testing results: ACT, SAT, MEAP, ASVAB, PSAT, PLAN, DAT, CAT, etc., surveys and interest inventories, etc. Students are encouraged to place portfolio items in this file including resume, recommendation letters, examples of exemplary work (like writing portfolio pieces), etc.
Parents and students may come and see what materials are kept in this file and copies of items may be made from time to time according to district policy; copies of CA-60 may be provided at student and/or parent expense per district policy.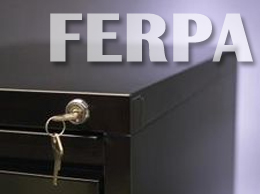 Privacy of Student Information
Protecting the Privacy of Student Records
Public School Records in Michigan
High School Transcript Studies

NAEP High School Transcript Studies
Retention & Disposal
EPIC Student Privacy Page
Records Request-Generic
Sample Letters
FERPA
State of Michigan
Access to Student Directory Information
Access by Military Recruiters
Access by Law Enforcement/Criminal Justice Officials (LIEN)