PORTFOLIOS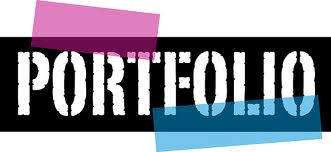 Here are some examples of what students could put in their portfolio:
Academic Skills
Report Cards/Transcripts; MEAP test scores/Standardized Test Scores (PLAN/ACT/SAT I/SAT II/AP/CLEP/ASVAB/California Achievement Test/Stanford Achievement Test/Iowa Test of Basic Skills/Metropolitan Achievement Test/Otis-Lennon School Abilities Test/DAT-Differential Aptitude Test/etc.; Academic Awards; Scholarship letters; Writing Samples; Important Classroom assignments and/or tests; Photos of classroom projects; recommendation letters from teachers, counselors, advisors, employers, supervisors, etc.; lists of tools that you've acquired mastery with; evidence of participation in academic clubs such as National Honor Society, Quiz Bowl, Odyssey of the Mind, Future Problem Solving, French Club, Science Olympiad, Key Club, etc.
Personal Management Skills
Attendance (usually on report cards); attendance awards; recognition awards; work and/or activity schedules; interest, values, learning styles and/or career inventories; evaluations from employers, coop evaluations, etc.
Teamwork Skills
School extra-curricular activitiy documentation: athletics such as cheerleading, wrestling, softball, basketball, baseball, water polo, swimming, cross country, tennis, field hockey, soccer, lacrosse, gymnastics, ice hockey, etc. (M.H.S.A.A. and/or club sports); Student groups such as Peer Listening, SADD, Amnesty International, Winner's Circle, etc.; Community and/or church groups; Summer activities; Documentation of Leadership positions held in various organizations; letters of recommendation from coaches, community members, etc.; Awards, certificates and/or letters of appreciation; student descriptions of activities requiring teamwork skills.
EDP-Educational Development Plan
FDP-Financial Development Plan
HDP-Health Development Plan
SDP-Spiritual Development Plan
Beware of Senioritis
Resume Writing
CollegeBoard Tips
Detroit News Article-April 5, 2004 (Troy)
DVD Yearbook
Soft Skills
Parents give Public Schools an overall rating of 2.2 GPA
48 deaths in public schools in 2003-2004
Stellar high school performers failing college
Online Report Cards
Walled Lake changes schedule
SAT tests endurance
Are ISD's worth it? Get ready to Vote
Education Levels rise
(Actual Census Bureau Report)
Interns get view of their future
Teens out of work and out of school growing
Abstinence to be taught
http://www.mackinac.org/article.asp?ID=791
Strange lessons in School Discipline
6 Habits of Fiscally Responsible School Districts
Insurance for Grads a required investment